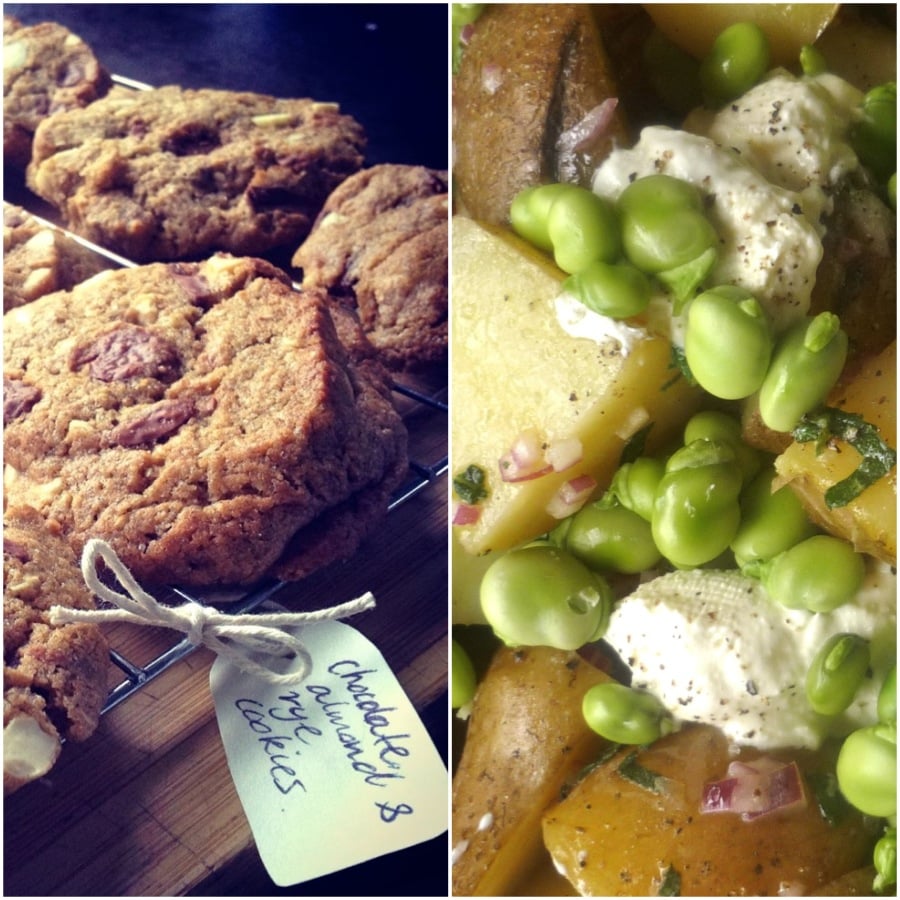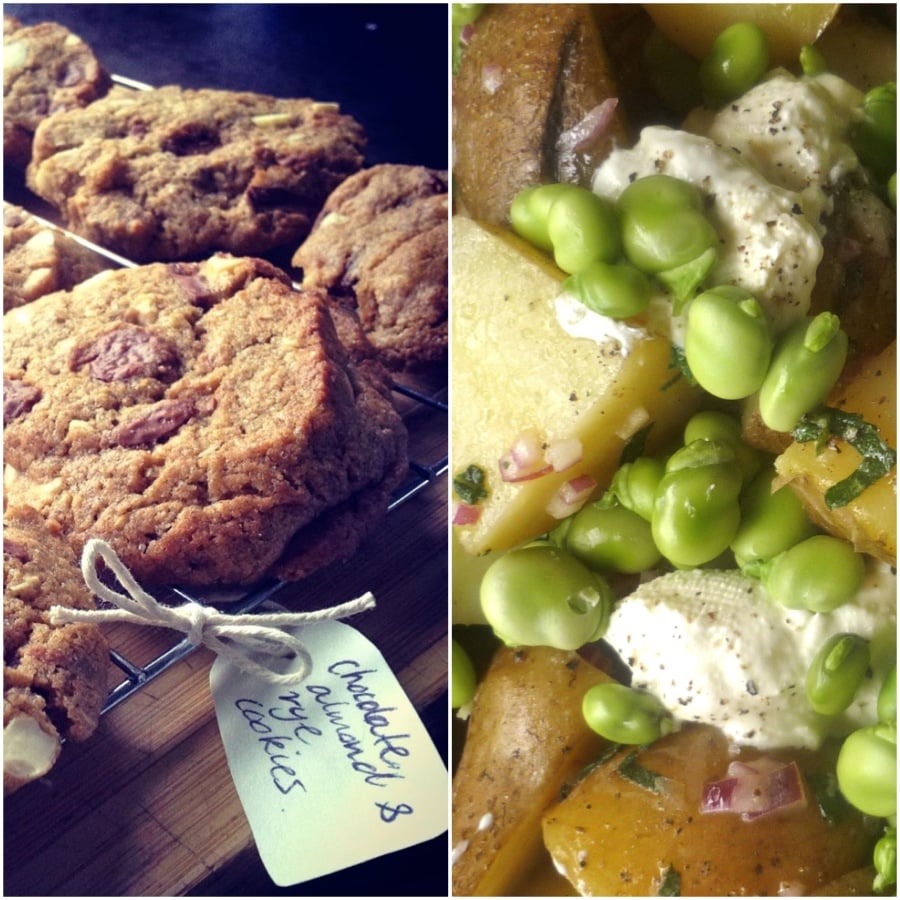 Yes, I do realise that is a big call, because potato salads can get pretty good. Whether it was the combo of 100% home-grown veggies or the home-made ricotta on top, i don't care. This is the most rocking potato salad I've tasted.
And created by Rose Newberry, who we're lucky enough to have at Milkwood Farm cooking for students and crew in the summer months…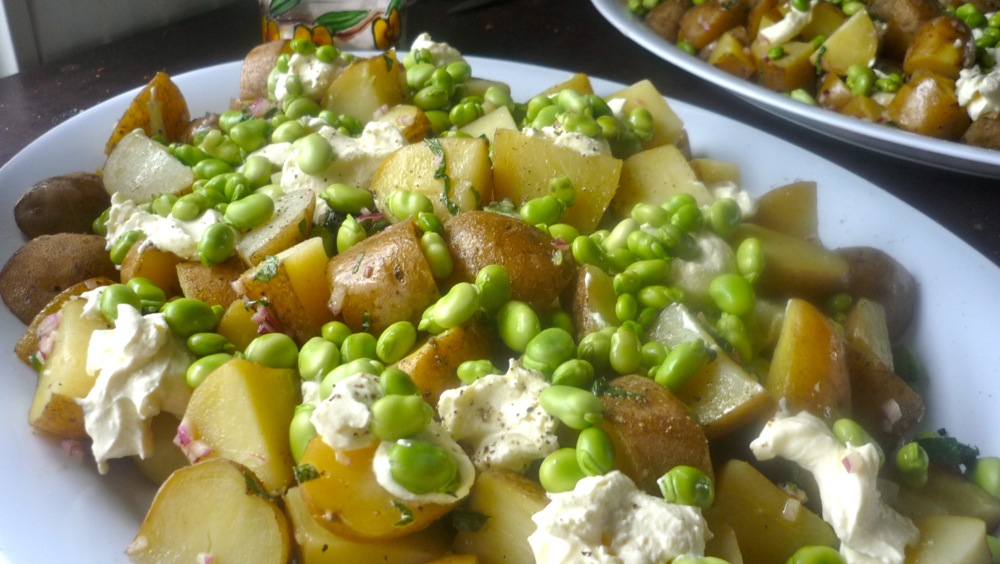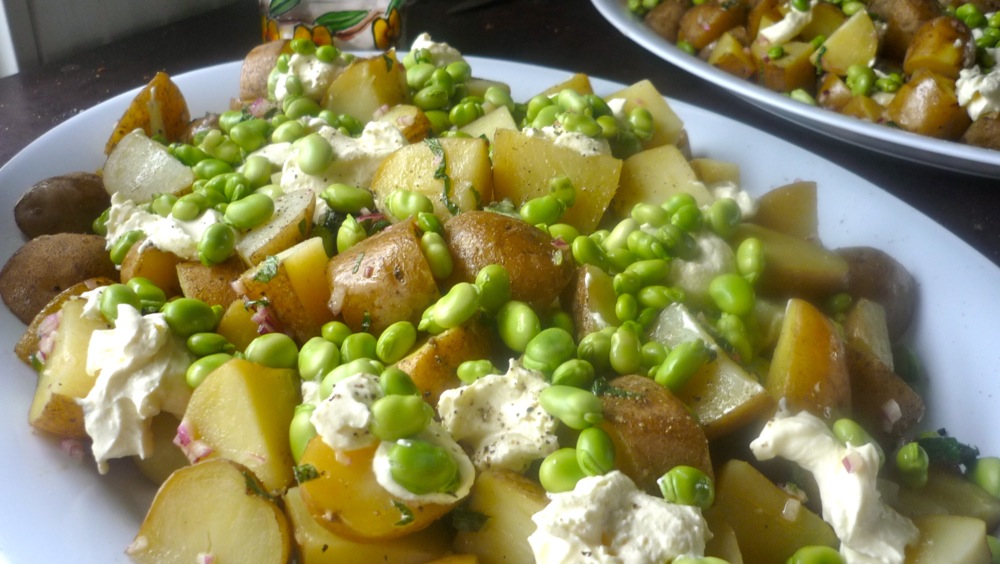 So after many, many requests from students to start sharing Rose's recipes, here we go…
Rose's Potato, Broadbean and Ricotta salad
Cook desired amount of Nicola potatoes until just tender (in boiling water, starting from cold)
Drain potatoes and coat with a dressing of 2 parts red wine vinegar,1 part olive oil, a tablespoon of honey, a tablespoon of dijon mustard, salt and pepper.
Add some fresh herbs – in this case I used fennel tops, mint and italian parsley. Also some finely chopped red onion, as much as you like.

Pop some fresh broad beans on top (raw, no need to blanch if they are fresh and small, or if you're feeling fancy you can blanch and peel) and scatter some ricotta over it all.
Finish with a little extra olive oil and cracked pepper. x Rose

With the ricotta, make it yourself if you can – it's very easy, and home-made ricotta, even if it's made on store bought milk, is still waaaaaay tastier than supermarket ricotta. Plus you can flavor it in the process (mmm lemon rind ricotta).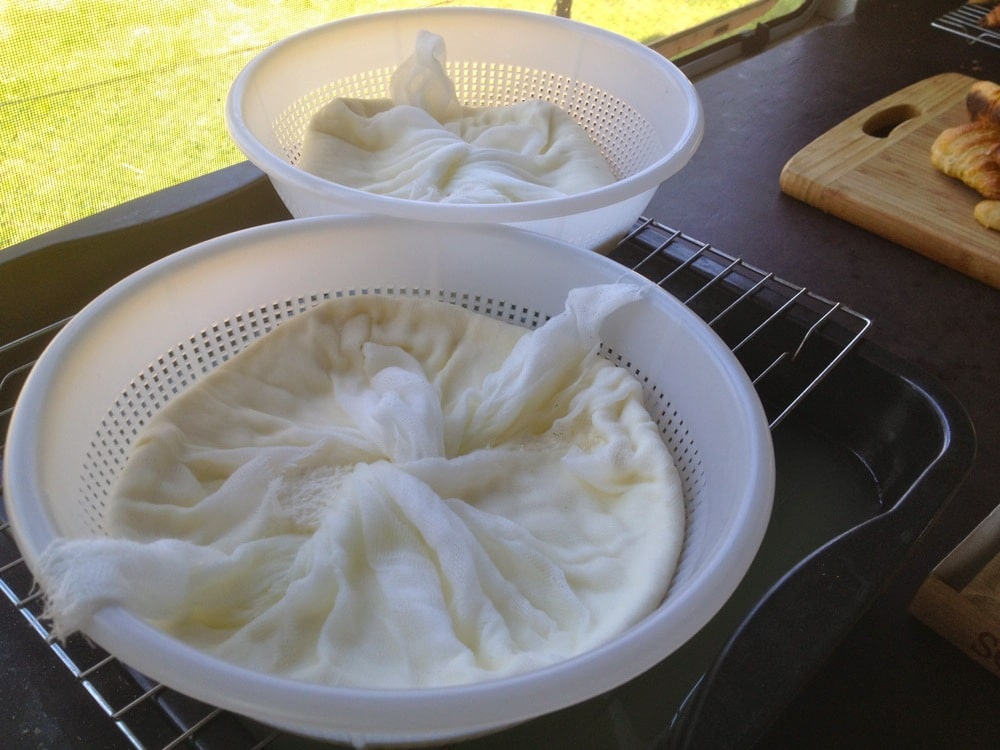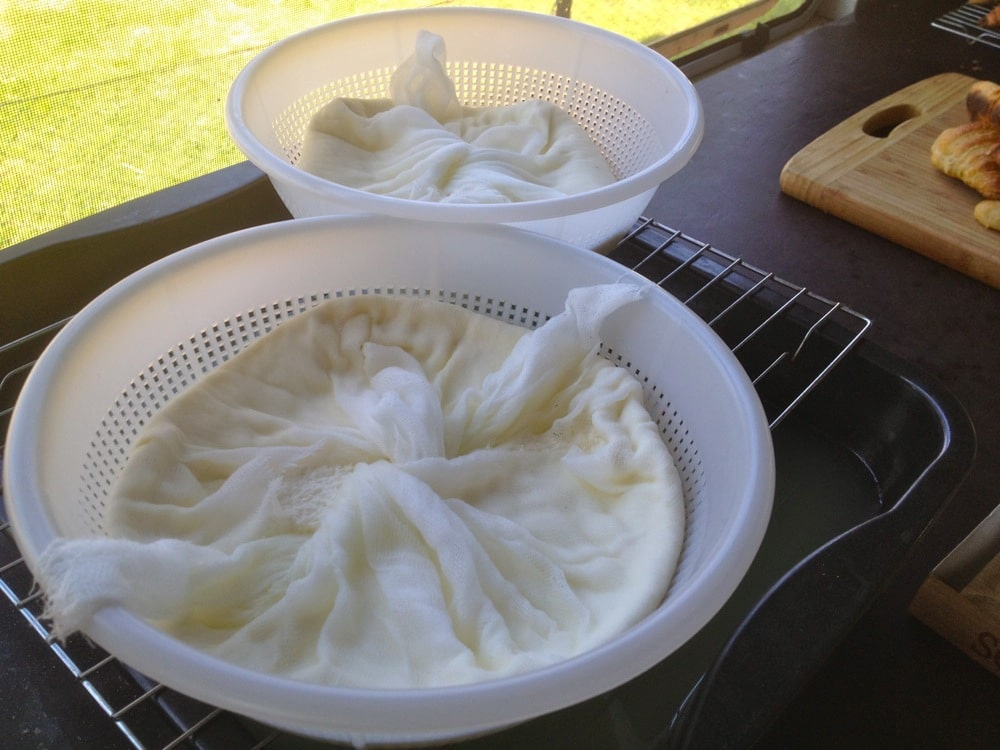 I know this salad sounds too simple, and yes it probably helps to have gorgeous, fresh, organic ingredients, but seriously… i could eat only this dish for Christmas day and I would be completely happy. Until the pig was cooked, that is.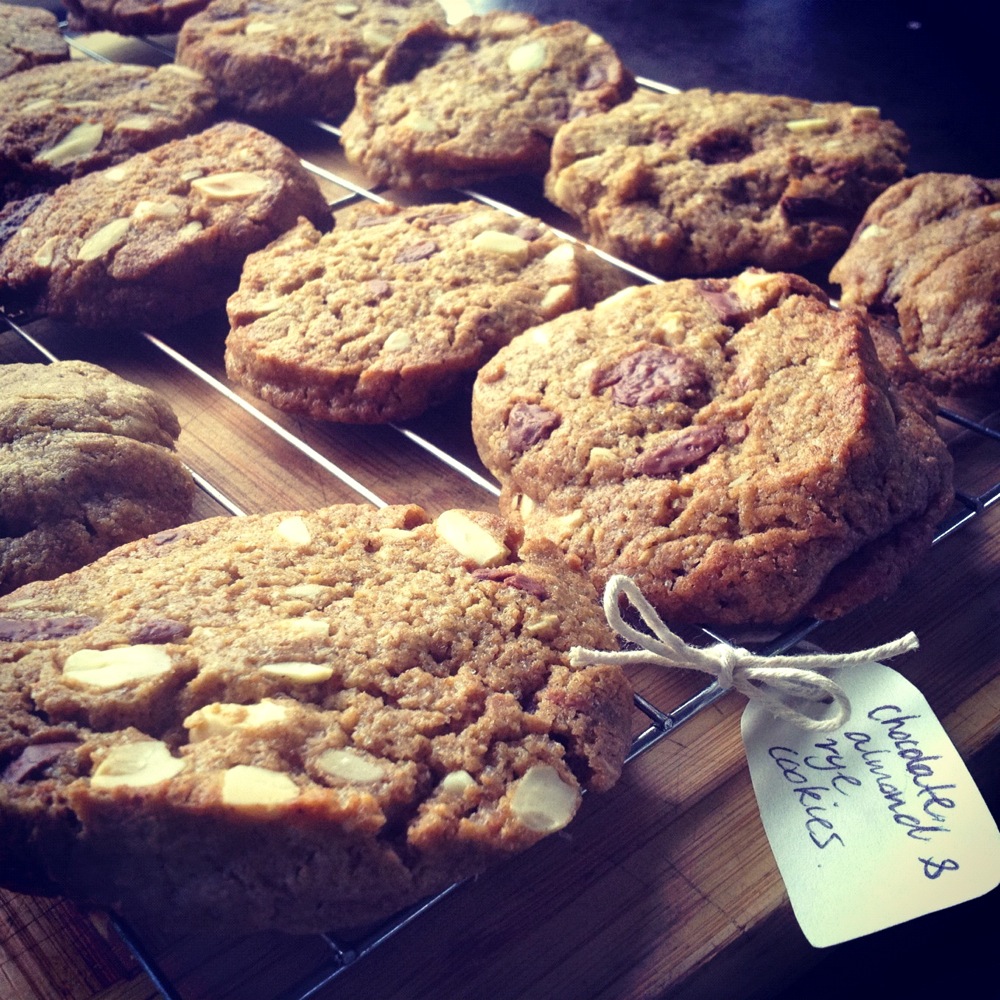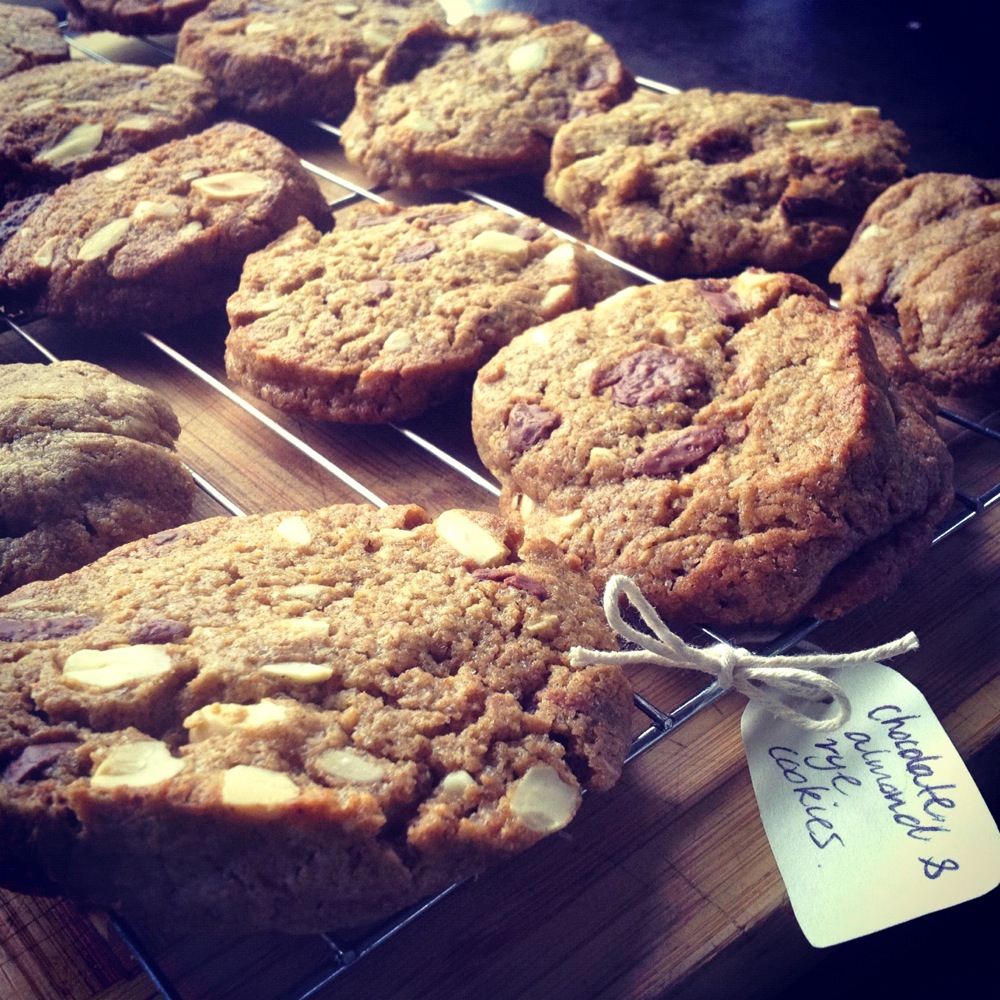 Milkwood Farm House Cookie Recipe
Rose busts out this recipe pretty regularly, usually for students but sometimes we crew get lucky and get our own batch. Rose makes this cookie dough with a myriad of variations in the fruit, nut and 'feature flavor' department. It's wholesome and one decent size cookie gets you through till lunch. Two is better however.
250g butter
250g rye flour
100g plain flour
2 tsp baking powder
250g raw sugar
2 eggs
Then the flavor combos, which include:
1 cup chopped almonds
1 cup chocolate pieces
…or…
1 cup cranberries
1 cup pepitas
…or…
1 cup glacé ginger
1 cup chopped dried figs
Or whatever other flavorful things you like – you get the idea. Once you've chosen your cookie flavors, you can proceed…
Preheat oven to 160C and line a couple of baking trays with baking paper. Melt the butter and allow to cool slightly. Meanwhile combine the flours, sugar and baking powder, fold through the butter, eggs, almonds and chocolate until just combined.
Roll the whole thing into a big lump, and make into a 10cm diameter sausage. Wrap it up in paper and put in the fridge to firm and chill, or the freezer if you're prepping days ahead. When you're ready to bake, slice into 1cm thick rounds and bake for 15-20 minutes or until lightly browned.
Thanks for the recipes, Rose!