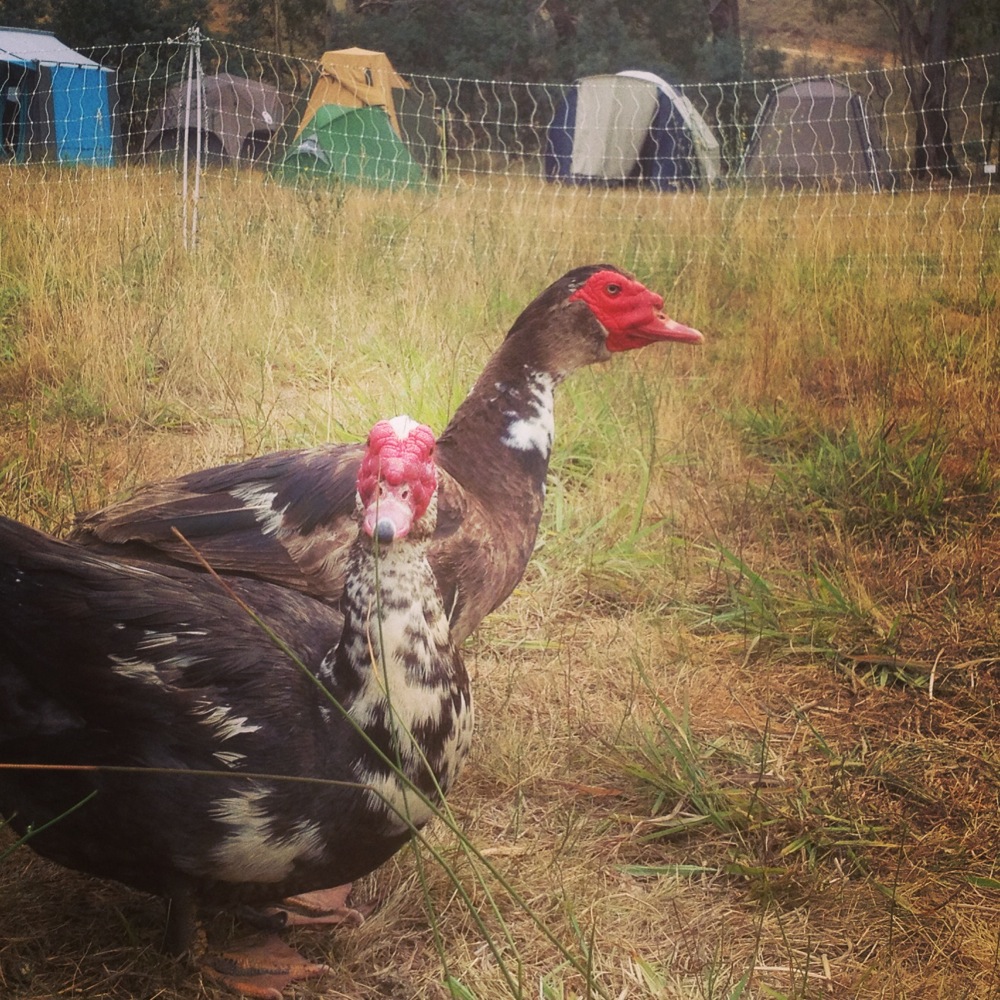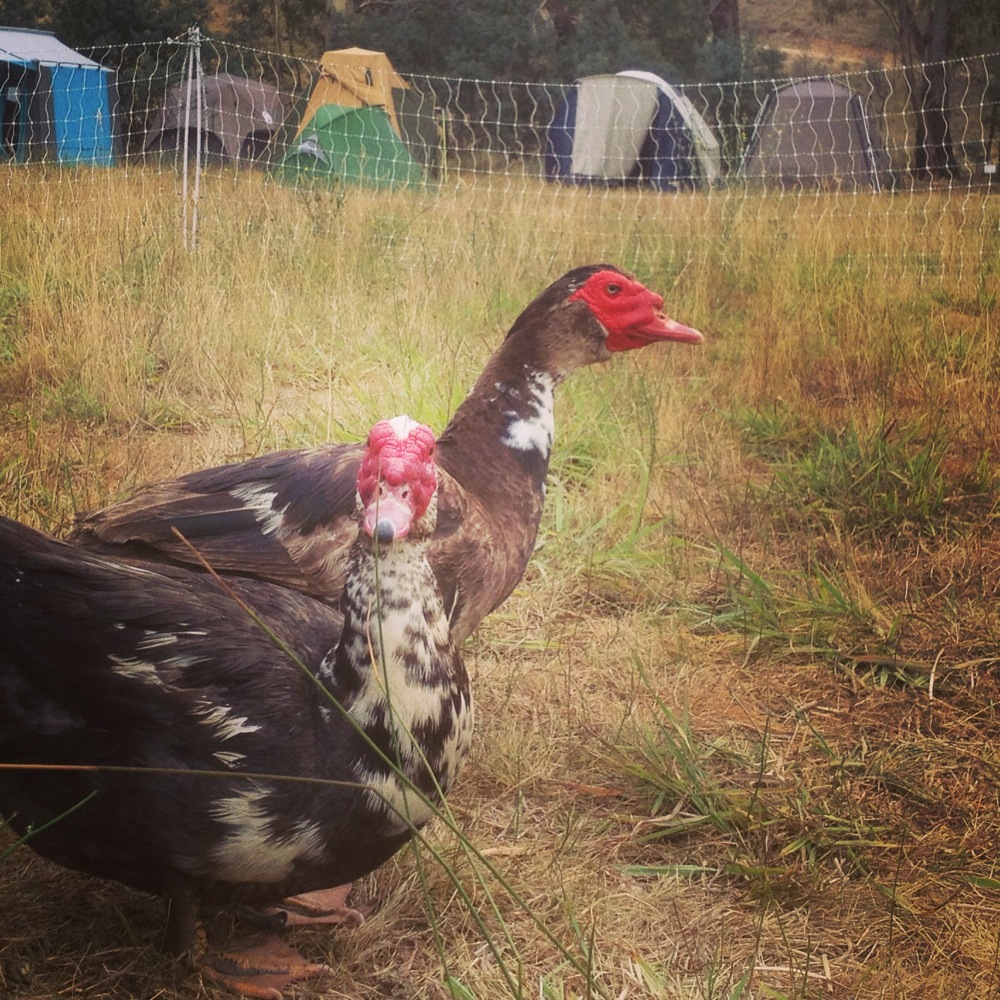 We've been wanting to introduce ducks to our integrated animal systems for some time now. We've been trying to decide which breed to start with and where they would best fit, so we can maximise the Power of Duck at Milkwood.
Random opportunity seems to have decided for us, for now. Friends down the road are moving on, and needed to find a home for their load of Muscovy ducks – 4 drakes, 4 ducks and a couple of clutches of ducklings. What a fantastic breed they are. They even perch to roost.
After a bit of research as to the inclinations, functions and nature of the Muscovy, we've started them off down in our egg mobile system with the laying hens, until we decide on the design for a full-blown duck system design.
These particular muscovys had already been living with chickens, free ranging during the day and getting shut in the chicken run at night. So they're comfortable with chickens, which is a good thing.
Also, as said above, adult muscovys perch to roost (as opposed to sleeping on the ground)… which makes them a fine compliment to chickens in an egg mobile, and also more resilient to predators.
The muscovys we've inherited are very chilled-out fellows. So far we've been delivered two drakes and a clutch of adolescent ducklings in the egg mobile system, and they're all taking it in their stride.. a bit of foraging in the grass here, a bit of a waddle over there, and so it goes.
Adult Muscovys can fly if they have a mind to, so Floyd clipped  the two Drakes wings to keep them where they are most useful to us (and easiest to protect from predators), inside the poultrynet fencing.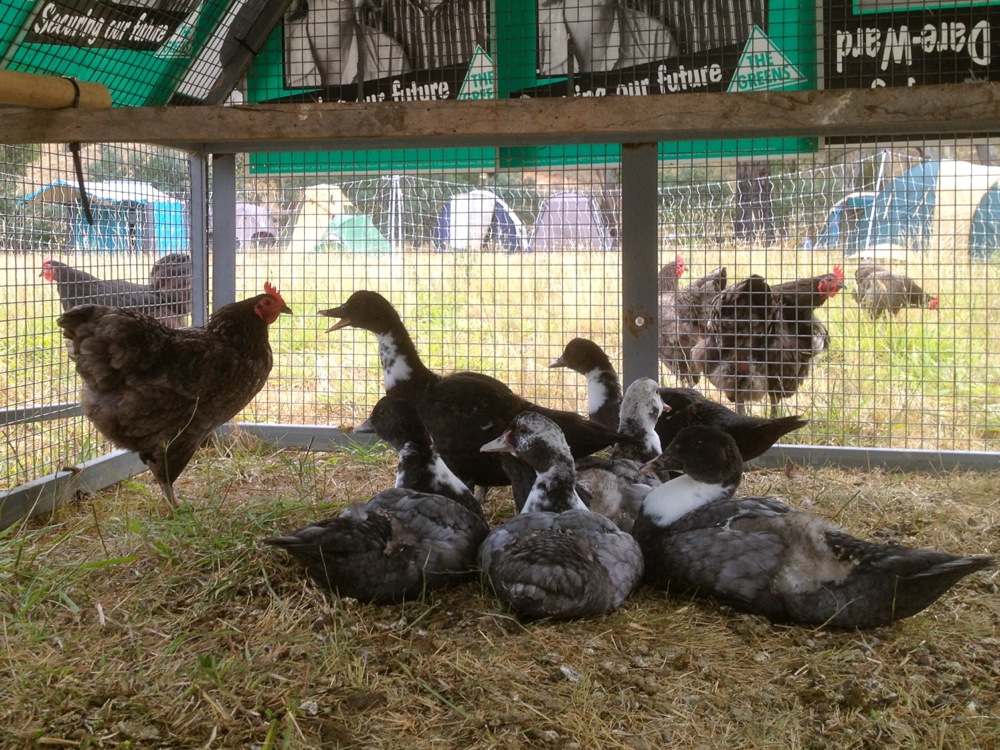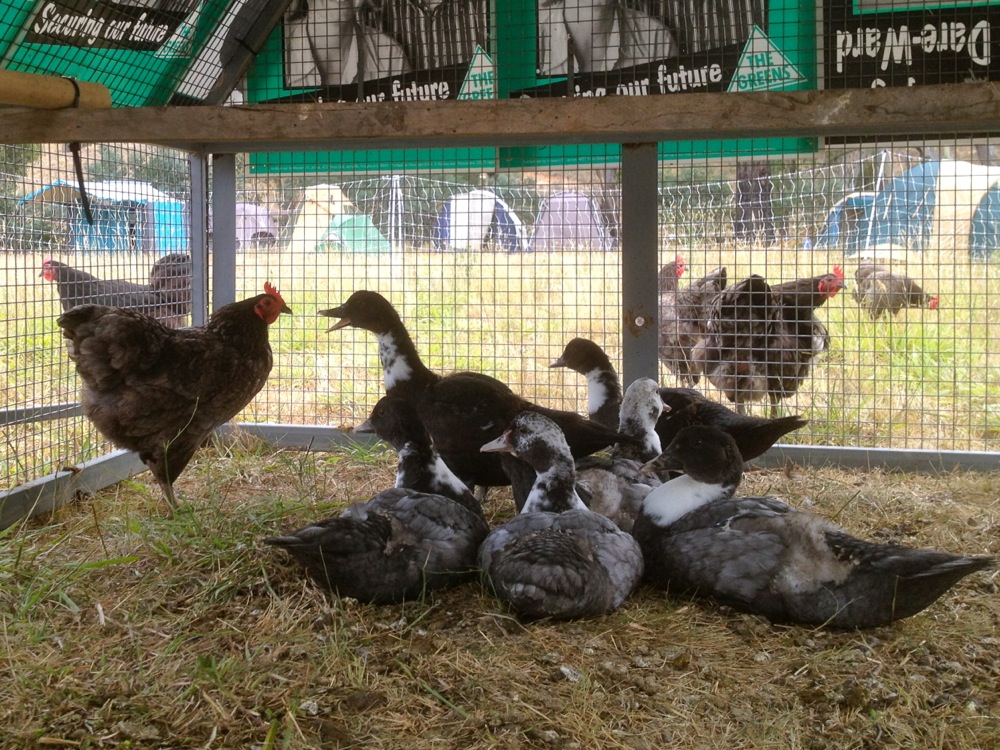 Muscovy ducks are traditionally bred as a meat bird, as they grow large, and quickly. When they do lay eggs, they go broody easily and make great mothers.
From the advice we've had from our networks, Muscovys are often raised in a small farm context as meat birds who are also great brooders and mums for the other duck breeds (like Khaki Campbells or Pekins) who are in turn very useful for their egg and/or meat production, but who don't make such good mums.
Muscovy ducks are also native to South America. Yay for Gondwana ducks! There is some muddiness as to whether they are actually ducks or more closely related to geese than ducks, as they can (apparently) breed with some geese, though the resulting offspring are mules (ie infertile).
My best research so far says they are, infact, ducks. But who knows – it's almost the Capybara all over again if you ask me (you know, those funky and massive South American aquatic rodents which look a bit like a hampster crossed with a wombat, and which a Pope in the 17th C classed as fish, because otherwise in some inland and very catholic parts of South America the table was somewhat empty during Lent… or so the story goes).
Anyway. Muscovy Ducks. At Milkwood. Are ducks, as far as we're concerned (no Pope having been asked to adjudicate on this particular point).
Muscovys are also known as 'quackless ducks'. They do hiss though. The are also prodigious producers of poop. Everywhere. Which, in a rotational pastured system, is a wonderful thing. Bring on the nutrient cycling.
All in all, we're very happy with our windfall Muscovys. Their water requirements are not as high as other duck breeds (though we've given them a paddling pool in the interim) on a daily basis, though they do require water to mate.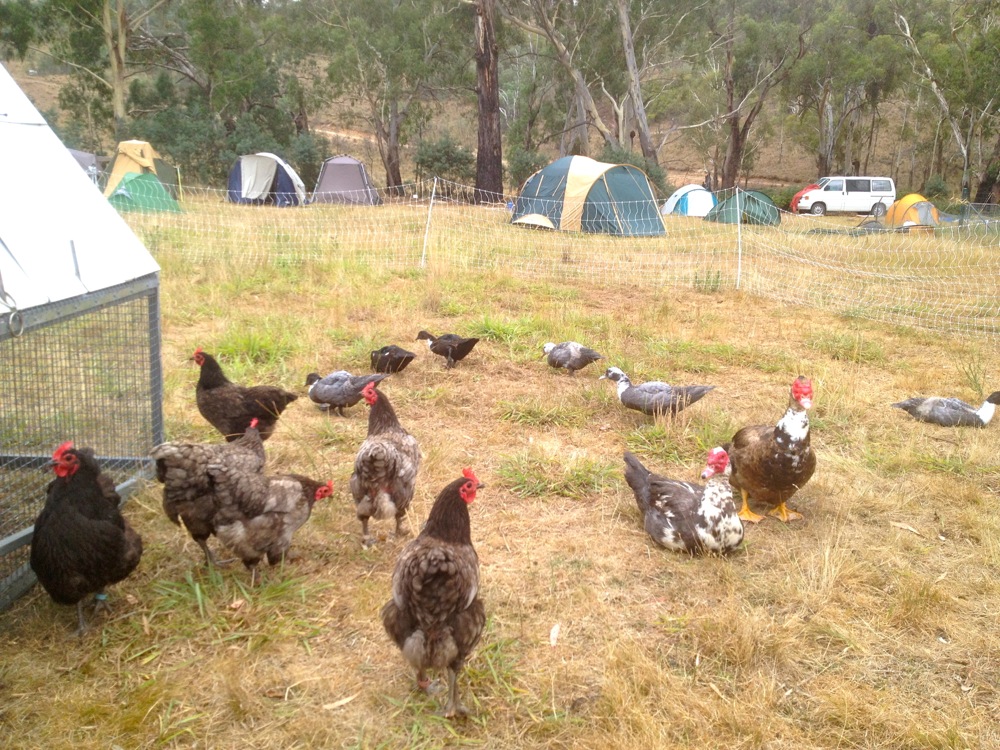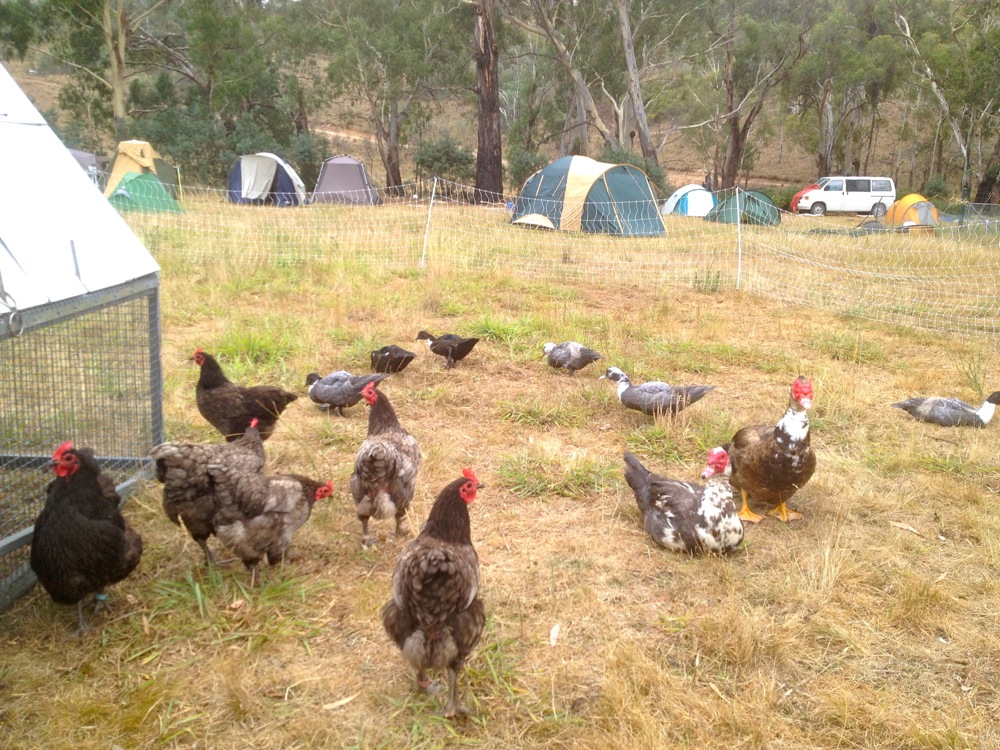 The design we're going towards with ducks at Milkwood will probably center about setting up the ducks reasonably high in the landscape (perhaps in the forest garden) so that we can utilize their pond water for regular gravity-fed fertigation when we change their water.
This kind of simple fertigation setup would be a great bonus to growth at our site with its limited water and nutrients, and will be a great way to heighten food security and abundance by turning an output into a valuable input. We'd also be calling apon the ducks for their slug and snail hunting abilities, as well as their ability to eat grass. And their meat, and their eggs.
Ideally, we'll also have Khaki Campbell ducks in the mix, which I'm keen on for their excellent egg laying in all weathers… you cannot have too many duck eggs. Best. Scrambled eggs. Ever.
But for now, until the main integrated duck system is designed and built, the Muscovys are a good fit down in the egg mobile system, where they're foraging and pooping happily.
Which should result, for the short term, in a low-input, nutrient-enhanced creek flat, and long term, in more Muscovy ducks…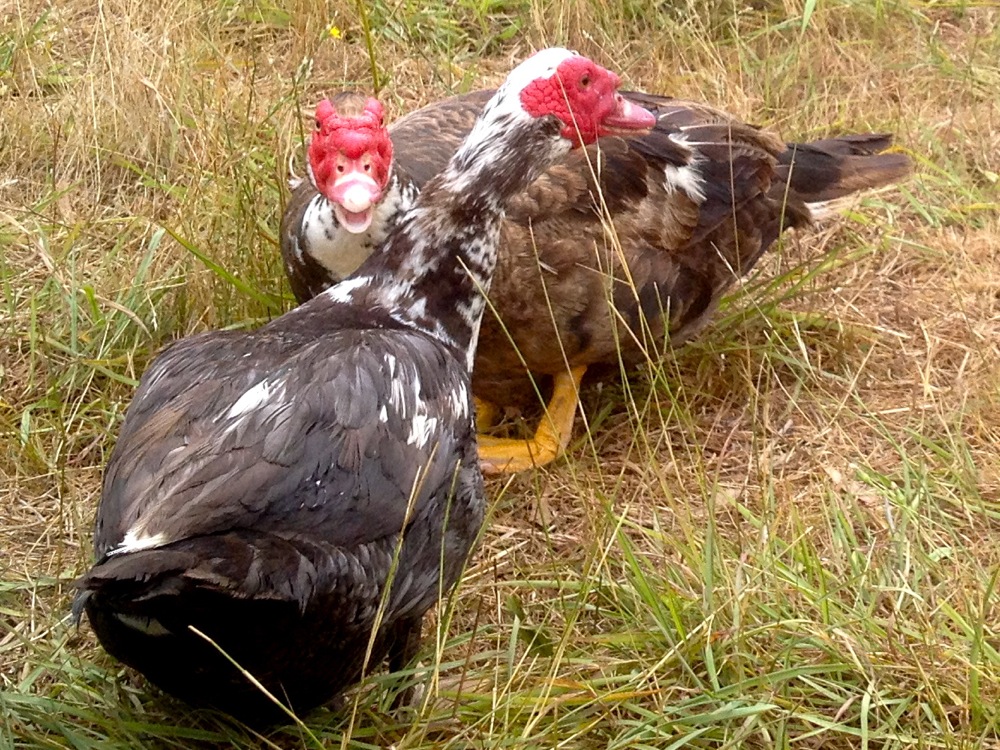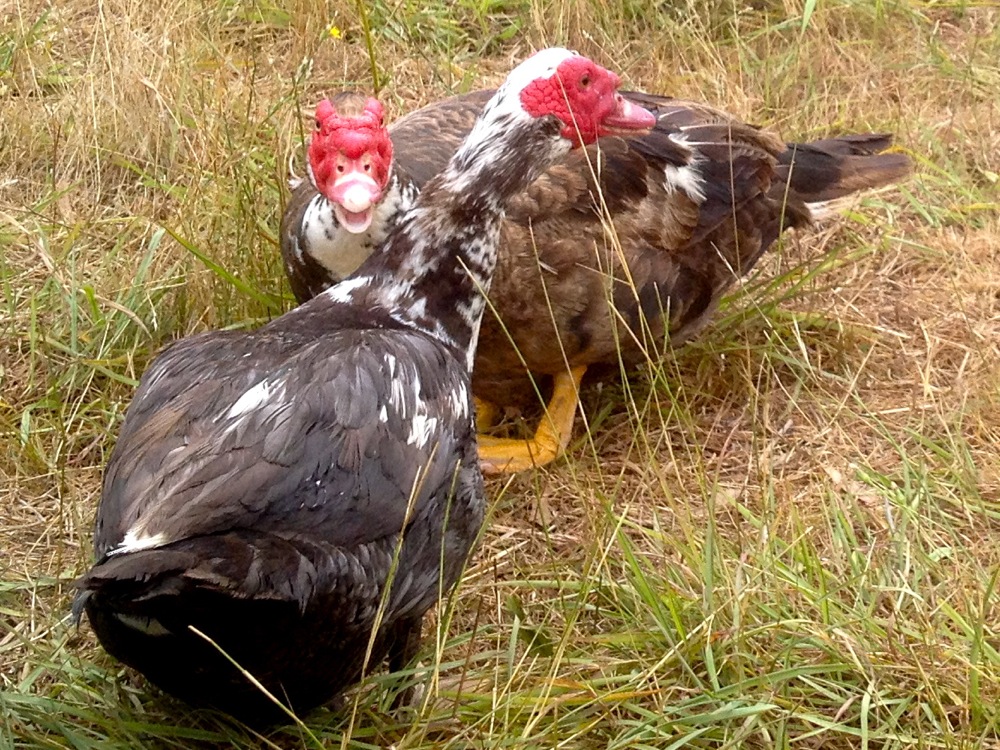 Big thanks to Rachel and Chris for the Muscovys!