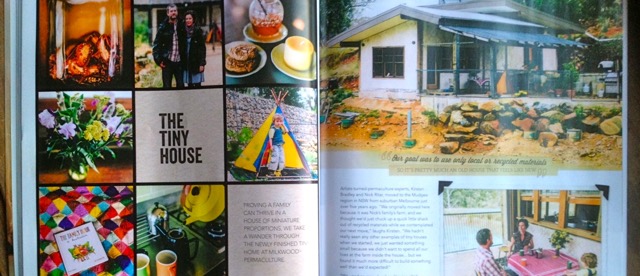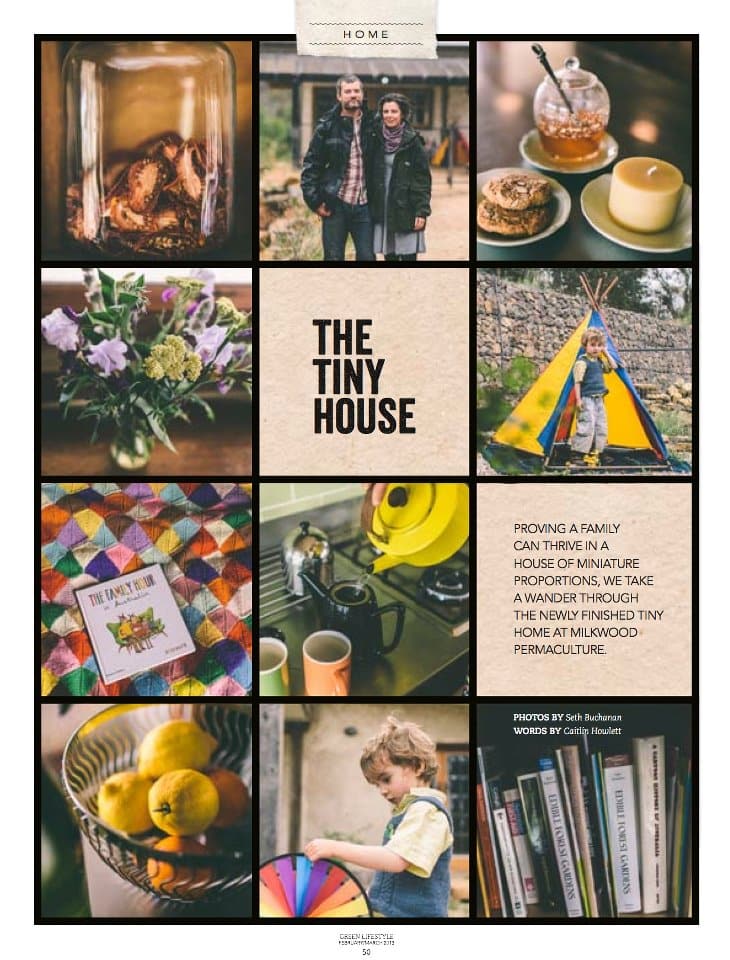 Reading about our kitchen, in our kitchen. Kinda spooky, but mostly fun! We're tickled to announce that the Milkwood Tiny House is featured in the latest edition of Green Lifestyle Magazine… get it while it's hot!
As many of you know, the building of this Tiny House has been a looooong labor of love – but 5 years, some false starts, various small disasters, one massive learning curve, one child and one permaculture farm enterprise later, we are living in our small, natural, hand-made home. And now it's in a magazine. Who would have thought.
This was our first photo shoot. Ever. Photo shoots are funny things. The photographer that Green Lifestyle sent out, Seth, was very accommodating of the inclement weather and our high amusement at being photographed in our home.
Seth was also great with our three year old tyrannosaurus rex who was, at that point, rather loud and growly when asked to… well, asked to do anything that day, actually. Solution? Take lots of shots of growly dinosaur, and show them back to him. Ashar thought Seth was the best thing ever.
And then, months later, there it was… the Tiny House, in pictures! Here's the first two spreads of the article…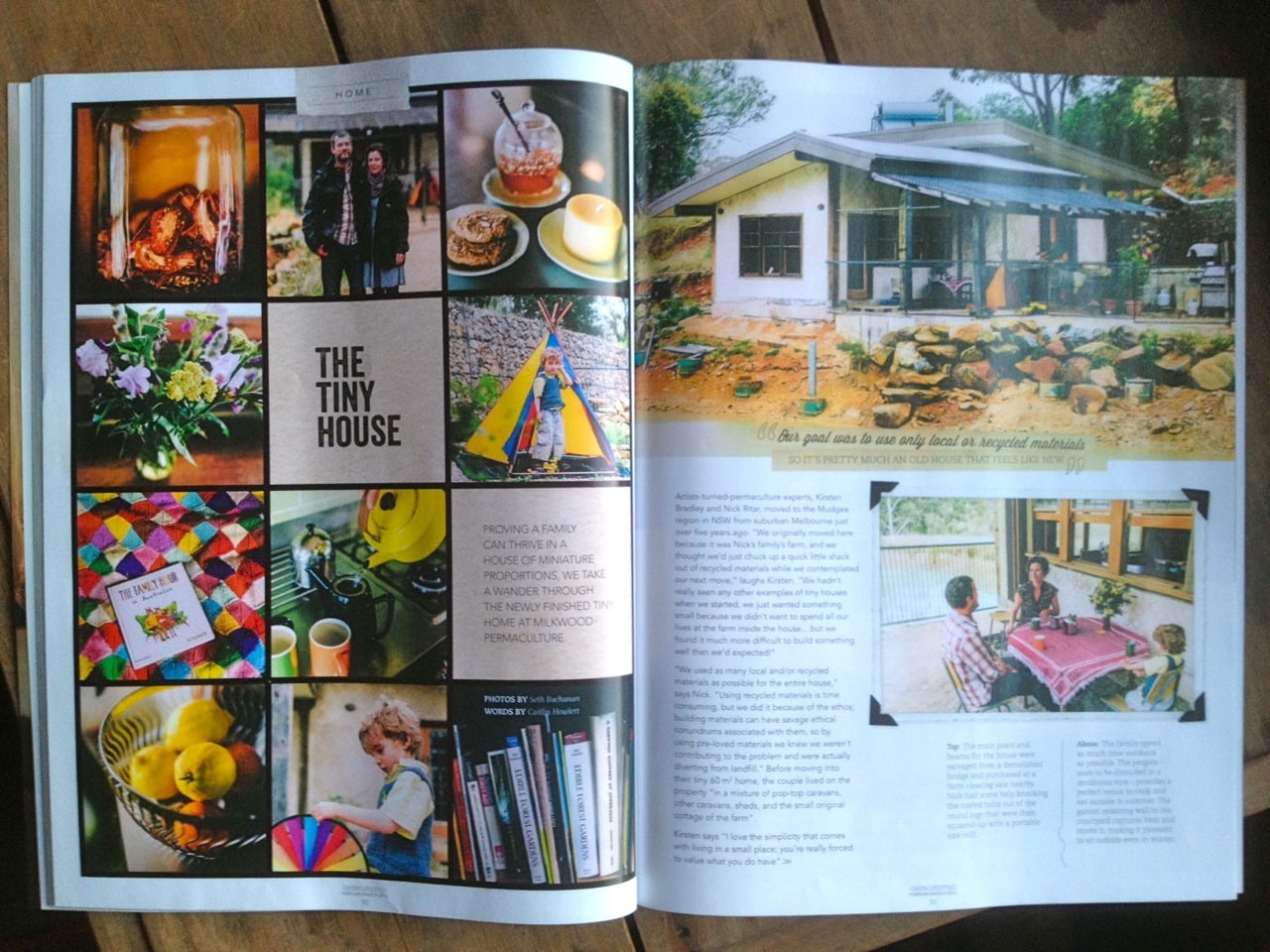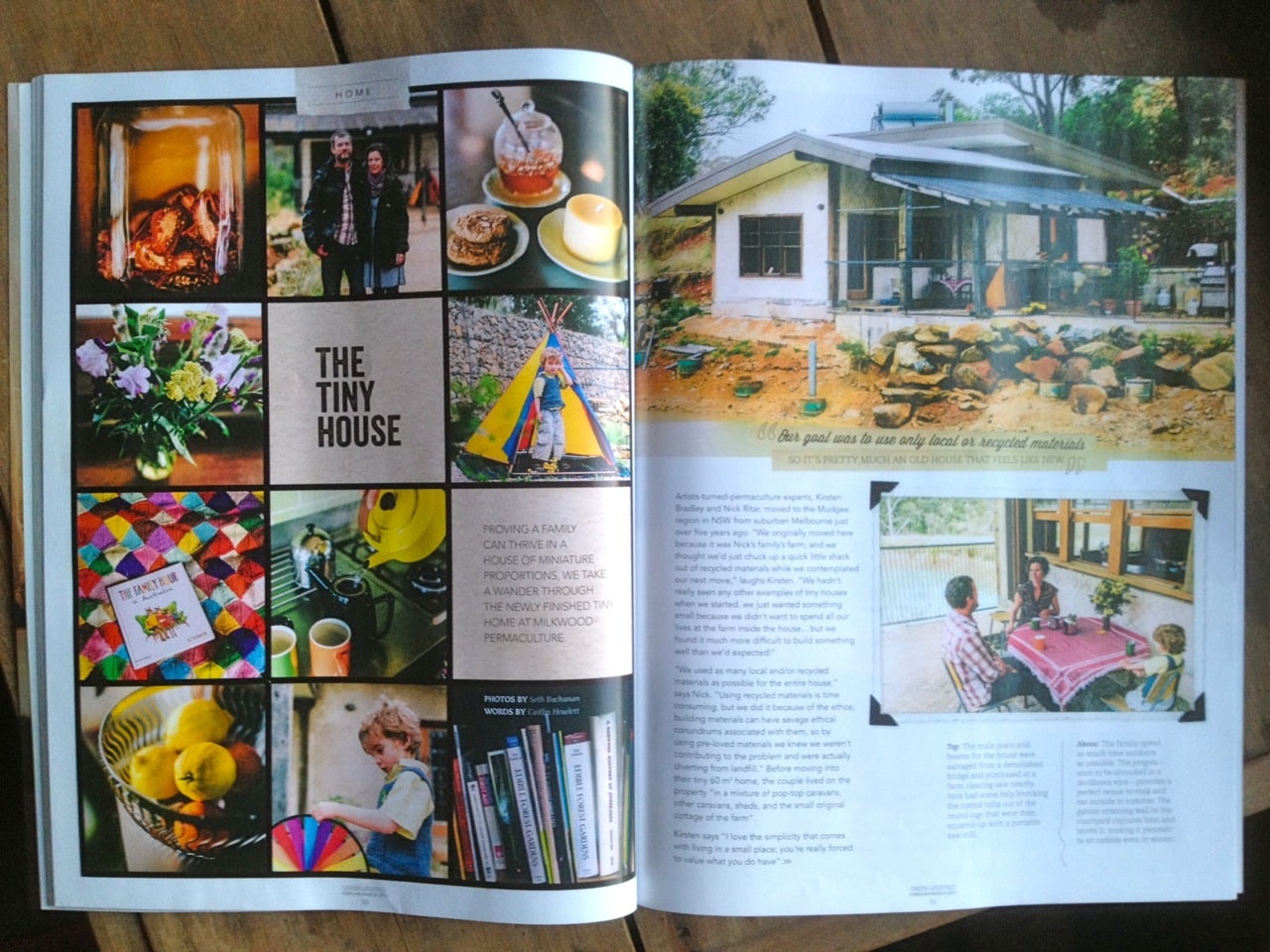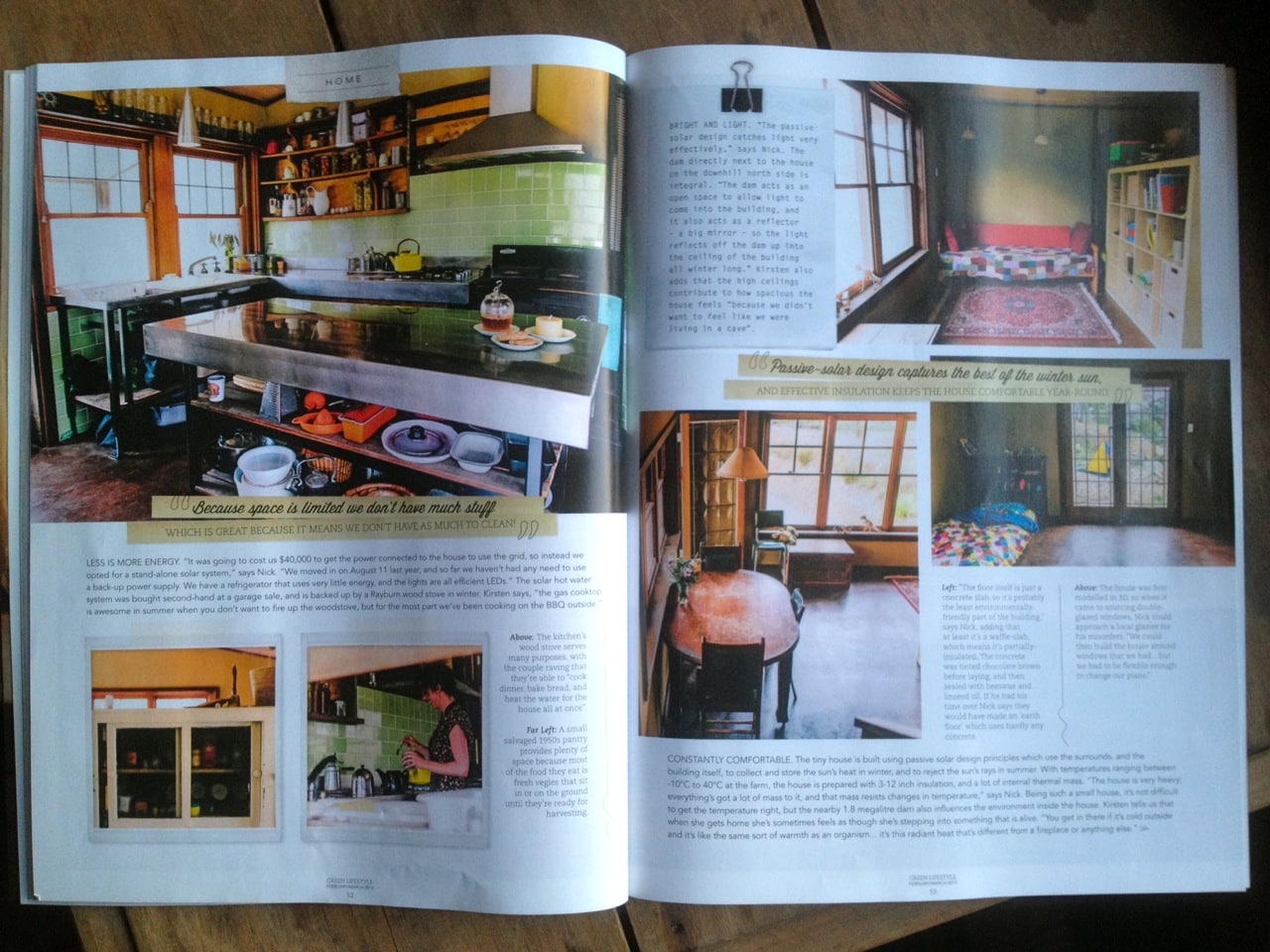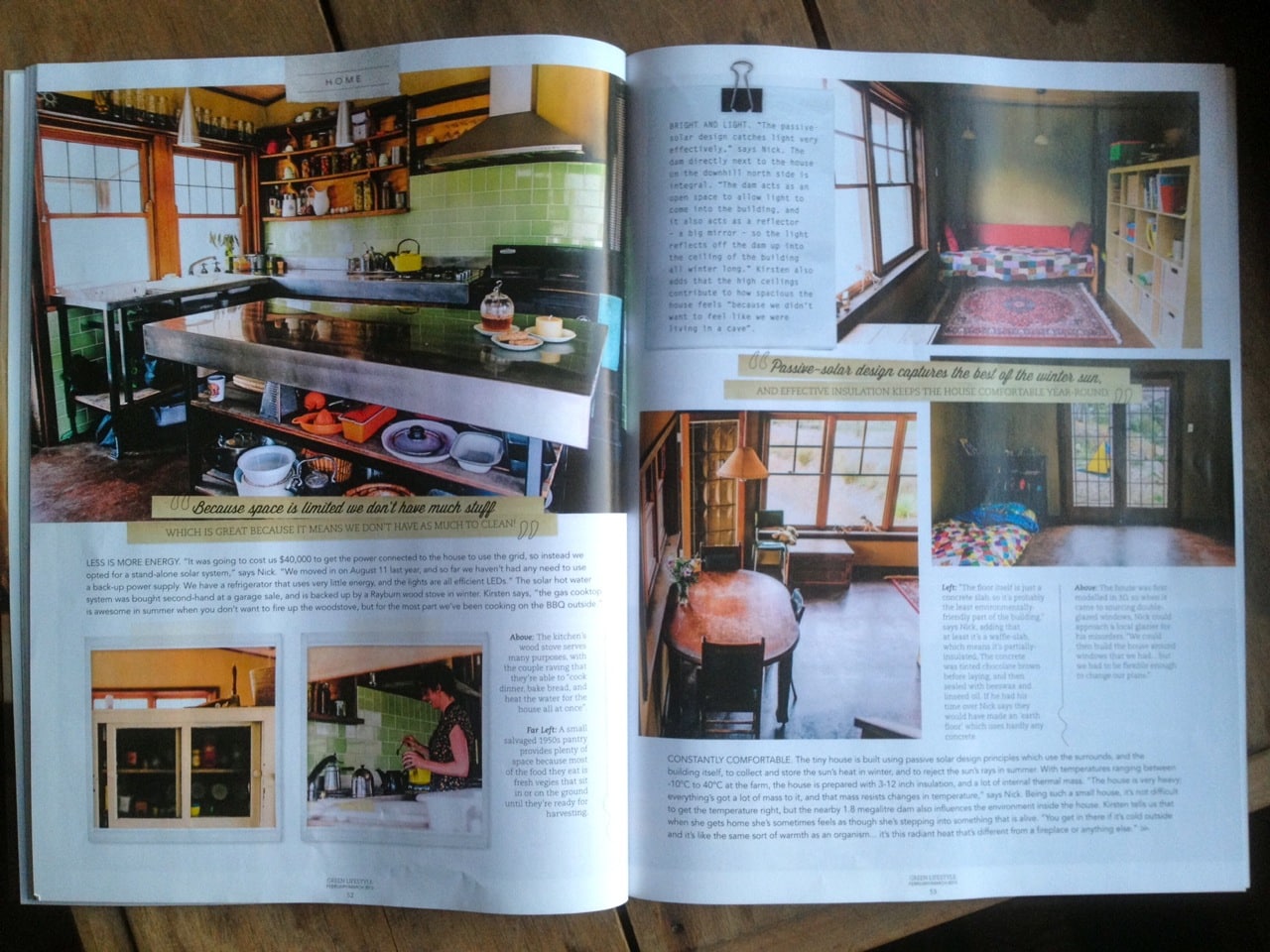 My favorite things about this article are two fold. Firstly, the mag came out just after our first proper house party (Nick's 40th) where the tiny house got well and truly christened by a troupe of old and new friends for 3 days. So the house got christened, and then this lovely vignette of the results of a 5-year project appeared on our doorstep.
My other favorite thing about this article is the fact that our simple bucket style compost toilet made it to a lifestyle magazine! Yay for societal shift.
To read the full article, you'll need to get a copy of Green lifestyle Magazine. It's a great edition this time around with articles on community gardens, a soak and sprout poster, thoughts on mining in the kimberly, avoiding PBA and even an article on preserving tomatoes without creating a murder scene (*cough* written by me *cough*).
If you want to check out the backstory of this hand-made house build, including making compost toilets, experimenting with wattle and daub walls, making gabion rock walls, post and beam wrangling, dumpster diving for windows, doors and the kitchen sink, passive solar design and all the rest of it, the story of the build of the Tiny House is here…
Big thanks to Emma and Caitlin at Green lifestyle Magazine, and to Seth Buchanan (incidentally a local photographer based in Orange) for his good humor and beautiful photos.
Huge thanks (once again) to everyone who built, carved, held up, held down, drilled, hammered, rendered, sweated, cursed at and otherwise participated in the build of the Tiny House. We love you.
Particularly huge thanks to Shane Mills for being the best natural builder we've ever met, and to Nick Ritar for both designing and planning nearly ever facet of this house, for keeping on track through summer and winter and summer again, and for also getting by at times on sheer optimism and belief, including in the brief periods when I was totally over it and ready to pack it in. Hooray. It's beautiful. Thank you.