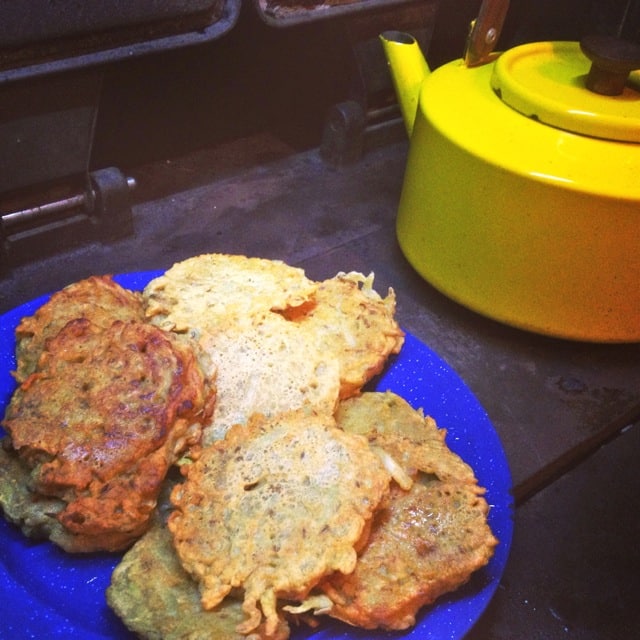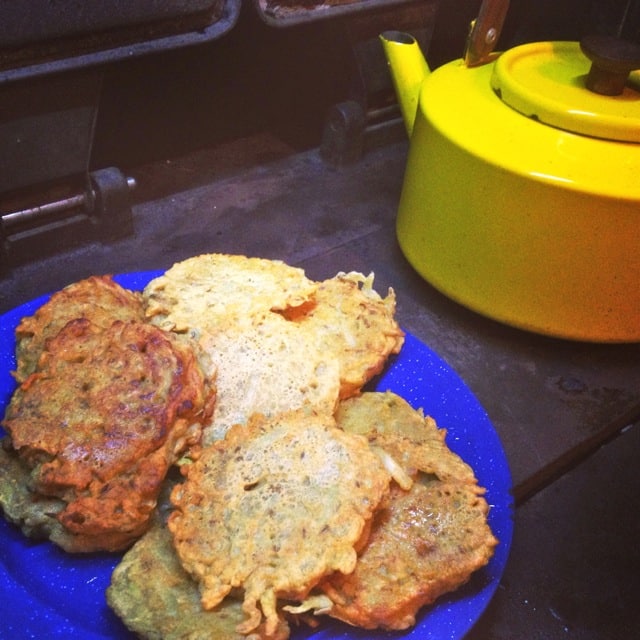 It has become clear that without pikelets, we would be lost. They may be small, and innocuous, but they are the shield against the storm, around here.
So you've worked all day and it's now time to magically and quickly fabricate a wholesome dinner for 6 out of carrots, potatoes and carrots. So soup it is. But with soup there must be bread. Ah, yes. I didn't quite make any, again. Oops. Aha. Pikelets.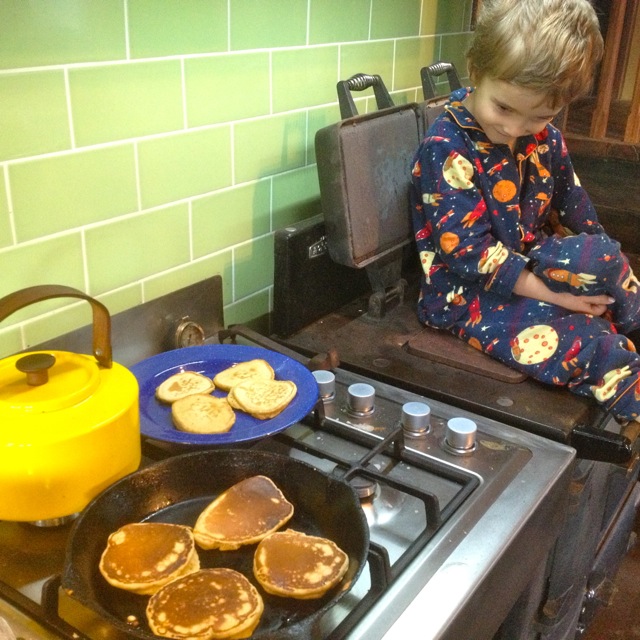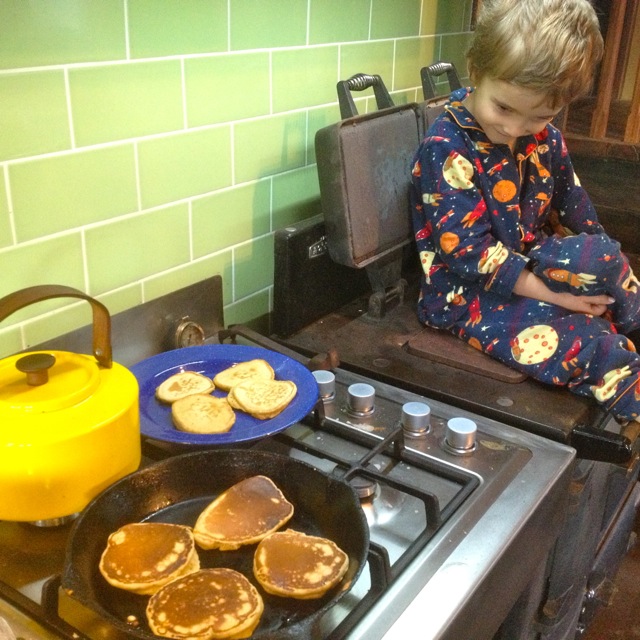 A little while ago a group of local gardeners came to check out Milkwood Farm. As one lady, who'd lived out in the central west all her days said as she got out of the car:
"Wow, you're really far out of town. You must be pikelet people, yeah?"
It took me a while to get her drift but she was right. We are pikelet people. Pikelet, pakora and pancake people, to be precise.
One of the things I love about choosing to minimise consumption from the supermarket is that it makes you more creative when it comes to feeding yourself, and encourages you to prioritise growing amazing food.
What we don't grow, we buy in bulk – the flour, the grains, the pulses, the nuts.
The main items on our shopping list in town now are things like milk, pasta (yes I know I should be making that too), matches, butter.
Oh and frozen berries. Hey, he's 4 years old, and I want him to eat the whole bowl of breakfast so we don't have a 'I'm sooooooo hunnnnngry' melt-down at 9am.
The point I'm coming to is that we try not to buy bread. We make it. Home made bread is the best. I personally am a big fan of the New York no-knead bread side of things (i'm not much of a kneader) but for others at Milkwood, sourdough reigns supreme (and it does with me also, when all I have to do is eat it).
So there's no secret loaf in the cupboard, and there's no 'i'll just pop out and get some' bread action when we run out. We're 45 minutes drive from the closest shop, so that hits that one on the head.
Enter the blessed pikelet. It might just be flour, milk, egg and oil, but it has saved many hungry souls around here.
Pikelets take about 5 minutes to mix up and then you're pouring them into the pan before you know it. They come out warm and fluffy and they chink the cracks and soak up the soup.
And if we're talking fresh organic flour, todays egg and our olive oil, they're probably far nutritionally superior to anything I would buy at the shops, even if I could.
Chickens not laying? No eggs about? Have you run out of milk? Fear not. The pakora is what you're after.
Pakoras might be even better than pikelets in many ways. As long as you ensure a good supply of besan (chickpea) flower is in the pantry, you are set – anytime, anywhere.
We make pakoras with a large bowl of grated vegetables (carrot and potato, at this time of year) and maybe one handful of besan flour to every two handfuls of grated veggies.
Mix it all up with your hands, add whatever spices and seasonings you like,  and add very small amounts of water until you have a mix like mud and straw cobb (or, if you are not a cobber, till it's all sticking together nicely, but not too wet).
Then fry table-spoon lumps in your frypan in plenty of oil, on low. They come out like fritters, but with a certain meatiness to them, which goes perfectly with soup, or in lunchboxes.
Given that I can get both my father and my son to eat pakoras in quantity (both of whom have, shall we say, strong views relating to foodstuffs that do not fit within their particular spectrum of acceptability), I say pakoras are a winner.
And then there's the pancake. Which I'm sure you know all about. We like pancakes, they make Sunday mornings roll around here.
Don't get me wrong – I don't think running out of bread is that big a deal – there's always plenty else to eat, and we know how lucky we are to have what we have. But you know that evening when you're knackered and trying to get everyone fed pronto?
One of the things I'm coming around to living like we do now is that the slow, handmade life is all very well until you hit one of those evenings.
It's your turn to cook. You want to get the kid to bed within an hour or so. You did not spend all day preparing slow-cooked wonderment for everyone. You are tired and you have been working very hard and this is the point when, previous to living out on the Farm, you would make the call: we are getting takeaway tonight.
But there is no takeaway and there isn't even any takeaway leftovers in the fridge. There is no leftovers at all. Your kitchen is bursting with wonderful preserves and wholesome wholefoods, most of which will take a moderate amount of time to transform into a nourishing meal.
The garlic is braided, the carrots are outside in a sack, the forest garden is full of herbs and you know if you could just get your head together you could whip up something zesty and tasty and new and amazing and fresh and funky and you'd all be eating in an hour, glasses of local wine being poured across a table so full of the colours and smells and spices of fresh farm food. Oh huzzah the simple life.
But you can't think straight right now and all you know is that there are lots of carrots, and that you need to start the fire, and that you are tired. And that 5 adults and one kiddo will all tromp in and sit down for dinner in one hour. And you do remember how to make soup, at least.
Which is why the pikelet and its friends are really and truly a lynchpin of simple living. Because they provide fundamental solutions to evenings like these, without anyone getting hurt.
So pour the wine, and raise a glass to the pikelet. I love you, simple living. Thanks for teaching me tenacity, and to respect the small things in life…