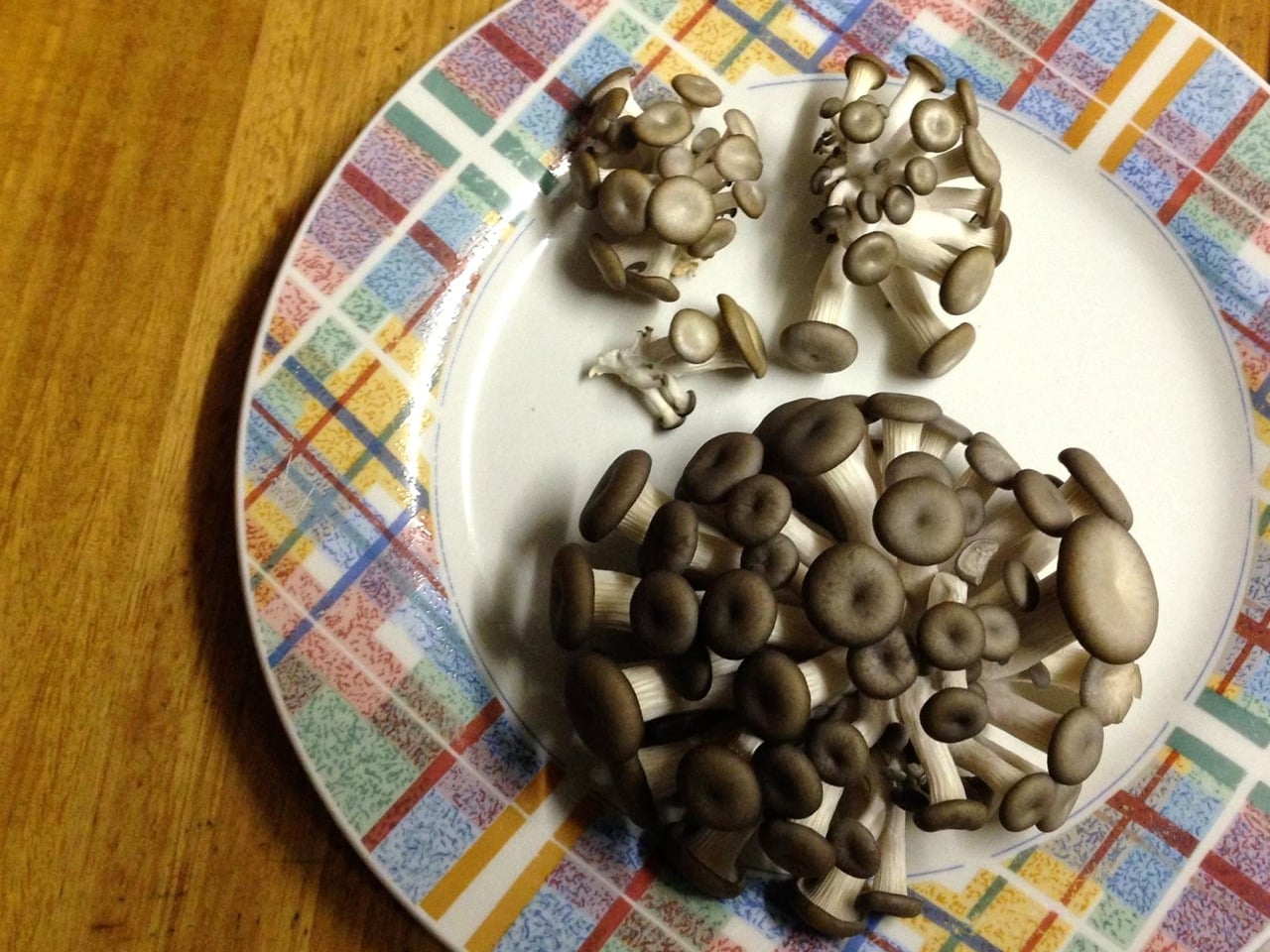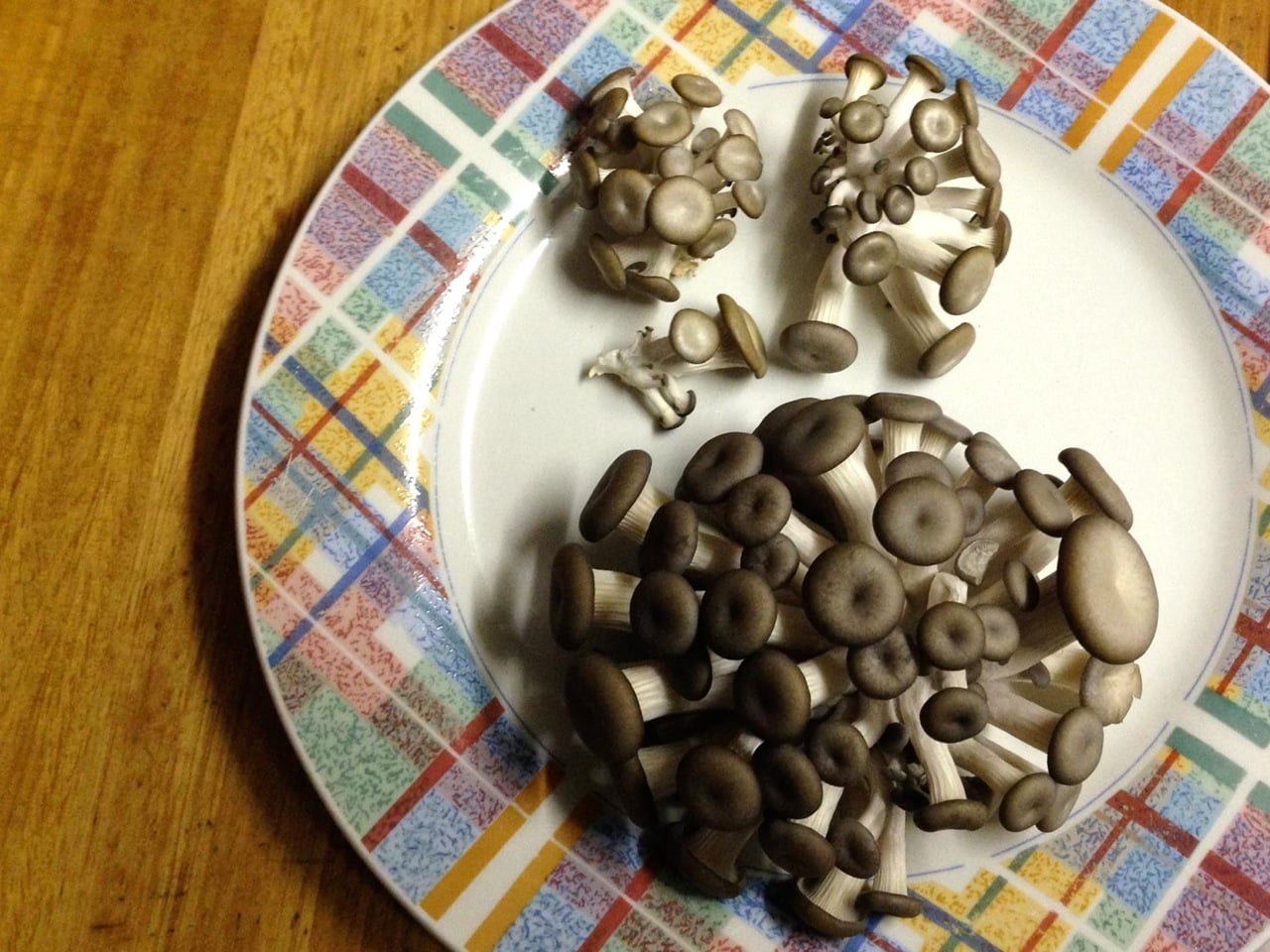 Growing mushrooms in stackable buckets is an excellent space-saving cultivation technique, and perfect for anyone with limited space to get growing.
Gary did our Gourmet Mushroom Cultivation course in March, and since then he's ramped up to an impressive little DIY mushroom bucket cultivation setup…
By using the bucket-in-a-bucket technique, you can minimise the use of disposable plastics in your mushroom cultivation, as the outer bucket provides the humidity for the inner fruiting bucket, until your 'shrooms are ready to burst out.
This way, you don't need a plastic bag inside the bucket – which we rekon is a very good thing.
The square buckets above are easily accessible from various shops following their first lives, generally as ice cream containers.
We'd suggest hitting up your local juice bar, cafe or bakery as a starting point to source these.
There's nothing particularly fancy here in the production of these 'shrooms, as you can see. Just good knowledge, basic materials, gumption, time, and serious mushroomy goodness as a result.
Thanks for the photos, Gary! All the best for your future mushroom adventures.
If you want to become a DIY mushroom mofo like Gary, come along to one of our Gourmet Mushroom Cultivation courses.
A note about plastics:
Sometimes we get asked about the use of plastic in mushroom cultivation. Yes, there's a bit of it, isn't there?
So a couple of notes about the use of all this plastic – firstly, mushroom propagation is all about limiting contamination, so that only the fungus you want to grow, grows.
Limiting contamination is best achieved by having everything very, very clean. And so wipe-down, non-absorbent surfaces are a must. Plastic surfaces is one way to do this, and for most people, it's the most accessible way.
As to cultivating in plastic, it's the same thing again. The mycelium you are propagating do not eat plastic. They eat straw, or grain.
So the plastic container is there to limit contamination in the crucial phase where the mycelium of your choice is attempting to colonise the substrate (the straw or grain or wood or whatever).
Yes, you could do this instead in bamboo tubes, or in clay pipes, or any number of container types, or indeed just in piles of straw, if the conditions are perfect.
And if you'd like to do it like that, please do so. But do keep in mind that your rates of contamination will likely be much higher, and you will grow all sorts of things other than, and in addition to, your chosen mycelium.
So. In short, if you're starting out, go find some recycled food-grade, good quality plastic containers and (once you've established their provenance) start using them. You'll be using a waste resource and growing good food that's as clean as it can be, under the circumstances.
Alternately, you could fruit your mushrooms in glass jars, although this obviously gives the mycelium only one outlet (the jar neck) to fruit from, which may limit your yield.
And the more you keep re-use in mind, the more likely you are to devise systems that waste minimal plastic – things like the bucket-in-bucket cultivation technique (which eliminates plastic bags).
Last point on plastic: if you buy mushrooms other than log grown shiitakes, it is inevitable that they're being grown in plastic. Plus, unless they're organic, they may be grown in a cocktail of substances to prevent unwanted moulds colonising them. And then they're packaged in plastic to get them to the store…
You get my drift. Plastic is hard to avoid in mushroom cultivation. But if you choose, you can be smart about it and minimise waste.
The solution? Learn how to grow your own! Or start up a community enterprise and enable someone else to do it. The world needs more mushrooms.