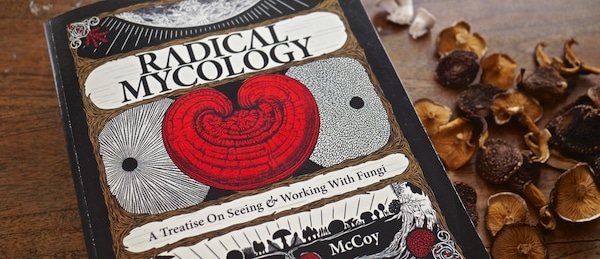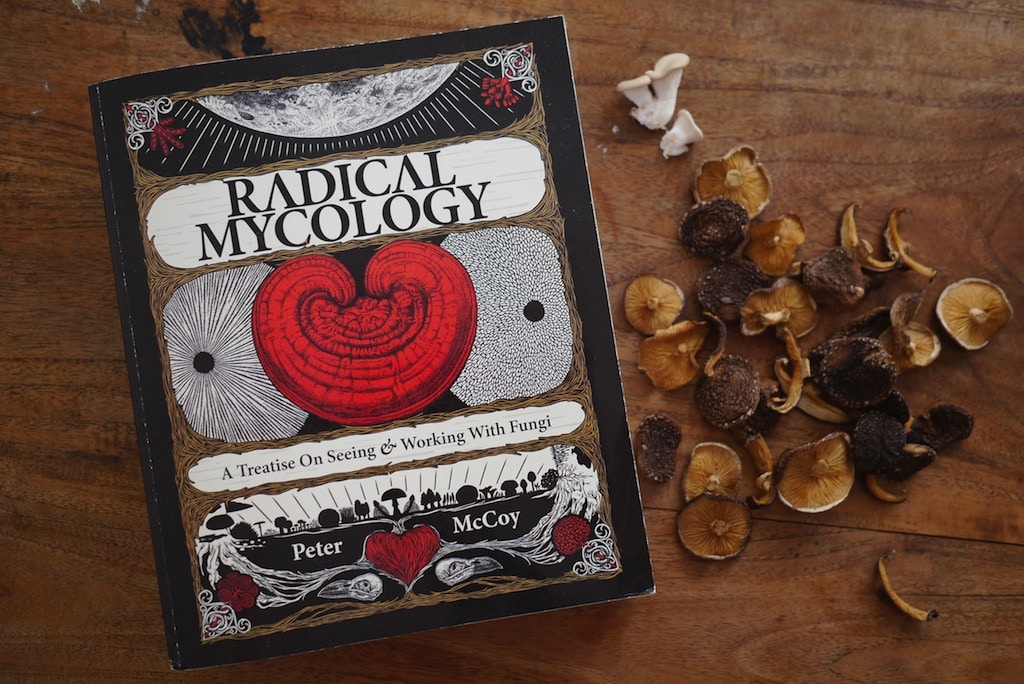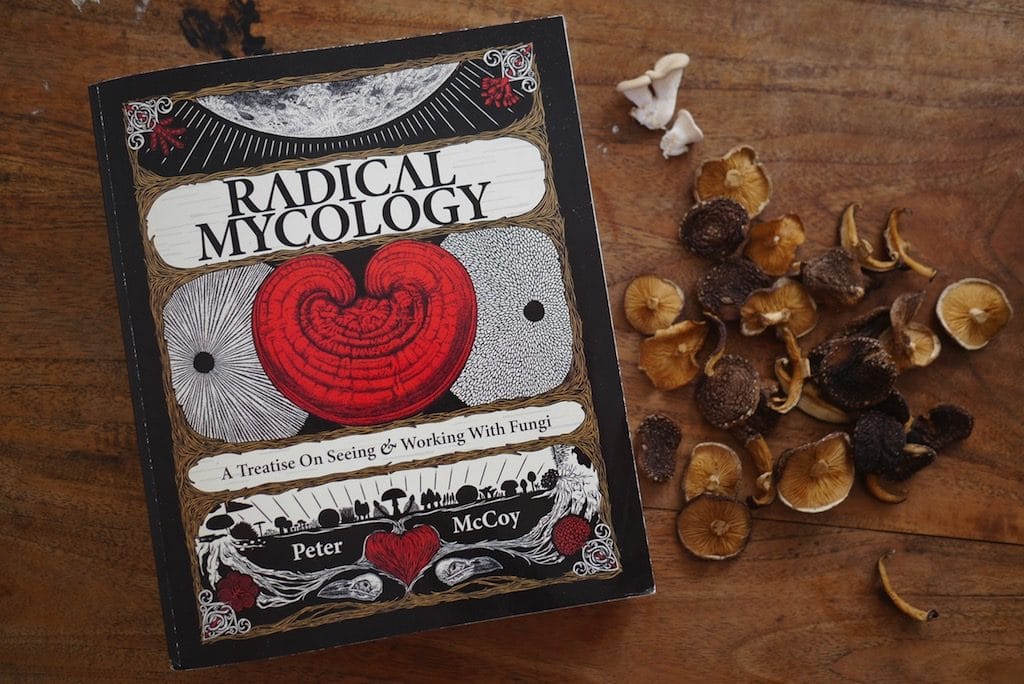 Radical Mycology by Peter McCoy is a book that will get you excited about fungi, whether you like it or not.
That's because, aside from being a competent guide to the technical aspects of mushroom cultivation, it's a book that is literally sporulating with enthusiasm for the world of fungi, in all its forms.
Don't want to grow mushrooms, but love food? Sure – start in chapter 6: The Spores of Life – and get into the details of fungi as ferment – koji, kombucha, mycotonics, and blue cheese, just for starters.
More the basket in the woods kind of person? Start in Chapter 4 – Seeing Fungi – all about how and where to find wild mushrooms, how to note nuances, identify different fungal families, and what to do with them.
Perhaps you're a community cultivator, most interested in restoring the local ecosystem, or starting a neighbourhood group? Start in Chapter 10 – Fungi for a Future. Medicinally minded? Start in Chapter 7 – The Pharmycopedia.
More crafty? Start with the treatise on lichen-based dyes in Chapter 5 – Radical Lichenology.
And on it goes.
In Radical Mycology we have a book that covers the world of fungi from mushroom ketchup to mycoremediation, and all with a passionate, entertaining and very readable writing style.
I think it's this broadness of this text, together with that enthusiasm and readability, that makes this book so unique.
There's about 300 pages dedicated to the technical aspects of mushroom cultivation, starting at a commercial scale, which gives way to backyard, low-tech and DIY techniques. And this bit is great – easy to read and follow.
Beyond that, there's overviews of the cultural history of fungi, and how we humans have used it in different ways in different parts of the world – the co-evolution, if you like, that we as a species experienced with that kingdom.
Overall, this great book encourages a broader explanation and understanding of fungi.
The different voices of various contributors provides a community feel, alongside case studies that are both useful and inspiring.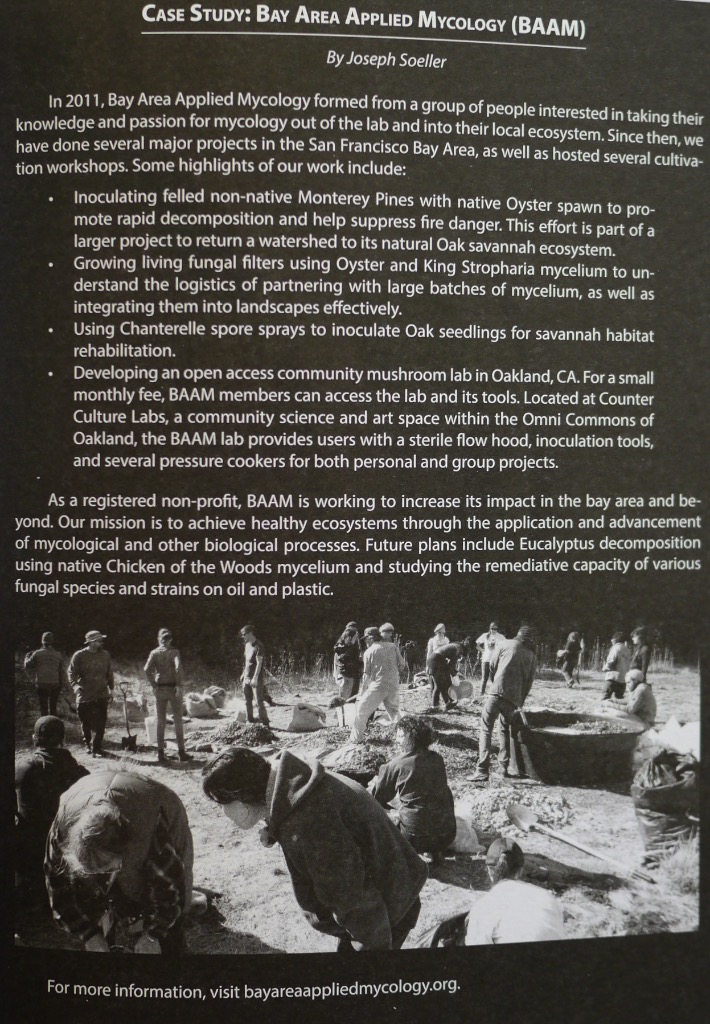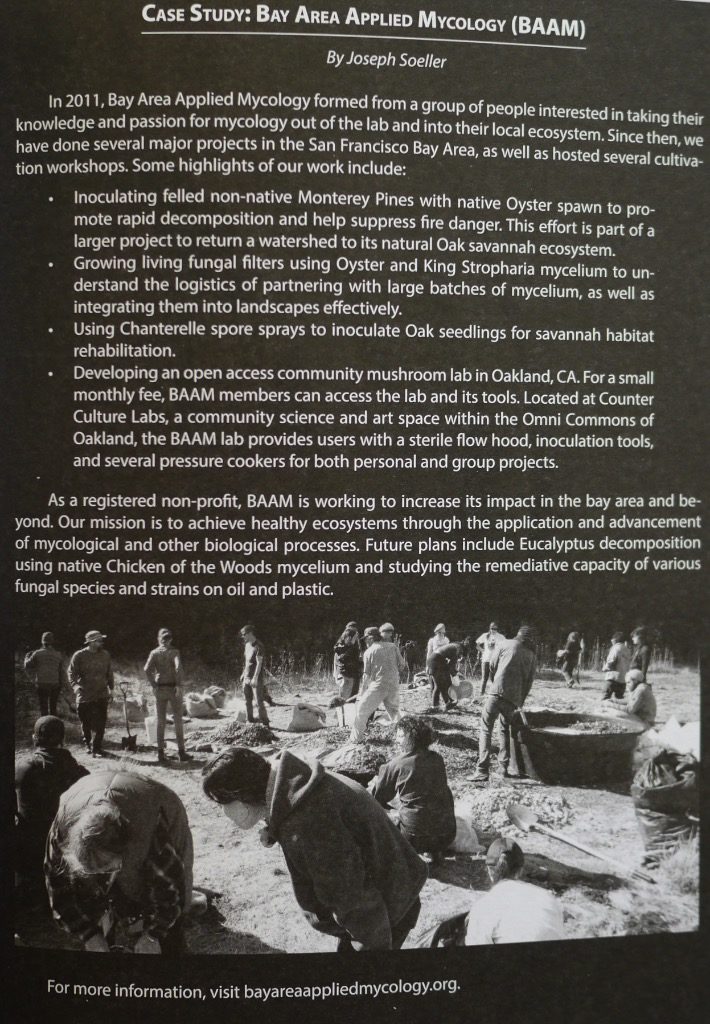 Hopefully you see what I mean. This book is big, in more ways than one.
It's also very cheap, at $50 for 600 pages of dense and excellent knowledge, which would be partly why the short first printing sold out so quickly. Don't worry, there's a second printing coming out this May!
In response to 'is it like Stamets, or more like…' questions, I asked Nick, our resident mushroom cultivator, teacher and general fungi person. He said:
"I think Radical Mycology sits somewhere next to both Stamets and Cotter's books. Stamets of course wrote the go-to technical manual when he published Growing Gourmet and Medicinal Mushrooms, but that's not the easiest read for many people.
Tradd Cotter's Organic Mushroom Farming and Mycoremediation is a simplified technical manual which is also excellent and for some people, more accessible than Stamets.
Radical Mycology, though, provides 100+ entry points to the world of fungi. You can pick it up, and dive in now, no matter what your area of interest is in fungi – you might be into medicinals, cooking, foraging, community building, tripping (!), or cultivating gourmet mushrooms as an enterprise. It's all there, and you just want to read it!"
As a side note, this book represents the only time I have ever seen Nick disappear into a room for 2 days straight, to read. I think he rather liked the book.
Plus you get 'mycelium is the message' stickers when you buy the book, and that's really all there is to say. It's awesome, and I'm so glad Peter McCoy created what is a huge, beautiful and important community resource. Thank you, Peter.
Radical Mycology: a treatise on seeing and working with fungi by Peter McCoy – the first edition sold out, but you can pre-order a copy for the second edition with is out this May.
Radical Mycology: resources
If you're keen to skill up in hands-on Mushroom cultivation, we run an online Home Mushroom Cultivation course! You can find all the details here…