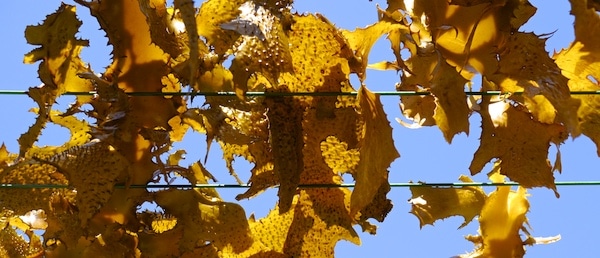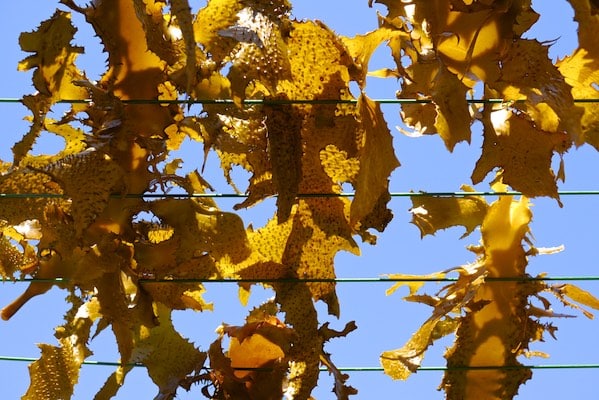 Seaweeds stand alone as an incredibly nutritious, regenerative resources like no other – and for many Australians, they're right on our doorstep. Here's the basics of foraging, drying and eating a few of them.
Firstly, the question that I've been grappling with of late… what's with Aussies and their seaweed?
Our continent has incredibly diverse algae, nearly all of which are highly delicious and nutritious in various forms. And yet, when it rolls up out of the waves and onto the sand, especially on populated beaches, we treat it like a nuisance. I've seen councils bulldoze the stuff away.
Simply put, we don't have a cultural history of using and valuing seaweed for its many useful and tasty purposes. And you could argue that we're almost the only coast-rich country who doesn't.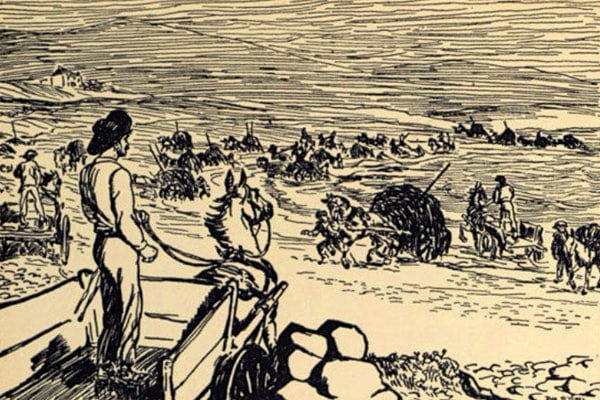 History…
The earliest evidence we have of seaweed consumption is 14,000 years ago in Chile, and since then it's become a major part of costal people's lives.
In Ireland it's been everything from a traditional breakfast on the west coast (laver in milk) to an important food during times of both crisis and plenty – for both eating, fertilizing gardens and crops, and for animal fodder too. In Hawaii, over 40 varieties are traditionally eaten.
In Japan, Korea, New Zealand, throughout Africa, North America, Iceland, Greenland, the British Isles and of course in indigenous Australia, seaweed has been used for everything from food to fibre to fodder to ceremony. And still is.
So. All that considered with this nutritional powerhouse of a plant that regenerates quickly, what are we waiting for? Let's get weeding. Seaweeding, that is.
A note on Foraging…
As with any type of foraging, being mindful of your environment is key, in multiple ways:
Only forage from somewhere that's relatively clean and non-toxic – for seaweeds, this means avoiding ocean outfalls.
Take a little here, a little there. All organic matter is home and food for multiple animals, not just you, so act accordingly.
Take a sharp knife, so you don't damage the larger organism – collecting off-cast seaweed doesn't need tools of course, but if collecting Ulva spp. ie Sea lettuce, take a knife so you don't damage the holdfast, allowing the weed to re-grow.
Check the regulations where you're going, before you go there.
Collecting
As far as i can tell in my research, nearly all Australian seaweeds are edible (unlike our plants and fungi). And in NSW, foraging beach-cast seaweed is allowed of up to 20 litres a day – although anything above that requires a permit.
In other states, regulations differ – here's the best guide I've found on seaweed foraging allowances state by state (go to page 5).
Like any food, fresh is best. Since in NSW we're only allowed to collect beach-cast seaweed that's come off the plant (with the exception of sea lettuce, which I'll get to later), this means finding the fresh stuff that's only come off it's holdfast in the last tide or so.
Seaweed has it's biggest flush of growth in Spring and Summer, so the stuff that you collect in these seasons will be the youngest. That said, if you're collecting wrack or kelp to turn into a powder or flakes, the age of the fronds isn't so much an issue.
The two I've been looking for are the most common bladder wrack of our parts, and golden kelp. The precise species of your area may be different, but there's usually wracks and kelps about wherever you go, especially in southern Australia.
And according to my research thus far, a wrack is a wrack, and a kelp is a kelp, insofar as you can treat them basically the same (though their individual tastes and mineral makeups differ slightly). And they're all edible.
There is an assumption with foraging beach cast seaweed that it's only good for fertiliser, because it's technically no longer alive.
But I don't think that's necessarily so. Beach cast seaweed can be a free and valuable food, if you can get it fresh enough. And given that this is the only way we can legally get hold of local seaweed without a permit, we will find a way.
The best way to get fresh beach cast seaweed is to go find where it grows, and then collect the bits that have naturally ripped off, nearby, at low tide. These bits will be generally fresh off the larger seaweed plant, and that's good enough for me.
Theres many, many seaweeds to forage in this way around Australia, but here's two that we know well.
Meet two of my new best friends: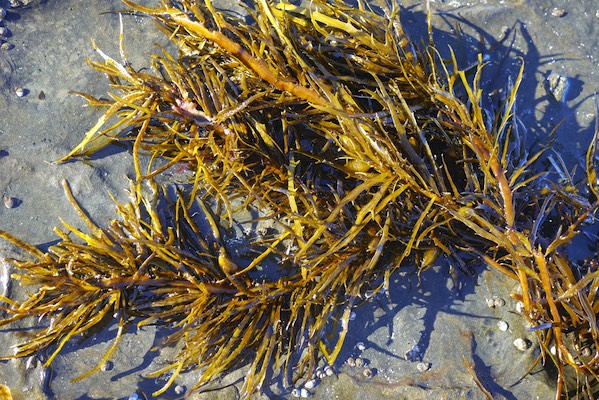 Phyllospora comosa (Fucales)
This brown wrack is commonly called Crayweed, and it's to be found in the sub-tidal zone.
As a kid we called this stuff 'wigweed' because it was the preferred seaweed for putting on your head and dancing around like a dork when you were a kid at the beach. For some reason this name didn't catch on, so Crayweed it is.
While no enterprises process this species into food in Australia currently, various overseas wild food companies + individuals collect + eat plenty of bladder wracks similar to Crayweed.
Another common bladder wrack in southern Australia is Macrocyctis angustafolia – which differs in appearance in that it's bladders are at the base of the fronds, whereas Pyllospora's bladders are separate to the fronds. You can use them in the same way for home use.
bladder wracks generally contain: iodine, algin, mucilage, bromine, sodium, potassium, lutein, zeaxanthin, chlorophyll, cellulose,  mannitol, silicon, essential fatty acids, vitamin C, B-vitamins, beta-carotene, zinc, magnesium, selenium, manganese, iron, phosphorus, iodide, oleic acid, polyphenols, protein and fiber.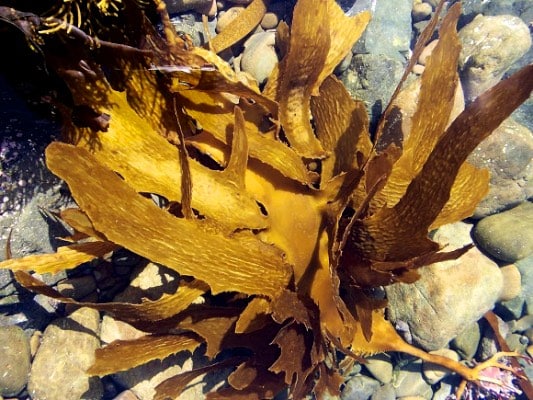 Ecklonia radiata
This is the winner we all want – Golden Kelp.
As you move further towards the poles, the kelps begin – in the cold south it's Bull Kelp, in the cold north it's a range of other kelps. But here in temperate Australia, Golden kelp, a lighter, daintier kelp, is the best we have. And we love it.
Fabulous little enterprises like Sea Health Products, who collect golden kelp in the waves at Narooma, have based entire businesses around this stuff. So when we find it fresh on the beach or rockshelf, home it comes.
Golden kelp is a great natural source of iodine and other minerals, there's a bit more about the nutritional makeup here.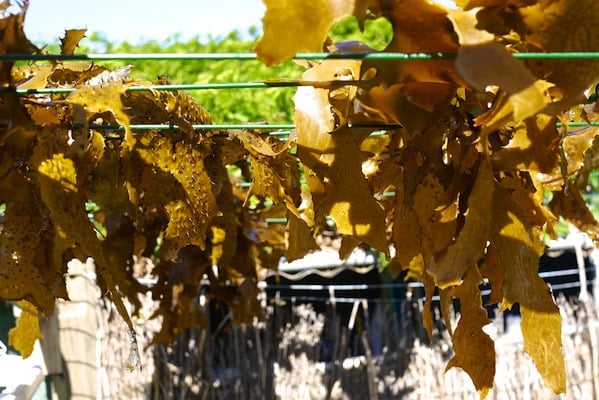 Drying
Rightio. Once you have your seaweed safely home, immediate processing is a good idea. Wash it in a big tub of fresh water to remove sand and any little critters which might be in there, and then get it drying in the sun.
We use our washing line, which is perfect for the job. We lay the seaweed flat on top.
In addition to dehydrating the seaweed in a fast and natural way, sun drying has another benefit – apparently, according to Ole G. Mouritsen in his excellent book Seaweeds: edible, available + sustainable – the UV light helps the polyphenols break down into simple tannins, which makes them taste better (and might also aid digestibility? Working on that one).
Either way, sunlight is free and our preferred drying method. In 2-3 days, our seaweed was crispy dry, and turned from brown to dark green.
Other options for getting your seaweed dry include a dehydrator or, if you've dried them outside for a few days and then it's suddenly not sunny anymore, an oven or undercover area may suffice.
Processing
Commercially speaking, everything but the highest quality seaweed, which is left whole, is reduced to a powder or flakes to increase palatability.
For home use though, it depends on what you like to do with your seaweed, and what sort you have.
Once the seaweed is nice and dry, we chop our kelp up into inch-long bits with scissors, and seal in containers.
The bladder wrack we'll chop into bits, and then process in our food processor into flakes that are as small as possible. The wrack is really strong tasting, so it will be more of a sprinkle for things than an ingredient to be added in pieces.
Seal your processed seaweed in airtight containers, store it away from the light, and it will last you well.
Eating
Seaweed is highly adaptable and can be eaten with just about anything. But if we're talking home harvested wracks and kelps, theres certain things that work better than others, I rekon.
Seaweed in its flaked form adds umami as well as salt (and all those minerals + vitamins) to all sorts of dishes. It enhances the taste of many things like fish, meat + beans, without being 'seaweedy', if used in small amounts. It's an all-round winner.
That's just the start of it. The options are endless, and as family and/or seaweed-phobe friendly as your imagination allows.
And all this from something that just washed up on the beach….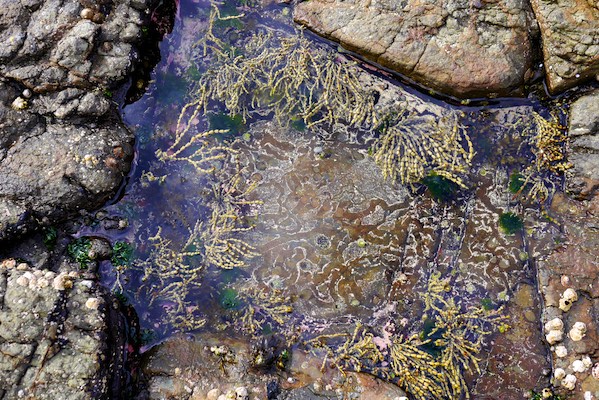 A few stellar seaweed resources