Martin Crawford's forest garden in Devon might not be in a biosphere anything like the climate at Milkwood Farm, but it's a project that's been an inspiration to me for a while, nonetheless.
Martin's forest garden is a poem of time and space and the seasons – or a big jumbly mess of green stuff, depending on how you look at it. But one thing is not debatable. That forest garden of his produces a lot of very edible food, in a very stable, resilient and low-energy input system. Like.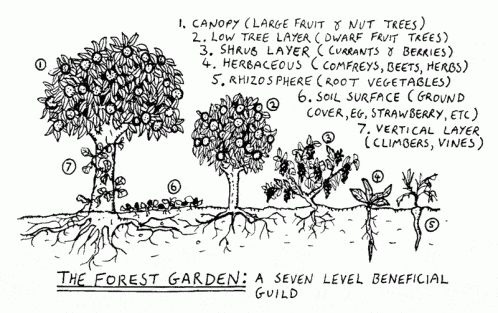 So it was with great excitement that we finally got our hands on a copy of Martin's DVD A Forest Garden Year: Perennial crops for a changing climate. There's many things i like about this DVD, and not much, really, that I don't.
The DVD is a very simple, straightforward product, that takes you through all four seasons in the forest garden. By the end of it, you understand the basic gist of many concepts inherent to forest garden (or food forest) systems, including stuff like:
– why layering species from ground covers to canopy is a good idea
– some of the various ways one can approach managing different tree heights while using them to grow vines
– grafting techniques (used extensively in this garden to accelerate various harvests of edibles)
– planning ahead for height and density in a forest system
That last point is a big one. It's quite common to embark on a small orchard or food forest project only to realize, 3 years in, you've not planted everything in the right spot – you didn't accurately project forwards in terms of designing the 3 dimensional space attributes of each tree, and their flow-on effects.
All of which makes designing and planting a food forest sound a bit tricky – which it is – and which is why i like this DVD. By the end of it, you feel like giving forest gardening a go, rather than being daunted and the grandeur of design and energy needed to get a forest of food happening at your place.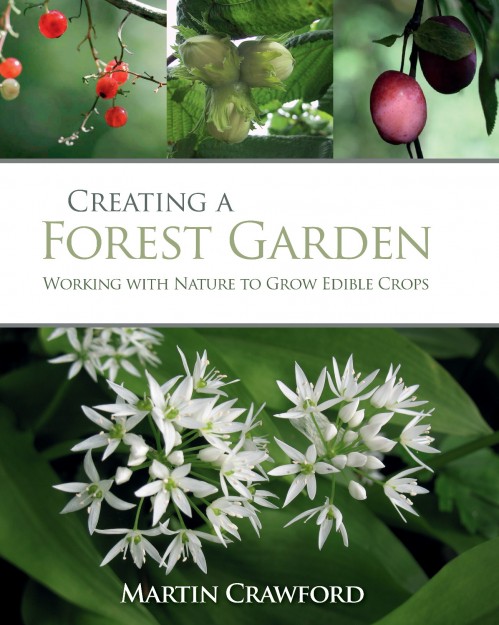 Martin Crawford is also the author of what i would term a stoutly comprehensive beginners forest gardening book- Creating a Forest Garden: working with nature to grow edible crops.
This book is by no means on the scale of the amazing 2 volume Edible Forest Gardens by David Jake, but then, I don't think its trying to be. It's a good 'first bite' type of publication. That said, Creating a Forest Garden is pretty darn comprehensive in it's own right. There's a great review of this book here.
While I'm here, does anyone know of any thriving examples of forest gardens or food forests in rather harsh, temperate climates? We know of some, but would like to know of more?
Related posts: