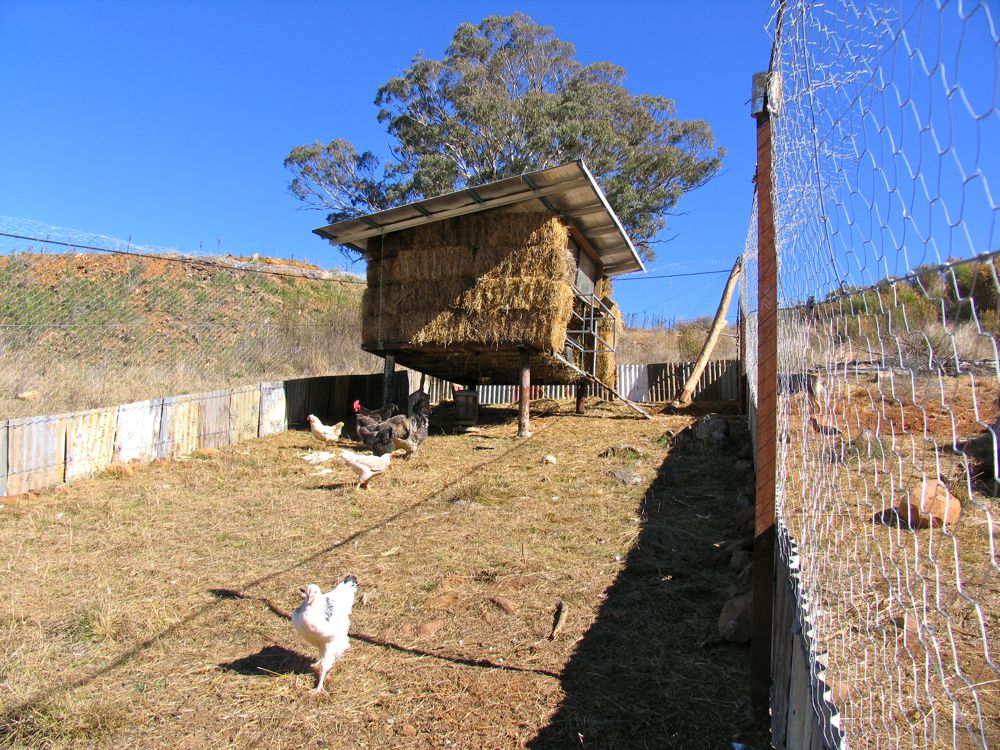 Gravity and chickens are two of our favorite natural forces at Milkwood. Chickens scratch, poo, give eggs and good company, plus a trillion other benefits. Gravity draws things down. Great it you want stuff to end up down the bottom. Which, in the case of our gravity fed chicken house, we do!
For the past 3 years, our chooks have lived in our geodesic chook dome as it chicken-tractored its way slowly across our hillside. The result has been an emerging forest garden, its soil pecked of grass and ready for mulching and planting with edible trees and ground covers each time we moved the dome.
For this effort we thank our various chickens. Now, it's high time to build them a permanent chicken run. Design time!
The chicken run we've designed is both standard and unusual. It sits on the edge of our Zone 2, on the outer edge of the upper food forest, directly below the warré beehives and between the old and new top dams. About 20m from our back door.
Chicken Run Design Parameters:
Low cost
Relatively fast to build
Use recycled materials where possible
House our chickens safely from predators (foxes, dogs)
Keep the chickens warm in winter and cool in summer
Provide easy and daily access to the chickens and their eggs
Provide easily accessible nutrient (ie composted chicken poo) for the wider growing area
This last parameter was a big one. We want easy and regular access to the manure of this chicken run so that we can use it to increase the fertility of our gardens. We didn't want 'cleaning out the chicken house' to be a major undertaking, rather one that was easy to do on a regular basis.
So we decided to let gravity (and the chickens) do the work for us, in true permaculture design style. Enter the Gravity Chicken Run!
This chicken run design was partly inspired by an old article (which we cannot find) about a down-sloping chicken run with manure collection at the bottom, and also by Joel Salatin's deep litter systems for his cows and chickens.
The chicken run is on a 11º slope (which is a 1:5 slope, or 20%, if you like), running straight uphill. There is a door on the northern side at the top and bottom. The run is 20m long by 5m wide.
We will be using gravity and the chicken's scratching ability to ensure that, over time, everything mobile in that space (mulch, chicken poo, etc) naturally creeps towards the bottom of that slope, at the bottom edge of the chicken run.
The time it takes for the organic matter to migrate down the slope is important… it should be long enough for seeds to germinate (generating more feed and ensuring weed free compost) and long enough to build up plenty of soil organisms and insects in the material that makes its way to the bottom.
At the bottom of the chicken run is a door, for accessing the composted manure and mulch that makes its way down there over time.
The RawBale chicken house (more on that shortly) is up the top. Everything inside the chicken run (the chicken house, the feeding stations) is elevated and allows for material to pass by and downhill. So inputs go in the top, are processed by the chickens, and exit down the bottom thanks to gravity.
The walls are made of chicken wire, with a skirt of old tin. This tin skirt gives the chickens some immediate wind protection, and also makes it harder for foxes to see the chickens. We've also installed a 'fox wire' – a single strand of plain fencing wire around the perimeter 150mm out from the fence, on the ground and under tension, which according to local lore should help.
The corner posts are angled bush poles that are under tension thanks to the cable running between them (forming the top edge of the walls), and the cable running from their tops down to the ground.
By using tension as a major force in this design, we've been able to use just four bush poles, even though the long sides of the run are 2om. Because we live in termite country, we wanted to minimize the wood used in this structure, as we didn't want termite-proofed (read: toxic) wood near our food forest, or near our chickens.
And by raising the poles above the ground, the chickens should take care of termites as they make their way upwards to our poles. We hope. It's worth a try!
A bit of extra engineering and thinking at the start should now yield a structure that is stable for a long time while using materials that are economical to source, mostly recycled and safe for our chickens, our family and our land.
Shelter for the chickens, beyond their RawBale Chicken House, will be the next priority.
Once winter takes hold we will be transplanting a 5 year old black mulberry tree to the center of the chicken run, which will provide summer shade and lots of mulberries for the chickens.
We'll follow that up with strategic plantings of tagasate (protein-rich edible leaves and bee fodder) lombardy poplars (edible leaves, fast growing)  and acacias (annual dump of edible seeds) within the chicken run.
We'll also use the external side of the north wall for trellising annual climbers as part of the food forest.
We're pretty pleased with this design. It's very cost effective and allows us to give our chickens a large run without breaking the bank, and providing for both our, and the chickens, needs. Hooray for good design and gravity.
At time of writing the whole setup is nearly finished – I shall report back once it's all done and dusted.
Just on the fodder plants thing – does anyone have any suggestions on drought-tolerant fodder plants for chickens that are multi-use as well (and maybe even good bee fodder)? Would welcome any thoughts on that…
Many thanks to Milkwood Interns Kade Smith, Christian Tyler, Amelie Bischof and Belinda Joy-Sheekey and also to Wwoofers Christian Horn and David Williamson for their input and energy. Thanks also to Shane Mills for being a general legend.
You might also like to have a look at: