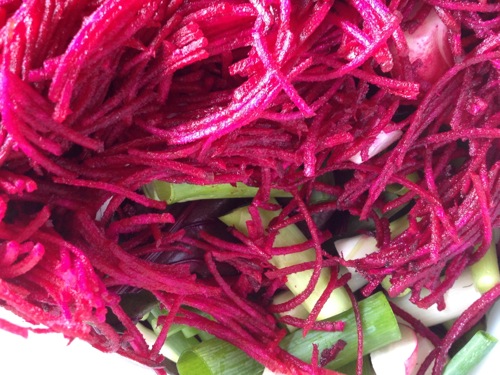 I can now proudly report that the beetroot and radish kimchi has been a success. And it tastes delightful. Kimchi is normally a spicy cabbage-based Korean ferment, but Rose decided to get a little radical, and use what we had in season.
Previously in Spring, Rose had tried making bok choi kimchi, which did work, but was, well, rather full of bok choi. But I knew from the start that beetroot and radish kim chi was going to rock. And it does. Here's how Rose did it…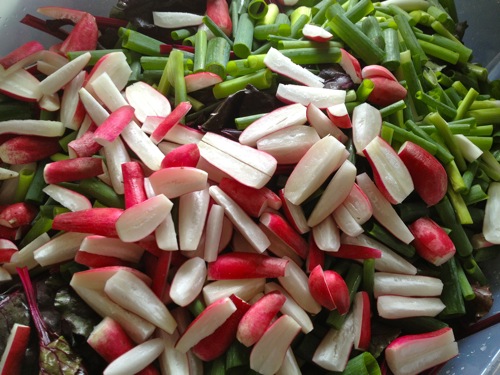 Rose Newberry's Beetroot and Radish Kimchi:
Quantities entirely variable, according to your available supply. Get creative… The below recipe is for making about a 30 litre drum of kimchi.
Soak 6 kg of beetroot leaves in salt brine of 2 table spoons of salt to every litre of water over night – use enough brine to submerge leaves
In the morning, drain off brine, reserving liquid.
Blend together 4-6 red chillies or dried chilli flakes to preferred level of heat with 200g of ginger, 1 bulb of garlic and 1 cup of sugar (can use honey instead).
Add to beetroot leaves along with 3 bunches of spring onions cut into batons or 4 sliced red onions, 500g of quartered radishes and 2kg of grated beetroots.
Mix well and place into a large wide mouth container, just cover with reserved brine and place a plate on top with a bucket filled with brine as a weight to ensure all the veg are submerged in the brine.
Place a cloth over the top and leave in cool dark area for 7 – 14 days (we left ours for a month and it was still fine, the longer you leave it the stronger the pickle will be).
Once kimchi is fermented to desired strength, put a lid on it and store somewhere cool. Enjoy.
This Beetroot and Radish Kimchi is great as an accompaniment to just about anything, but particularly food that is spicy.
The other night we served this up to 40 people with lamb mince, pilaf and cucumber raita. It worked perfectly, balancing the fat and the spice with it's sweet/salty fermented goodness.
At the moment we have not one but two wild ferment enthusiasts on farm – Rose and our fabulous wwoofer Sophie. So I hope to report back shortly with more recipes, starting with Sophie's sweet-potato lacto-ferment, which is darn tasty.
Any more great wild ferment recipes to consider? Whose dabbling in this great and wide tradition at the moment?