Once you start natural beekeeping with Warré hives, you can look forward to your first honey harvest. Harvesting from a Warré hive means crushing frames of luscious honeycomb to remove the honey. That is, if you don't eat all your harvest straight up as chunks of raw honeycomb, which is tempting.
But honey in a jar has its place, so likely you'll decide to crush and strain some of it. And when you do, you will be left with a mush of sticky waxy stuff. Time to convert that into beautiful golden beeswax!
One of the many great things about this waxy mush is that it's rather inert, so you can store it in an airtight container and add to that container with successive batches of waxy mush until you get around one day (ahem) to extracting out the pure beeswax.
Solar powered wax extractors are largely a DIY affair and range from the eski-with-glass-on-top model all the way up to off the shelf numbers. In between, there's many fabulous folks who have designed their own.
The basic premise of all these units function on the following ideas:
face the extractor towards the sun
heat the comb slowly
strain melted wax through a fine membrane that removes all gunk
collect wax in a container at the bottom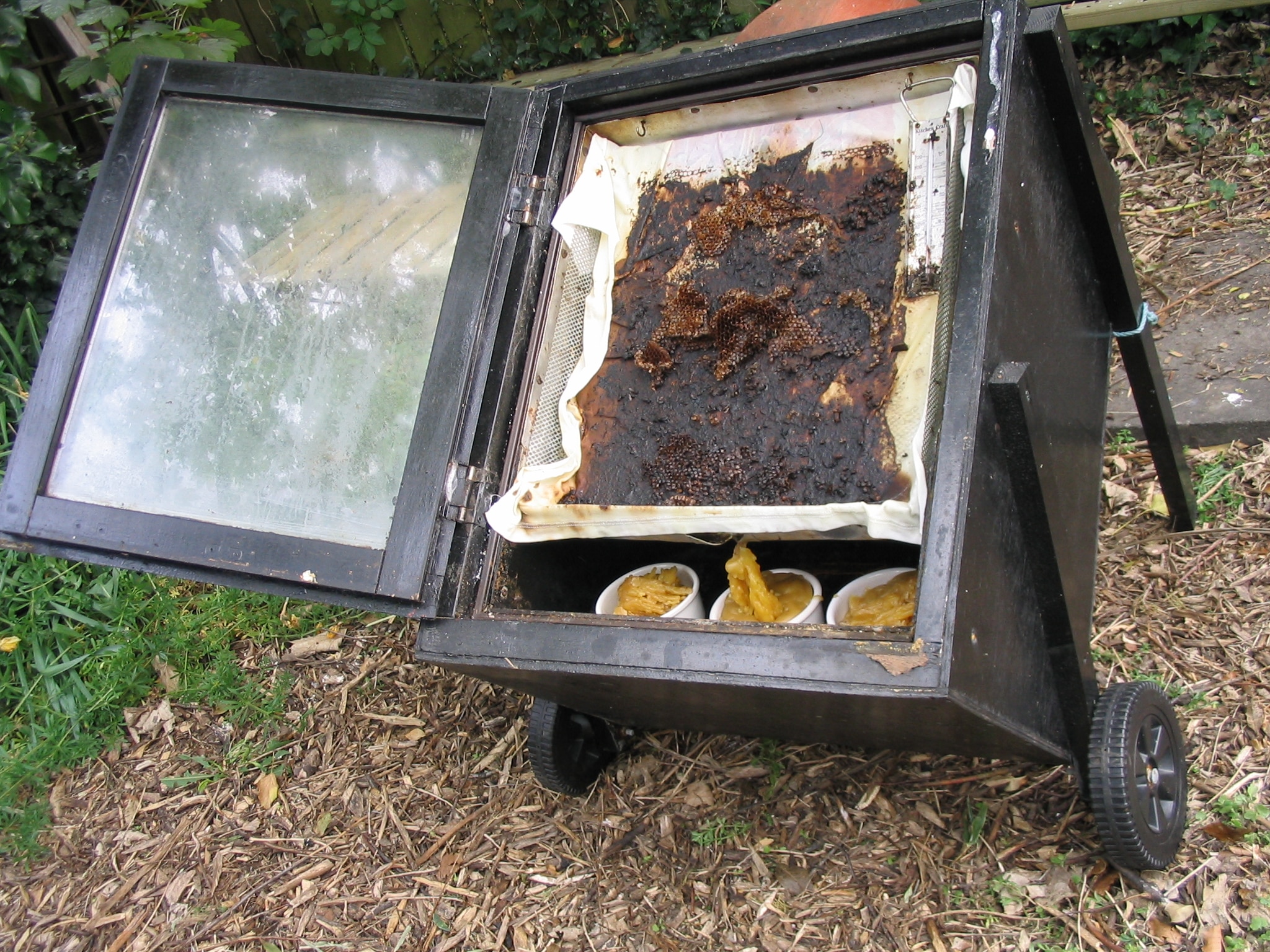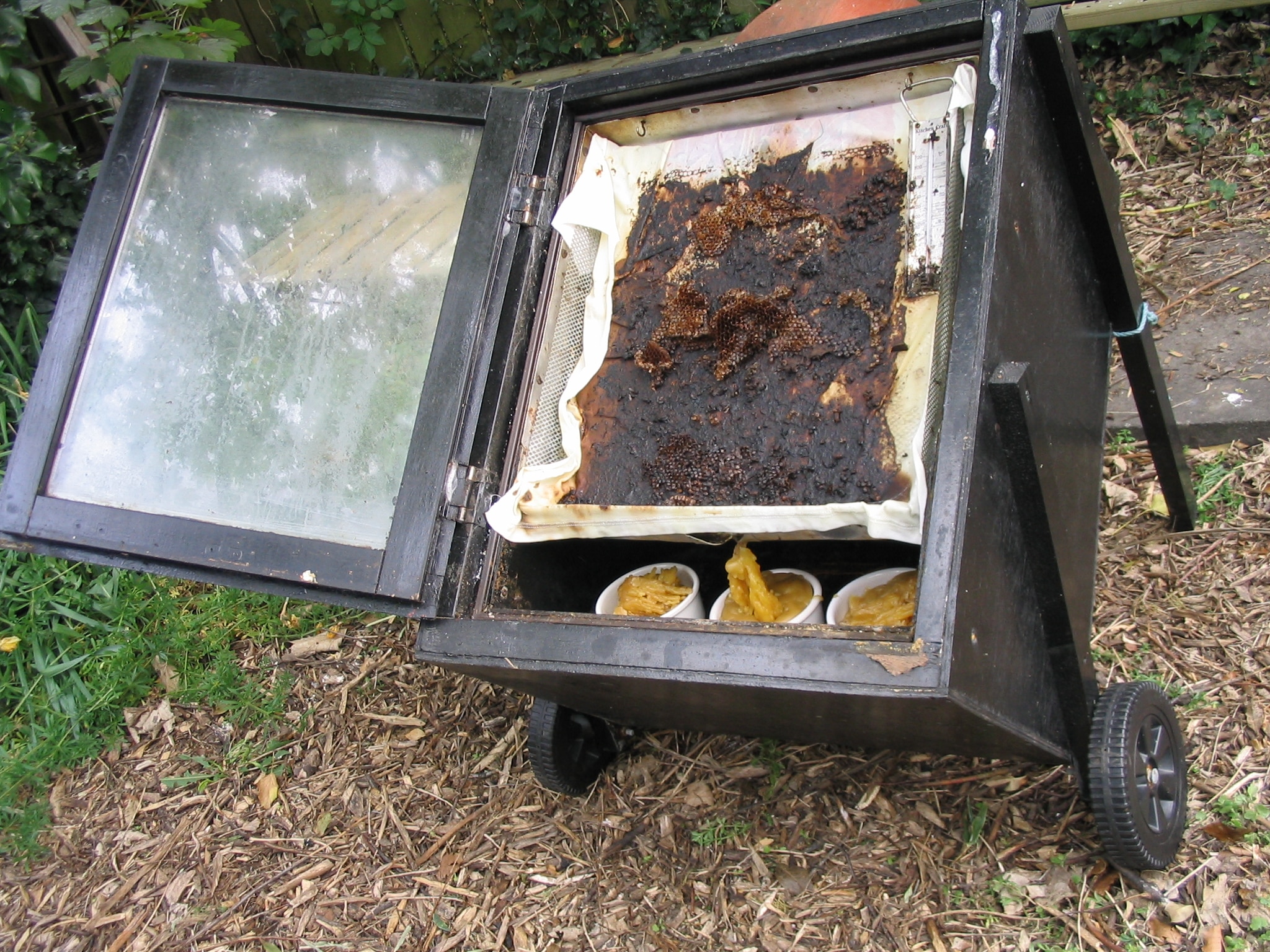 Well that all seems fairly straight forward, doesn't it? And yes, it is. However before you rush off, steal all the kitchen utensils and go and convert your eski, there's a few points to remember…
Firstly, wash your waxy mush to remove any honey remaining in the wax. Honey is water soluble so this is not hard to do – wang it all in a big pot or food-safe bucket, add tepid water and slush it all about until the waxy bits are no longer sticky.
You can then strain off this honey water for mead making, or just drink it straight, or bottle it up and add it to water as a medicinal. This is all assuming your wax is from chemical free, organically managed hives, so there's no crazy toxin loads in your beeswax.
Don't use your favourite cookware. Or anyone else's. Whatever comes into contact with your wax extraction experiments will get wax on them, and it will be very hard to get it off. So don't use your favourite pots and containers for this. Go scrounge some from the op shop or the shed.
Make sure your extraction contraption is both bee and ant proof. As the solar gain heats your waxy mush, it will start to smell amazing. And not just to you – also to every bee within 5km, which will not end well if they can get into your extractor. Also, unless you want to fake a line of 'poppy-seed beeswax' products, make your extractor ant-proof.
Realise the awesomeness of what you have done. At the end of this process you will have pure, organic beeswax that is completely chemical-free (again, assuming you're managing your hives in a chemical free way, which I very much hope you are). And that is a very rare thing to possess. Huzzah! May the salve and candle making begin, as well as the shiitake log sealing.
As I said above, this by-product of honey harvesting is an incredible resource, and should be treated as such. Bees secrete this wax from their bodies to build comb, making this wax an important part of the super organism that is a bee colony.
By carefully extracting and using your hives' beeswax, you are literally utilizing part of your bees to heal wounds, light dark places and honor the harvest that was.