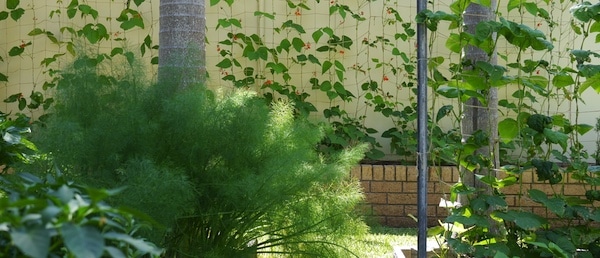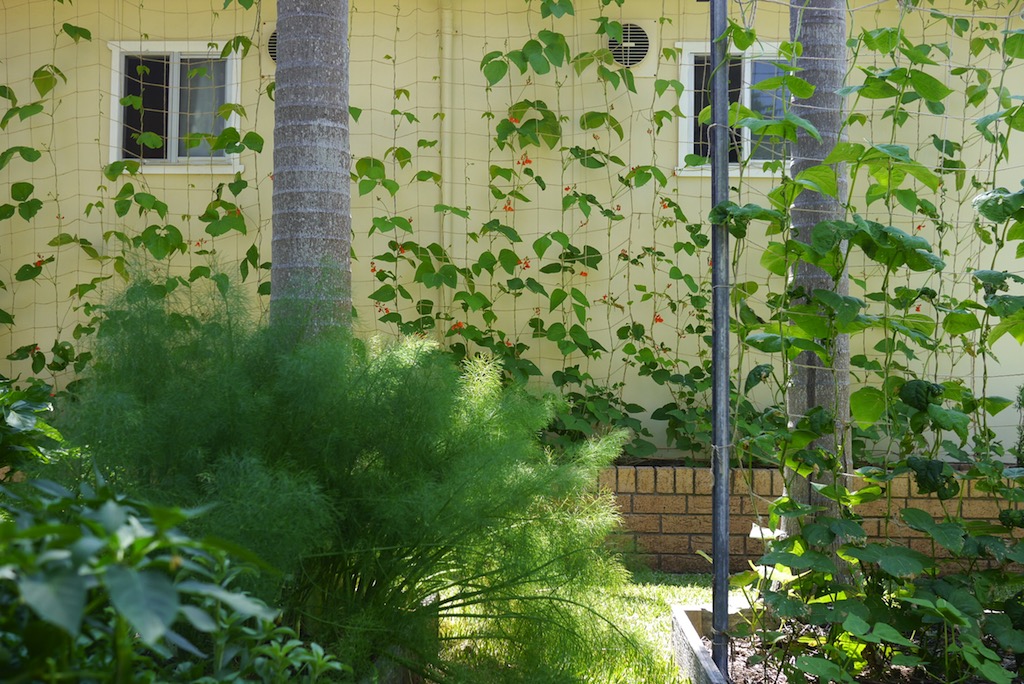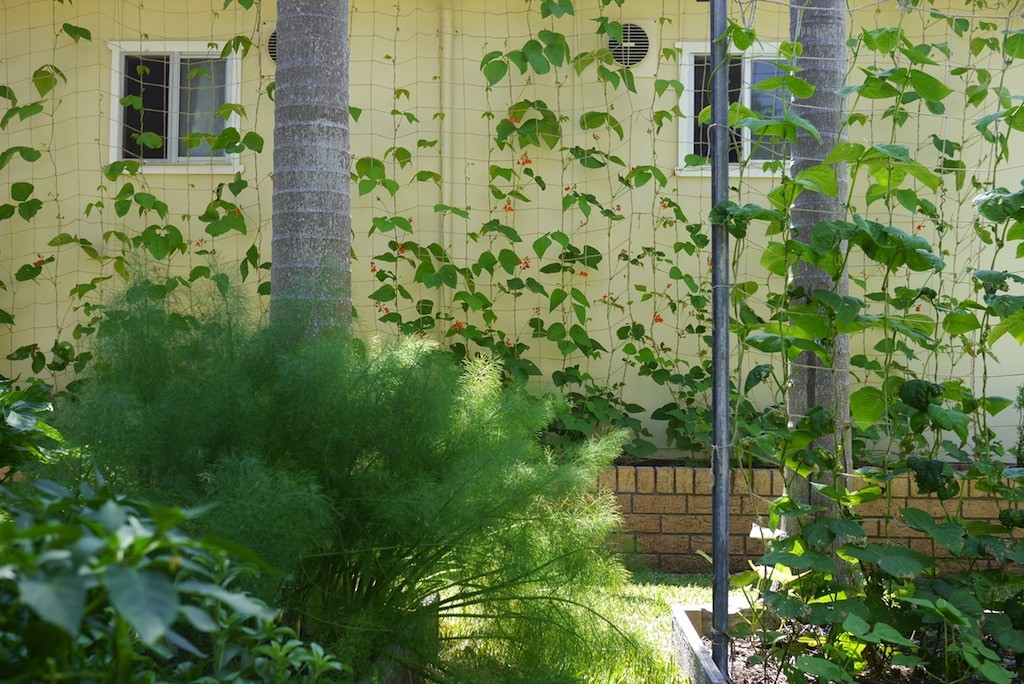 This Spring we went from bare ground to surplus organic veggies at our rental home – thanks to biointensive gardening techniques, strong seedlings and a few free workouts.
I'm not here to tell you a story about obtaining magically abundant harvests with just a few minutes work, although that can happen, sometimes, depending on the context of the growing project.
I am here, however, to share the fact that with planning, microbes and some well-timed hard work, bare ground can thrive and feed you, in a few weeks flat.

We started this garden at the end of July – deep winter, where we are. Given that we've got a 12 month lease, this garden was all about getting a crop this Spring + Summer and Autumn – not setting up a perennial polyculture that would thrive for years to come.
It was for this reason that we wanted to try out biointensive growing – a growing technique designed to grow lots of vegetable very quickly, while protecting the soil long term.
The catch? Cultivation by hand, to a depth of 40cm.
If you want to build friable soil slowly, with minimal effort + inputs, you can use minimal cultivation and partner with plants and microbes to make that happen; with no-dig gardening and/or planting plants that will slowly de-compact the soil for you to grow in later.
If you want friable soil immediately, you have to make it yourself. Pretty simple, really.
So we did. We planned our garden + crop rotation, double dug all our garden beds, added compost, and planted. And waited.
4 Months later, we're eating from this small garden with each meal, and it's my favourite thing in the world.

The west wall of our home needed shading on Summer days, so that's where the climbing beans we're growing for dried beans went.
These beans are quickly creating a shady green net against the hot afternoon sun, and that same sun will help to dry the beans 'on the line' once they're done.

The one pre-existing garden bed gets all day sun against two walls, so that was the place for climbing tomatoes + gherkins.
When in doubt, grow up…

We planted the veggie beds intensively, in a sequence that made sense (to us).
The leeks and fennel in this bed will be eaten before the eggplants and capsicums, leaving space for them to spread out over the top of the oca in the middle of Summer.

Thyme, chives and chard in sequence, in front of the second planting of climbing tomatoes.

The microgreens bed we've been eating from every day for months now just keeps giving, so we're keeping on eating.
This bed is feeding two families prettymuch every day – we've given our neighbour Kath 'microgreens rights' so she comes over with a bowl and harvests as needed, too. And its still producing more than we can eat…
Once this bed is past it's prime we'll dig the remaining greenstuff into the bed to add biomass, and follow the crop rotation forwards (more tomatoes, anyone?)

Green beans (blue lake climbers) down the centre trellis of a bean bed, surrounded by dwarf bush beans (cherokee wax, windsor longpod)…
The jute netting for the beans + gherkins is something we'd not used before, as at the farm we always worked with bomb-proof and re-usable trellises in the market garden.
But in this rental context, a one-season compostable string trellis makes sense, and its ease of use also meant that we got it done – rather than talking about trellises but not getting around to finding/making them.

The first planting of climbing tomatoes, now harvesting at the rate of a large handful a day.
We're sticking with cherry tomatoes only in this garden, as we're not familiar with how tomatoes around here go fruit fly wise (cherries being the most resistant), and we want tomatoes!
We've strung them all up with tomato clips at the bottom, and then we're twining them as they grow.
They're flanked in their bed by more eggplants and capsicums, with some purslane as understorey.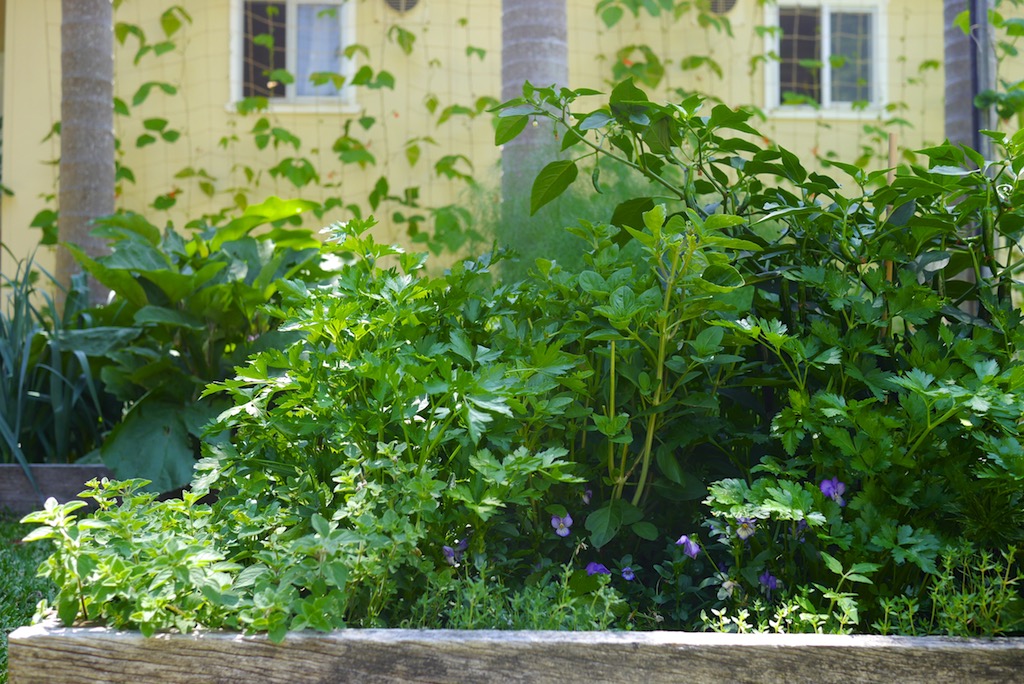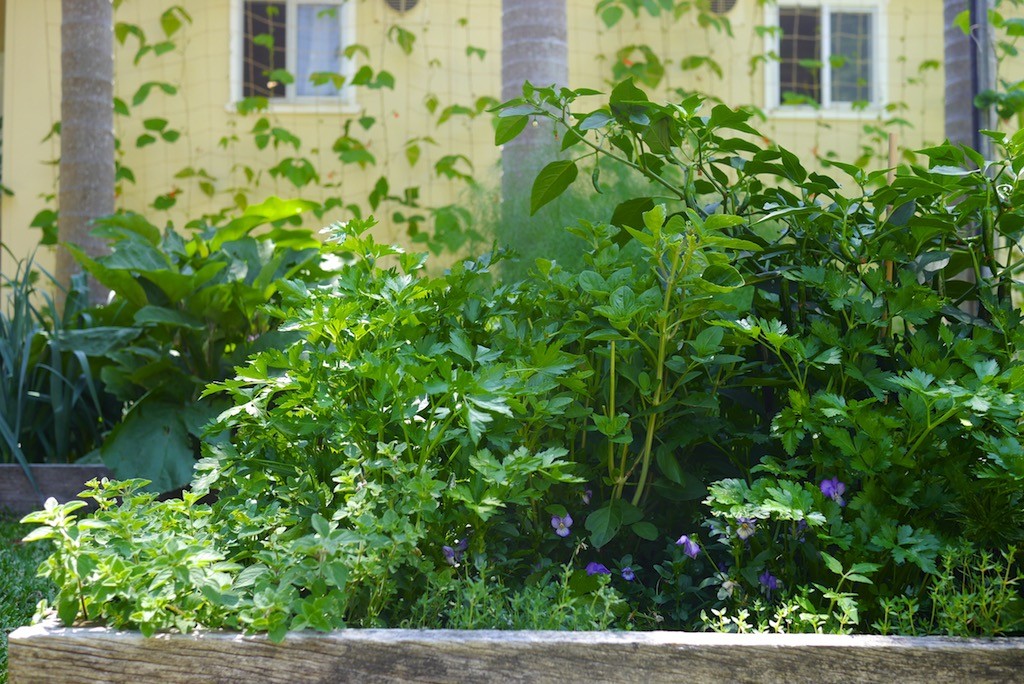 The herb bed is a 1m square affair with oregano, thyme, sage, stevia, perennial coriander, hearts ease and marjoram around the edges, and parsley, greek basil + a chilli plant rising up high in the middle.
Like all the other beds, it's proving to be very productive, much more so than I expected in such a small space, thanks to the roots being able to reach so far down into the soil for water and goodness.

The growth of everything has been quite amazing, and I attribute this largely to the work put in preparing the beds properly.
Weeding is minimal as the biointensive spacings of plants are close, and the soil is very quickly shaded.
Mulch – while this seemed essential in the dry climate where we used to live at Mudgee, we're now using it judiciously. Because where we are now, mulch means slug houses. I'll report back on this point.
Inputs wise, we're giving this garden regular doses of worm castings + juice from our hungrybin wormfarm – through which we process almost all our food leftovers and the occasional large piece of seaweed.
Things I'd do differently next Spring? Plant more! I think.
But working hard while growing food around the edges of the day is a challenge, so maybe this is the perfect amount for us, right now – all 15 square meters of it.

Here's to a long Summer of harvests and good food. And always learning.
How's your garden going? What are you hoping to harvest this year?
Our full series of posts about growing food as permaculture renters is here…