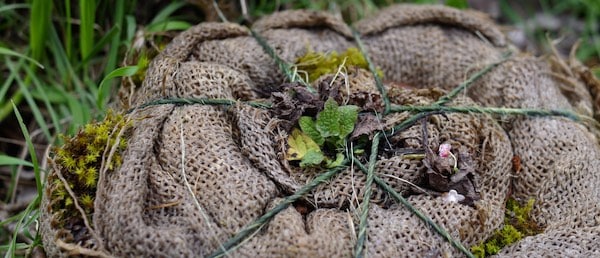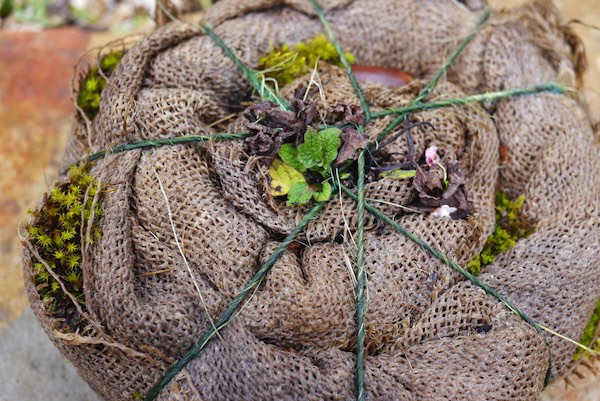 There's many different ways you can get mushrooms growing where you live, and which method works best for you will depend on various factors, as with growing anything… your time, space, budget, climate and so on.
BUT as we all know, mushrooms will find a way. Nearly always. So it's just a matter of figuring out what techniques will work for you, and getting growing!
Mushroom Woodchip Garden
This method is perfect for that shady, damp spot that you can't figure out what to plant there – maybe it's under a fruit tree, or around the back, next to the laundry.
Wherever it is, as long as that spot doesn't get a lot of daily foot traffic, a mushroom woodchip garden might be just the ticket.
Here's our step-by-step guide on how to make a King Stropharia woodchip garden, as taught by Paul Stamets of Fungi Perfecti.
It's a simple technique that doesn't need any special equipment.
Shiitake Logs
If you don't have much space but can get hold of a few fresh logs, some shiitake spawn and a drill, shiitake logs might be a space-efficient way to get some home-grown mushrooms happening.
You can use just about any hardwood logs for this, though shiitake grows best on oak, poplar and beech logs. We use eucalypt logs because that's what's available where we live, and they work fine.
Here's a step by step guide on making a shiitake log (and here's another, more recent guide) for home use.
And when harvest time comes around, be sure to place your picked shiitakes in sunlight to enhance their vitamin D content.
Bucket or Basket Mushroom Gardens
Then there's the bucket growing option, another one of our favourite mushroom cultivation techniques for space and/or garden poor folks.
While most of this method doesn't usually occur in a garden (although it can), we often put our fruiting buckets outside in the garden somewhere shady and damp to finish fruiting.
Here's a guide to growing mushrooms in a bucket, as well as some inspiration for what the end result can look like. As you can see from that guide, if you use the double-bucket technique, there's no disposable plastic bags used. No waste mushrooms, yay!
There's also the whole mushrooms growing in laundry baskets thing, but we steer clear of this one as it generally needs a layer of disposable plastic around the basket, something we try to avoid using. It does look very cool though, plastic aside.
Integrated Gardens
One of our favourite ways to grow mushrooms is to tuck them in, here and there and everywhere around the garden.
A little bit here, a little bit there. Enokitake mushrooms love growing as the base of currant bushes, for example. Saffron milk caps are happiest (and only grow, infact) under pines.
There's lots of ways to get things growing. You could mix up a slurry of porcini mushrooms (old ones that weren't good enough to eat) and try inoculating a few local oaks, like our friend Speedy (or Paul Ward, as his Mum calls him) recently did.
Or you could make a mushroom garden bundle (also an innovation of Speedy's) – which is a gorgeous way to bring new life to un-shroomed corners of your patch…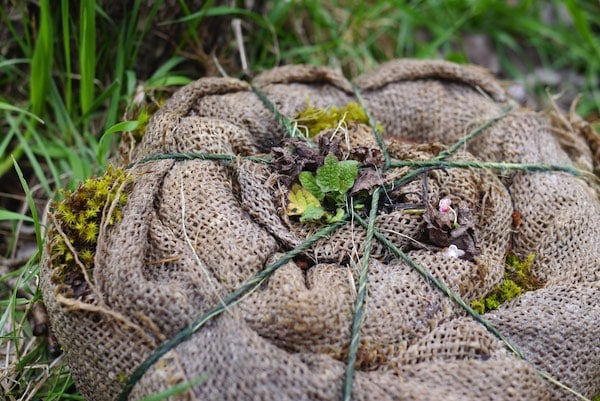 Making a Mushroom Garden Bundle…
Our dear friend and renegade mycologist Paul (Speedy) Ward showed us how to make these at our place last weekend, and they're such a great idea – an inoculation bomb, if you will – think seed balls, but for mushrooms…
You will need – 
Home-made or bought Mushroom spawn, or a few fresh mushrooms of your chosen type may work, at a pinch
Un-treated hessian or cotton cloth
String made of natural fibres
Any bits of moss or root cuttings you wish to add
A bucket of water
Method – 
Roll up spawn or mushrooms in wet hessian to make a kind of hessian sausage. Then curl up into a spiral bundle, and secure with natural string.
In the middle you might like to tuck in a root cutting from something like comfrey, a great forest garden groundcover, and maybe some moss or other support species around the edges.
Then dunk in a bucket of water and leave until it is all well soaked.
Then take out of bucket, shake off excess water, and place under a particular type of tree, or on some wet woodchip or… whatever makes sense for that species.
Good mushrooms to try in this technique would be saprotrophic ones, like:
Whichever technique suits you best, do your research, get the ingredients you need, and give it a go.
The results will not be immediate, but over the coming seasons, your garden should reward you with flushes of tasty mushrooms to supplement your seasonal produce.
Further reading…
Want to learn to grow mushrooms?  Our downright awesom Home Mushroom Cultivation online course might be for you! Join the waitlist here.