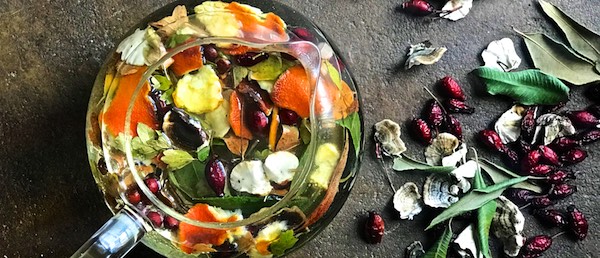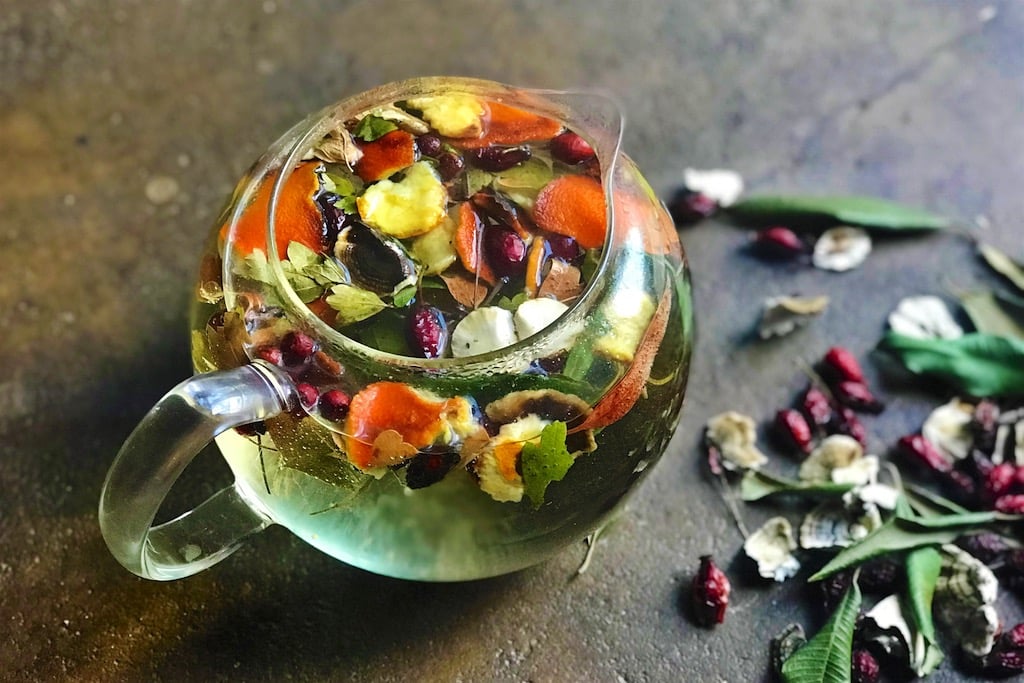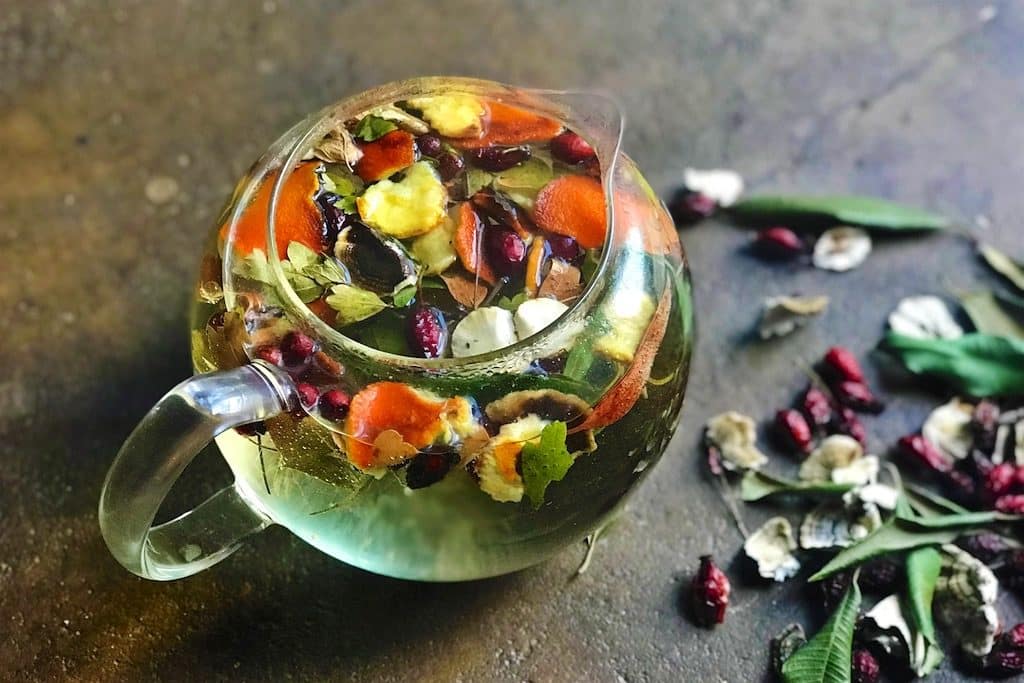 Wildwood tea is, in its essence, as individual and as unique as each household that makes it. It's an expression of place, in a teapot. A warm hug, from the woods where you live – and from all four of your seasons, too.
We make our wildwood tea from a combination of medicinals and flavours that grow down the gully near our homestead, at Melliodora in Southern Australia. When each ingredient is ready in its season, we collect it, bring it home and then dry it in our greenhouse.
And once we have enough, we combine the ingredients all together. To make a tasty and also medicinal tea, that's brewed slow and long on our woodstove. To calm the soul, quiet the mind and fortify us against everything from cold winds to hot days or too much busyness.
Wildwood tea
Your wildwood tea will be different, according to the plants and fungi that grow near you, or the bits and pieces that you make (like dried citrus peel), and the gifts that come your way from others. This is ours…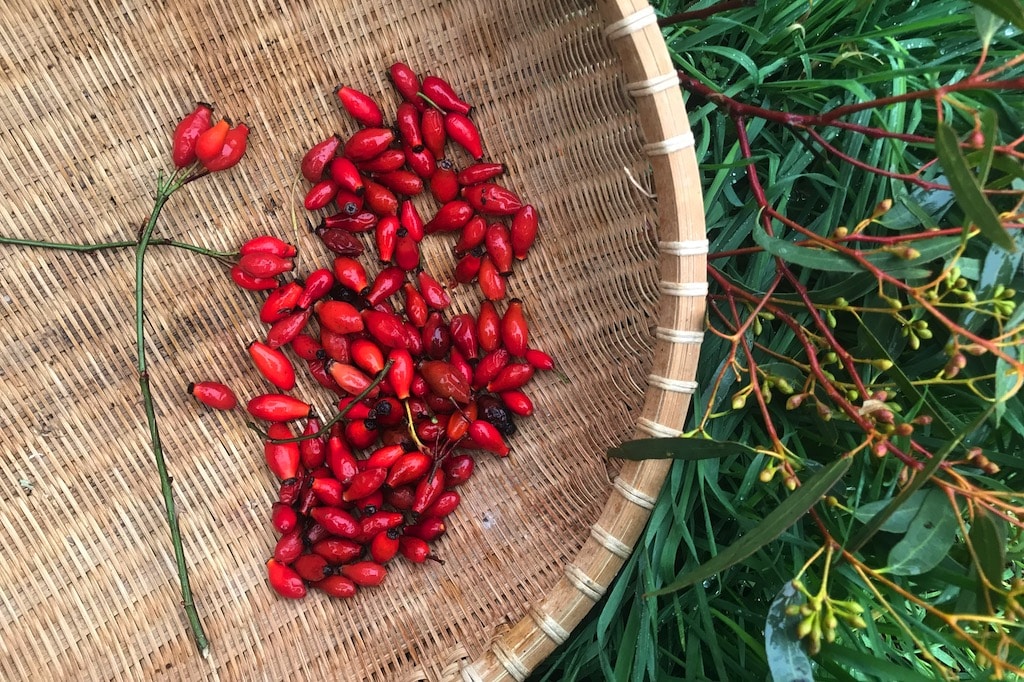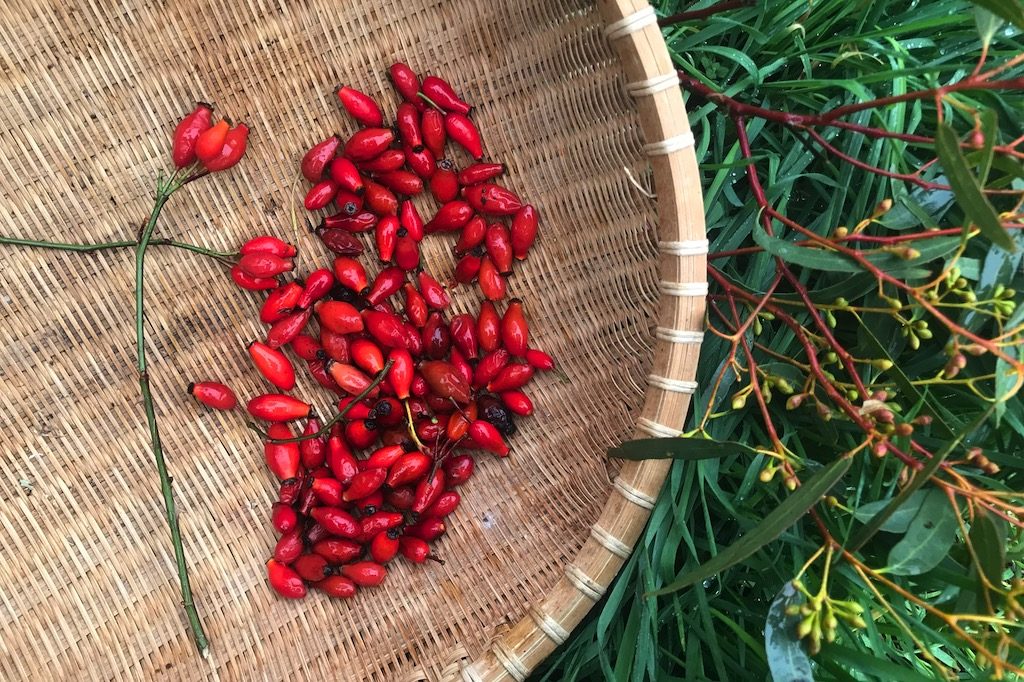 Briar Rosehips
We gather these from wild (feral) briar roses down the gullies – the hips stand out on their bushes, straggly and bright red, against the late autumn forest. You could also use rosehips from your garden.
We then simply dry them whole, in baskets in our greenhouse – but any warm place out of the sun will do.
Caroline The Cottage Herbalist has told me that she cuts hers open, then winnows out the seeds and hairy bits inside once the hips are dry.  This technique would be great if you like your rosehips in bits, rather than whole.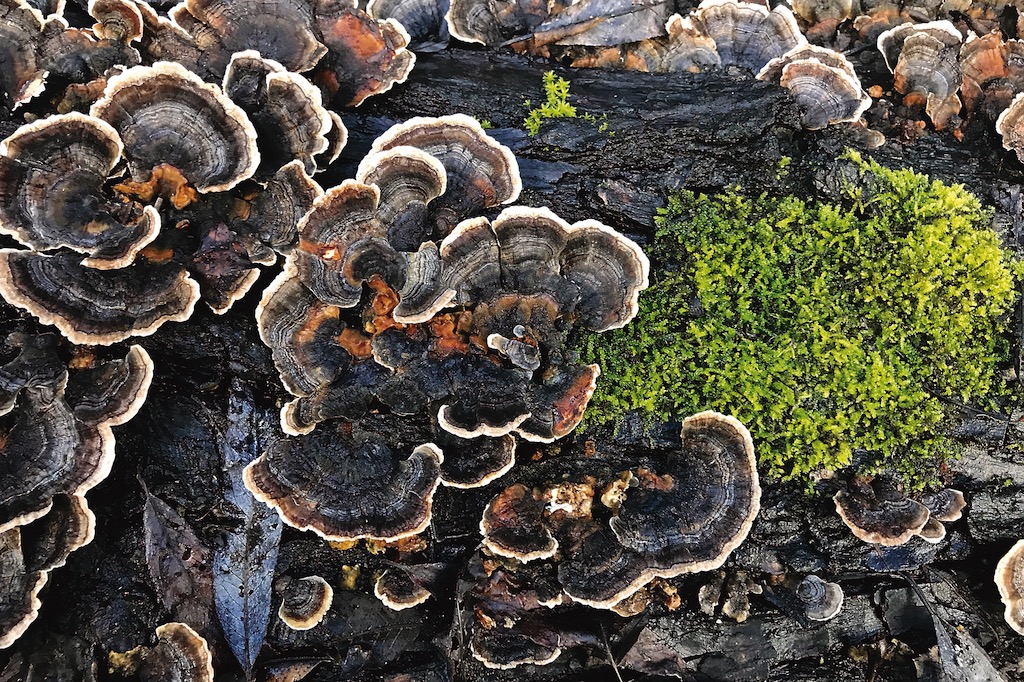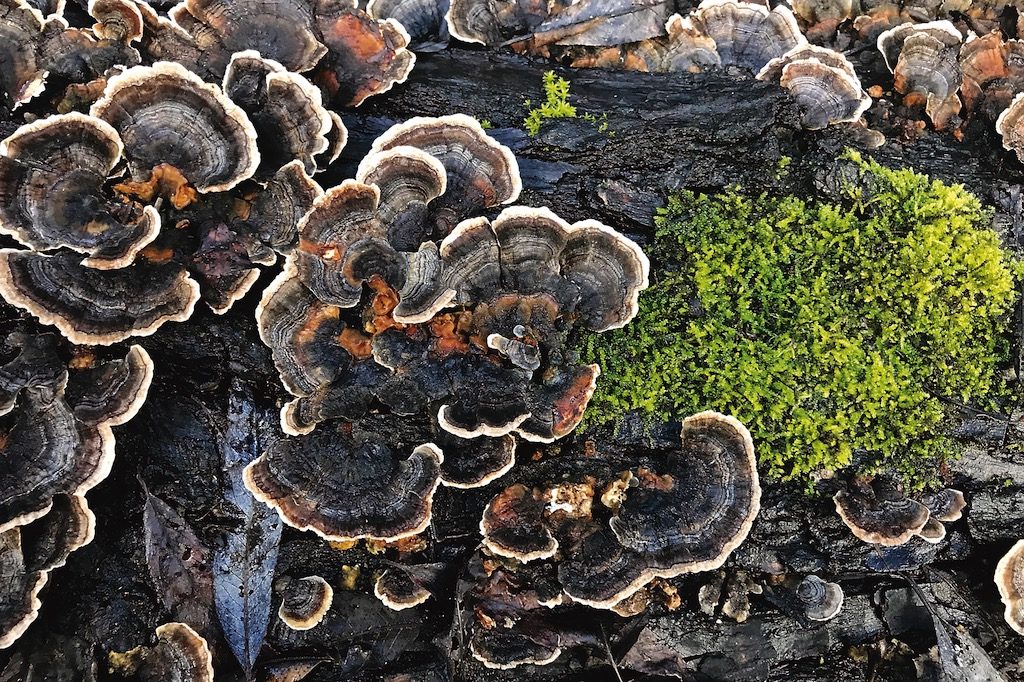 Turkeytail Mushrooms
We gather our turkeytail mushrooms from down the gully too – they're an amazing medicinal, which gives a smoky, woody flavour to the tea.
Here's an article we wrote about turkeytail if you're keen to find these (there's also a bunch of info about turkeytails, including how to make tinctures from them, in our book Milkwood). Remember, as with all wild mushrooms, don't harvest anything that you're not certain is what you're after.
Again, we dry these simply in a basket somewhere warm. They take a day or so to dry, and you can grind them up or leave them whole, as you like.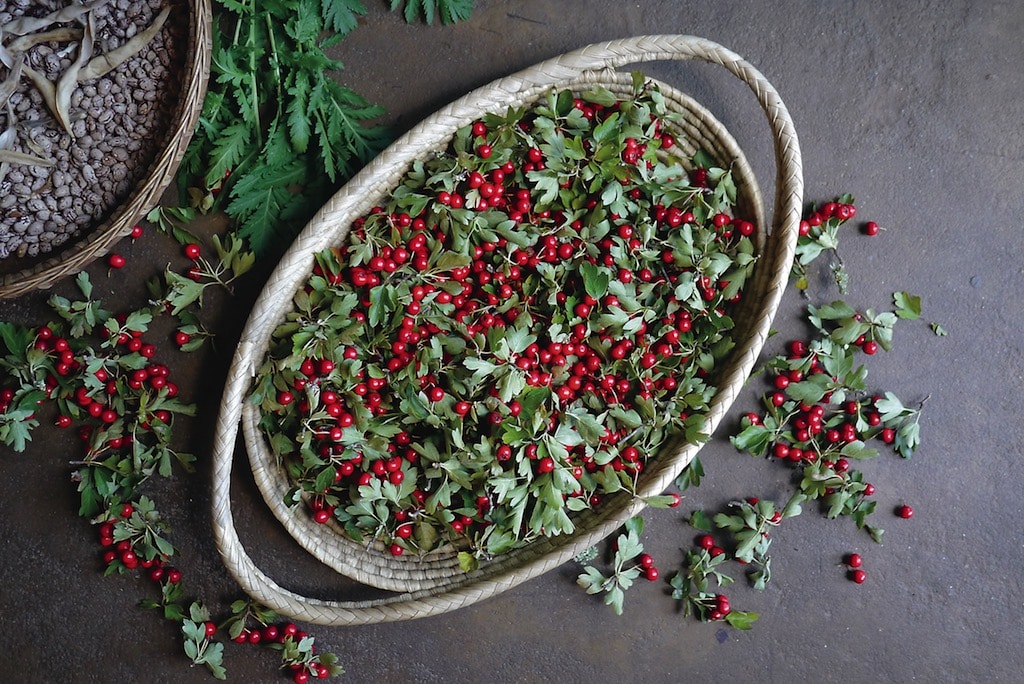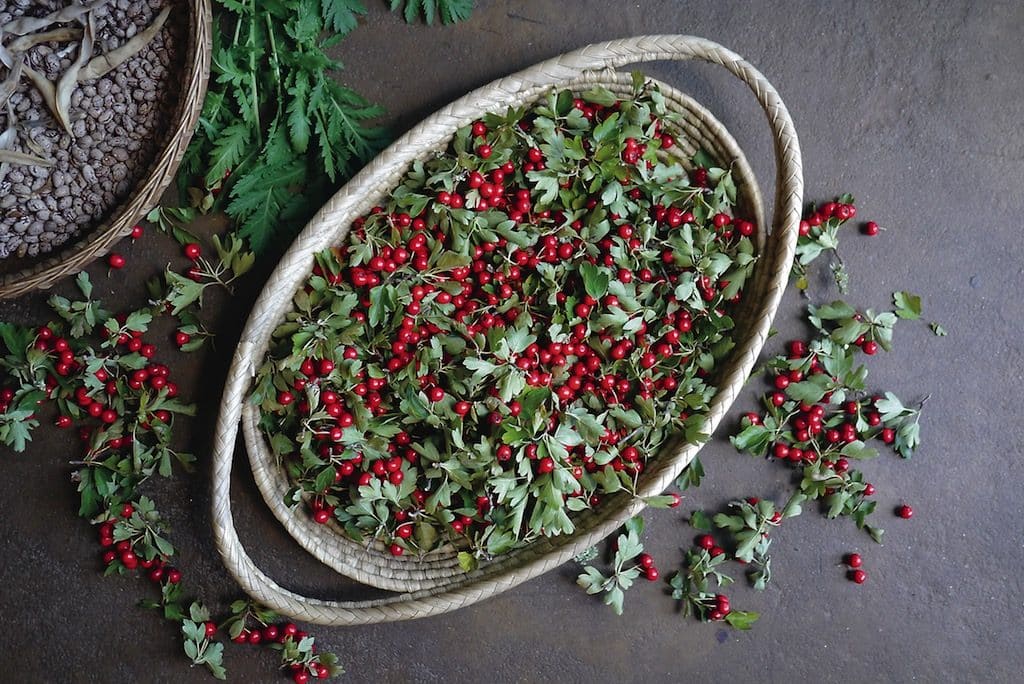 Hawthorn
Hawthorn is a weed that grows enthusiastically where we live – and many of the native animals here love it to bits, as do we. When the haws are red and ripe, the hawthorns around here chatter with families of Gang gang cockatoos, who will sit happily in a hawthorn tree for days until they've eaten every last one. The local ringtail possums also build their dreys in the hawthorn's prickly branches, to protect their babies from harm.
We gather the hawthorns 'haws' and leaf tips when they're red and ripe (sorry, Gang gangs) and the leaf tips too. Such a multi-use plant. Again, there's lots of info about using hawthorn in our book Milkwood in the wild food chapter, but for tea, we dry them and add them whole, for their taste and soothing properties.
Aniseed Myrtle
This leaf is in there for flavour, and comes to us via our foraging friend Diego Bonetto. It's a gorgeous native tree that originates in northern NSW, but which can be grown in pockets all the way south to Tasmania.
The aniseed myrtle gives our wildwood tea a liquorice tang, similar to lemon myrtle.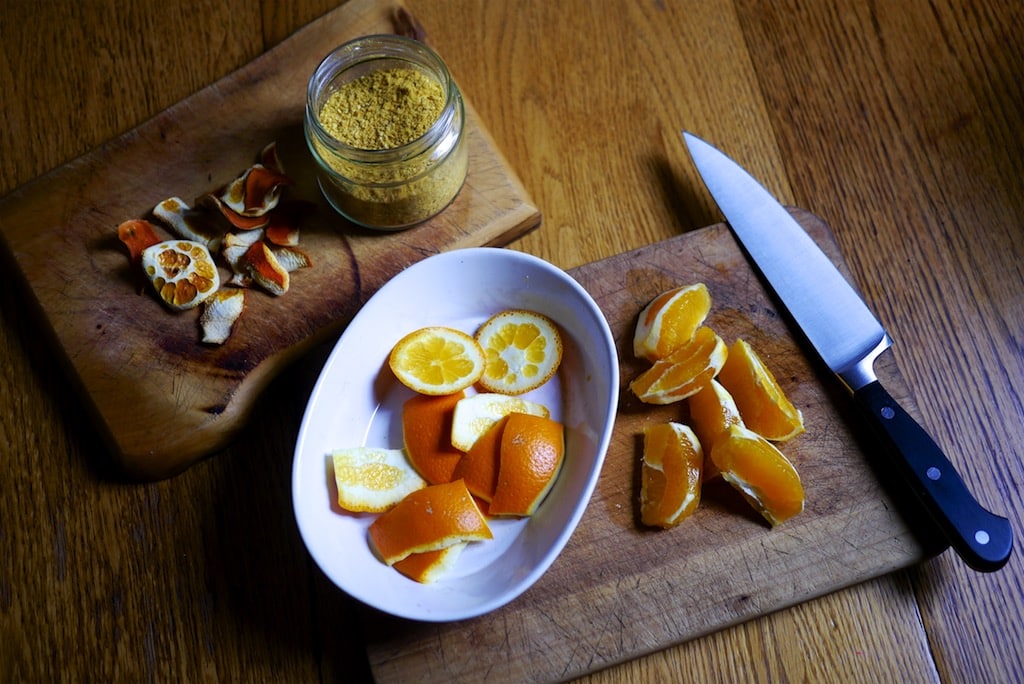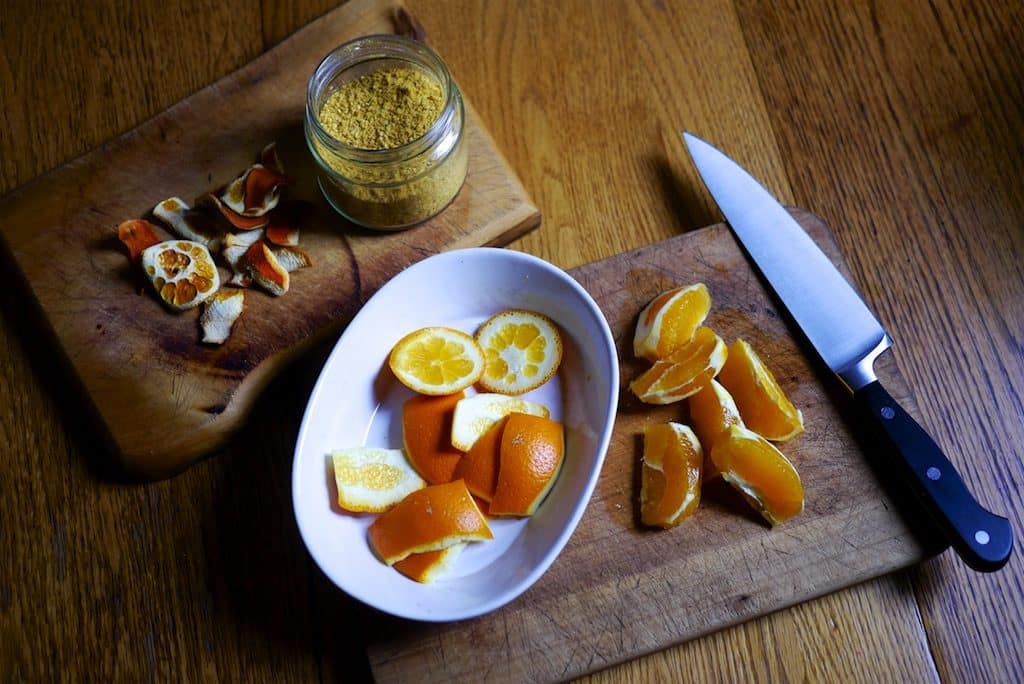 Dried Citrus Peel
This is one of our kitchen staples, discovered via Meg Ulman. We keep all our organic citrus peel (ALL of it) and dry it on a rack over our woodstove at night – though you could use your oven on low, or any warm place, to dry it.
This peel then gets added in pieces to tea, or pulverised to a powder, stored in a big jar, and used every which-way… in pancakes, and cupcakes, and stews, and scones, and sprinkled on dessert, and cheese, and anything else that needs a tangy-sweet kick. It's amazing stuff.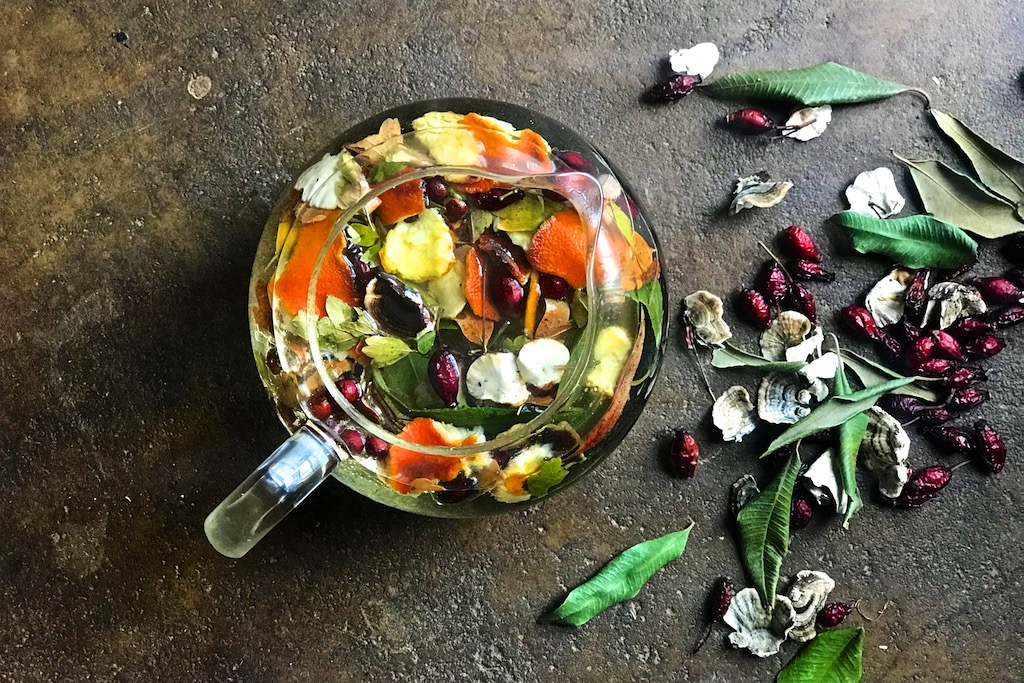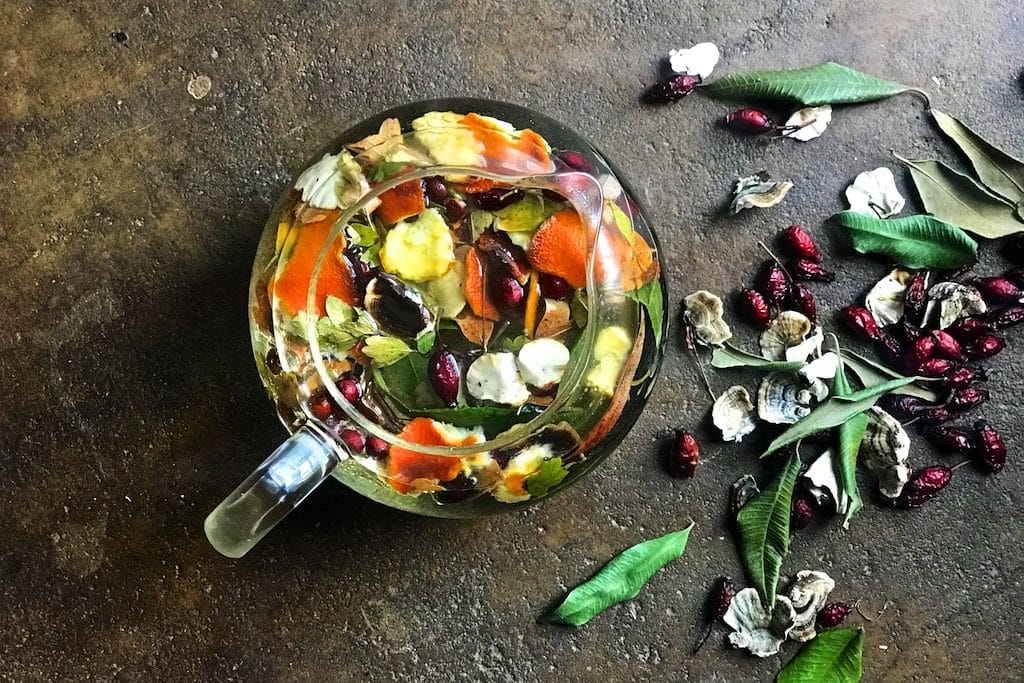 What's in yours?
So that's our wildwood tea, this year. Next year's may be different, as we learn new plants, or get a hankering for a certain thing, or maybe as some new weed comes into our area. The possibilities are endless, wherever you are.
Maybe your wildwood tea is dandelion root, and tea tree, and small dried plums? Maybe it's lemon myrtle, and seeds from wild fennel along the railway track, and citrus, and nettle? Maybe it's cleavers, and lemon balm, and hibiscus?
Whatever grows in the nooks, trees, dunes or around where you live, that's your tea. That's your wildwood.
Go exploring and see what you can find. Research it, forage it, dry it, and brew it. Gather the four seasons around you, and bring them into your kitchen. There's nothing like a teapot of place, on your table.
It's empowering to know that something as simple as a pot of tea can connect us to our landscapes, wherever we are. And nourish us, and ground us – even in these crazy days.
Let us know what your wildwood tea tastes like? Enjoy xx