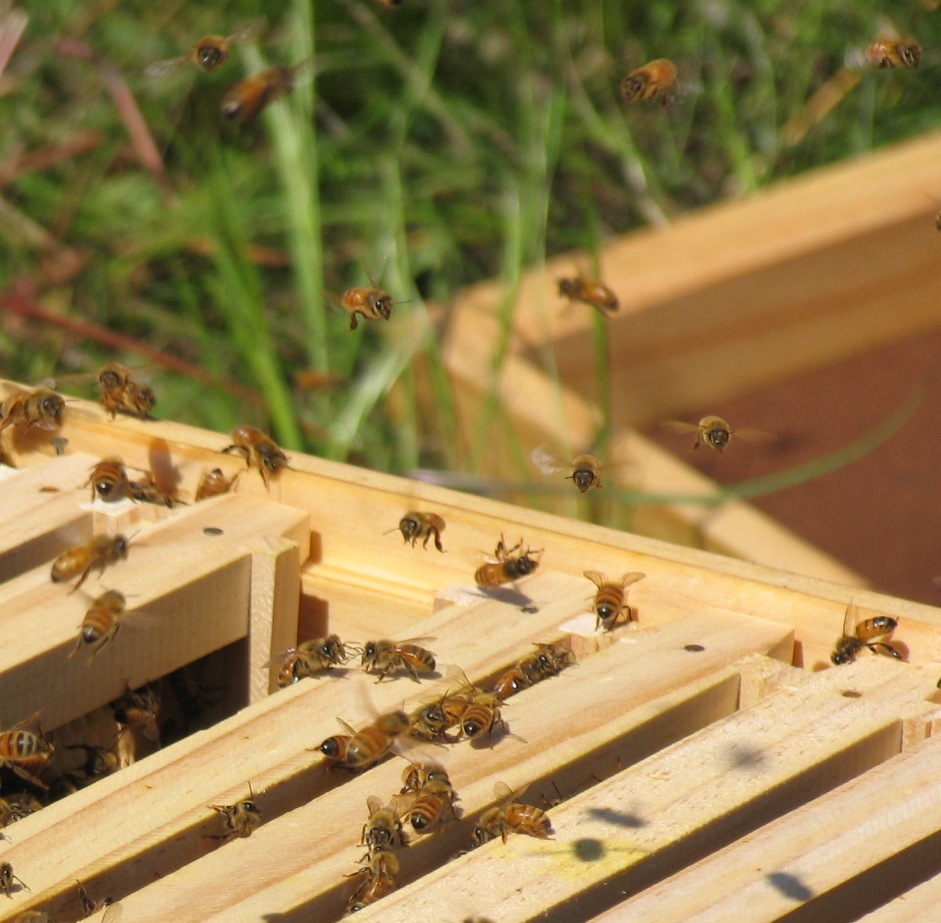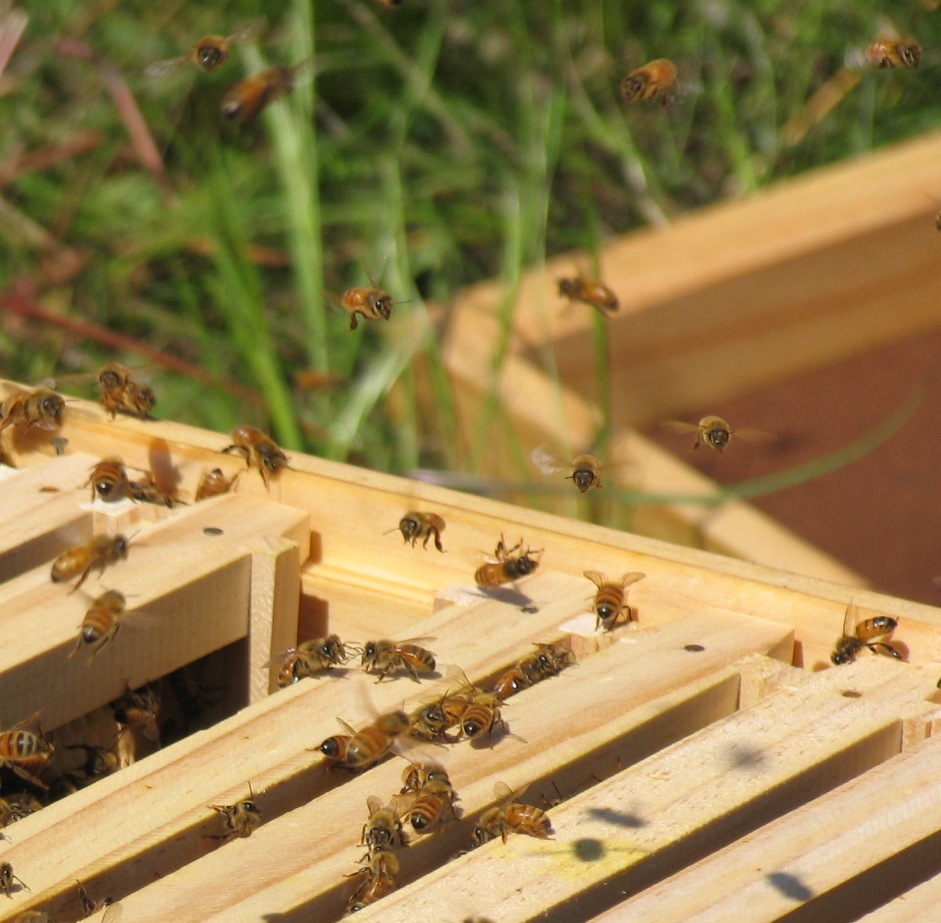 Bees are amazingly resilient and adaptable creatures. In a good year, when there are many 'honey flows' happening, they can build comb and collect and store honey at an astonishing rate, to make the most of the bounty dripping from nearby plants. Tim tells stories of his bees filling 5 boxes full with comb and honey in a couple of days.
And in a leaner year, bees might only fill two or three boxes with comb and honey over the whole season. Which can be ok if you plan to leave them alone until spring, and let them winter on their own stores of honey. Sometimes, though, the bees just can't find enough nectar. Which means they won't have enough honey to see them through till spring. Uh oh. What to do?
At Milkwood Farm, we've just started doing natural beekeeping using warre hives. Our three hives were installed in the late spring with new colonies of bees in each. Because these colonies are new to each hive, they don't have a store of honey from last winter and spring, and they've had to start from scratch gathering everything they need.
Setting up new colonies in spring is usually easy. The bees have all spring, summer and autumn to gather enough stores of nectar and pollen for winter. Unless, of course, there is an unusual season which prevents many plans from flowering. Like the spring and summer we've just had at Milkwood.
Our spring and summer has been unprecedentedly rainy and variable, which has meant that not much has been blooming like it usually does in our long, hot summers. This has meant that our new colonies have struggled to find enough nectar and pollen to grow strong hives, and store away lots of food for winter.
None of our hives have started drawing comb in their second box, which means they may all be going into winter with one box of comb only. This means that one box contains the entirety of the colony – brood, honey stores and pollen. And that's just not enough bee food to get that colony through until next spring.
This means two things – first, it looks like we are going to need to help the bees along to get them through the winter. Second, we won't be getting any honey this year. While this is disappointing, it's just another of the ebb and flows of harvest at Milkwood – this year, lots of potatoes, but no honey. Next year, maybe lots of honey but no olives. Who knows. We're here to roll with the seasons, not fight against them.
Just how best to help the bees prepare for and weather winter after a lean year, I'm not entirely sure yet (being a bit of a newbie). Luckily, this is where Tim Malfroy, our amazing beekeeper comes in. He's been muttering about various strategies, which will all become clear when he comes over later this week. One thing we will try to avoid, however, is just feeding them sugar syrup all winter as a solution.
Sugar syrup is just what it sounds like – liquefied sugar in water. It's quite normal, in conventional beekeeping, to feed bees sugar syrup over an entire winter to get them through, if you've taken all the honey from the hive. But, taking a natural beekeeping approach, we're trying to avoid it if we can, for a couple of reasons:
Sugar syrup is a bit like feeding your family only white bread as their only food for a winter. Not a balanced diet at all.
Sugar syrup lacks the incredible diversity of minerals found in naturally harvested nectar.
As you might expect, feeding bees a very narrow spectrum of nutrients does nothing to strengthen the hive (and some thing it may actively weaken the colony), at their most vulnerable time of year.
Sugar syrup is not what bees eat in nature.
As touched on in The way of the Bee, a colony maintains an internal temperature of about 35ºc all year round, including through winter. That's an awful lot of flapping and buzzing to maintain such a temperature on a -11ºc night, like we have here in winter. So the food the bees eat over winter is very important to the colony's health.
If these colonies had already had a year in their hives, we might have some honey from last year's harvest we could feed them over winter. But they're new colonies, so we don't have that option.
What is kind of cool about this situation is that we're up against a challenging year from the very start of our beekeeping experience – one which will educate us and make us even more respectful of the intricacy of this species, and better equipped to work with them in a natural, symbiotic relationship the future…
We seem to specialize in having to "put our money (or honey) where our mouth is" at Milkwood Farm – we've had leaky dams, imperfectly designed spillways and a host of other challenges. But we always get through it, fix the problem, and make a more resilient system which is even better than it was before the problem occurred. We also learn a lot about our this land we're stewarding (and ourselves) in the process.
I'm beginning to understand it's not the challenges of this place, but more how we deal with them, and how we communicate about those solutions to others, that's making this journey of first-generation farming so interesting and worthwhile.
So stay tuned for the strange and exciting solutions that Tim comes up with for how to help our hives weather this winter! (or come and see our hives for yourself and be part of the journey).
We'll get these bees through to spring somehow, and with all the rain we've had this year, it looks like to be a spring full of major honey flows (given the eucalypt's flowering cycles around here). Hang in there, bees!
Related posts: