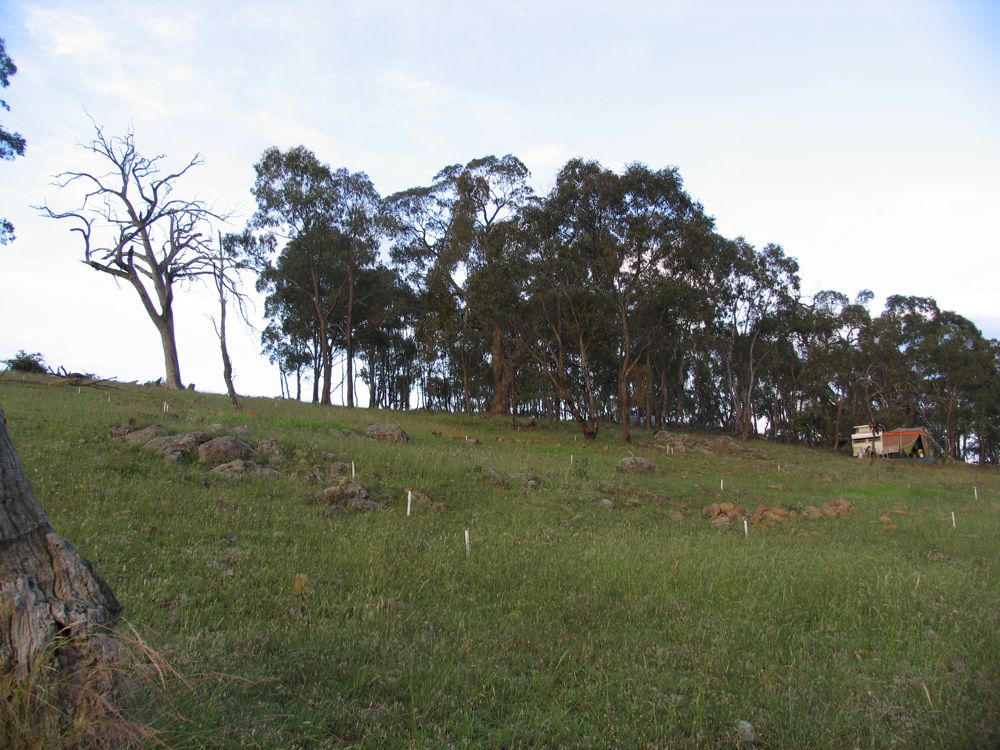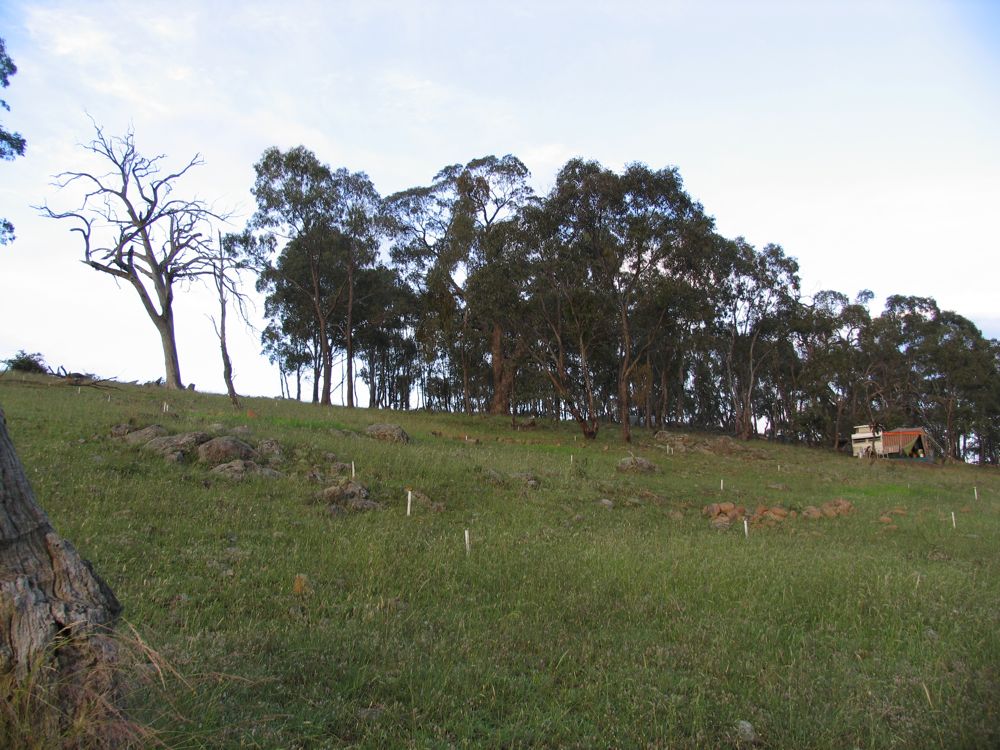 Here is our Forest Garden in December 2007, four years ago. You might notice there's nothing there. There wasn't anything anywhere, at Milkwood Farm. Just out little caravan, and us, dreaming of turning this rocky hillside into a kick-ass permaculture farm.
We knew we wanted to create a rocking Forest Garden as part of Milkwood Farm's design. And it's taken four years but, thanks to good friends, good design, gravity fed water, and a certain amount of gumption, we're now well on our way…
But there was one or two other things we needed to do first (or concurrently, ideally). Build a house was up the top of the list. Create a livelihood was another. Grow food was another. Then along came a baby. You know how it is.
So at the start of 2011, four years after first landing at Milkwood, the Forest garden was still largely a concept, with the beginnings of plantings of acacias and a couple of random fruit trees salvaged from a nursery closing-down sale.
We'd started the fertility cycle by tractoring our geodesic chicken dome (how to here) across the forest garden zone, then mulching where the tractor had been. So things were starting to happen, but there was no real plan – not yet.
Happily, in February of 2011, Harris showed up to play ukelele at our Earthbag building workshop. Except Harris never got to do much earthbagging – he instead took himself off and spent most of the week muttering over our forest garden and its devised-from-scrap irrigation system.
It turns out that Harris had a background in horticulture and permaculture design, specializing in temperate forest garden systems. Long story short, we asked him to take the Milkwood forest garden on as a project. A kind of 'if it can work here, it can work anywhere' type project. He said yes. Hooray!
>> Dan Harris Pascal's initial study of our forest garden, with recommendations for moving forward (lots of species lists etc)
>> Path design in the Forest Garden
Fast forward to Spring 2011. We now have the beginnings of an extensive permaculture design for the forest garden, and this coming year we'll be figuring out the tendrils that this forest garden nucleus will spread throughout Milkwood as a farm….
Intensive forest garden, woodland forest garden, dehesa-style sections and maybe even a special microclimate project in the suntrap (formerly the old top dam).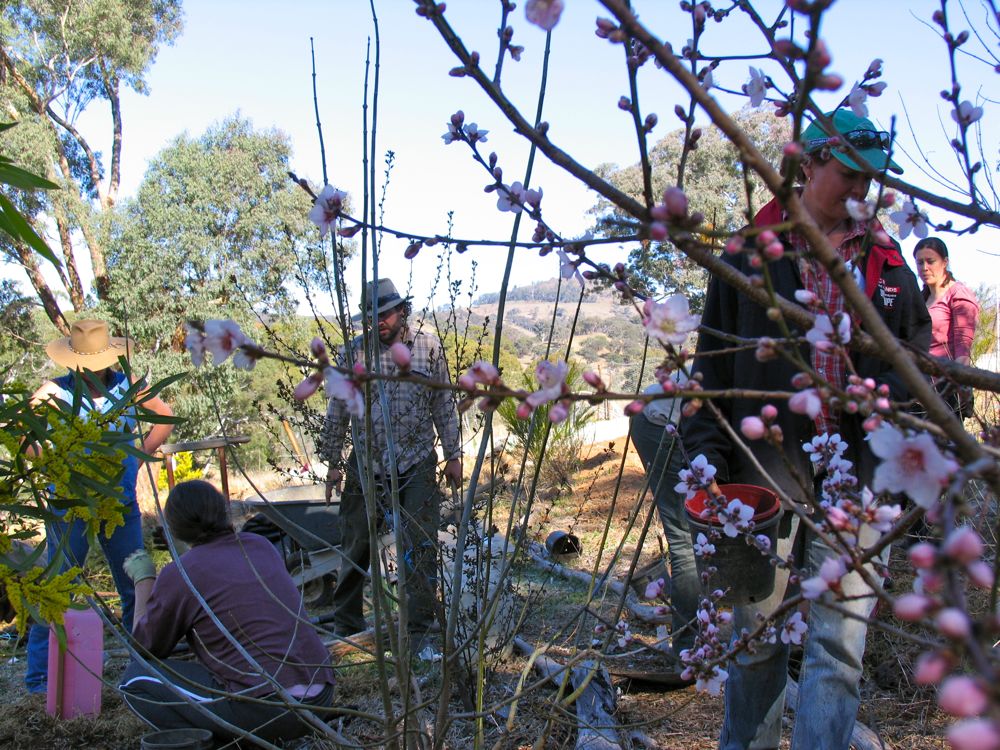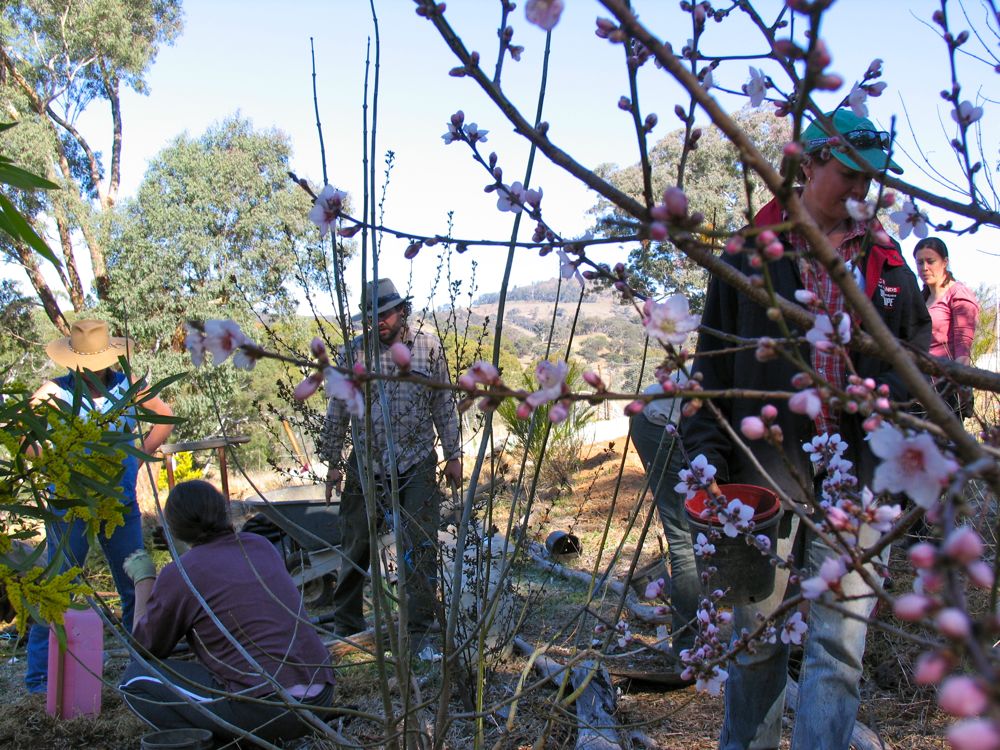 We're really excited about where this forest garden will go, and after just one spring of intensive work (working within modest means of budget, plant stock and water availability) I am proud to say we already have a small amount of really truly shady space, with flowers and herbs beneath…
Can't wait to see what the future holds for this aspect of Milkwood.
>> Forest Garden books and resources
>> Other Forest Garden resources on Milkwood.net
Massive thanks to Dan Harris Pascal for all his work so far, and his continuing commitment to the project. Also thanks to all the interns and woofers who've helped since this forest's inception.
If you'd like to be a part of the journey, we're running more Forest Garden workshops both at Milkwood Farm and an urban version for Sydney as well.