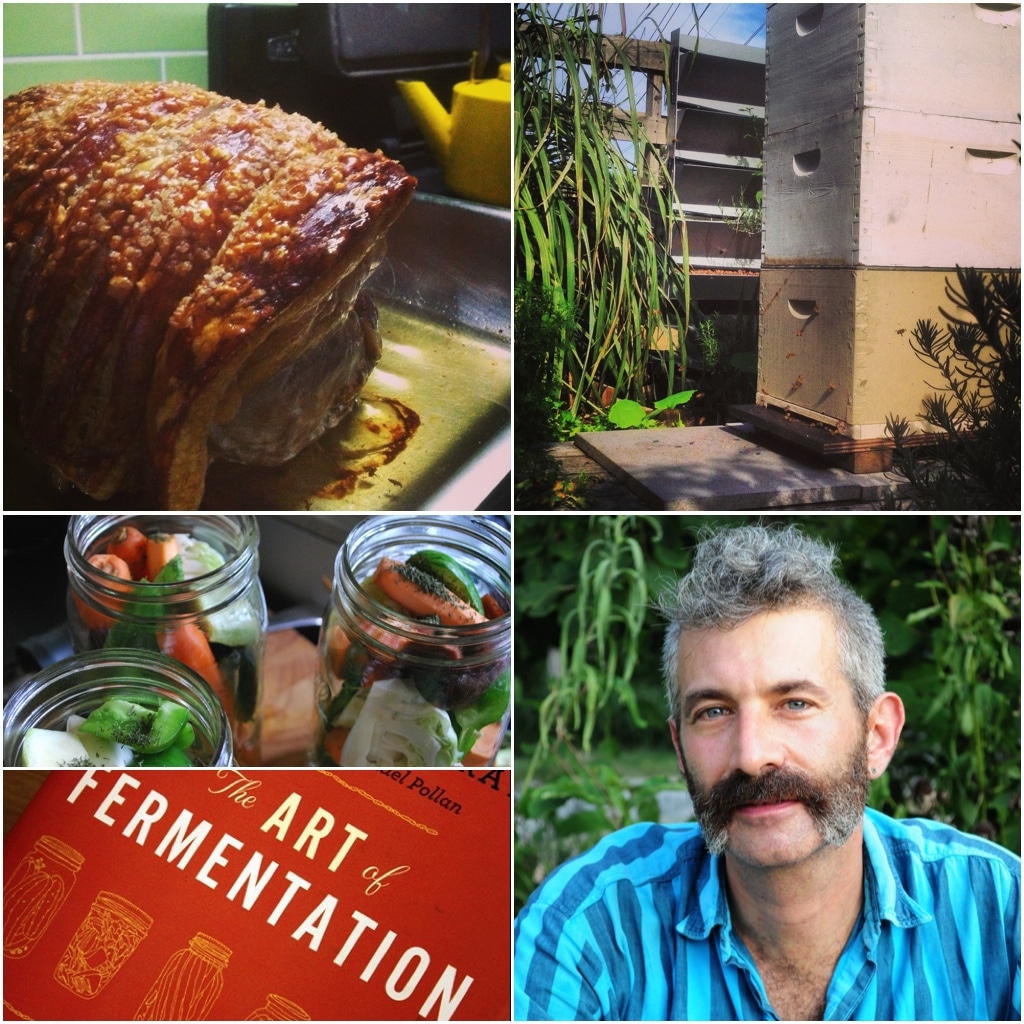 I'm not sure how she got called Fatso. Probably because there were three of them, and she was the plumpest, by a fair margin.
She was the pig which tended to disregard the electric fence occasionally and go for a wander, delighting in rearranging select parts of the forest garden, causing us to call her all sorts of names, none of them polite… 
Now winter is here, and we've processed Fatso and her sisters into pork, which will feed us and everyone who comes to Milkwood Farm for the next 6 months.
It's part of how this system functions, and the pigs have done a great job this year, between their tractoring and their converting the leavings of the market garden to protein.
We have the mixed blessing of interacting, every day, with folks from all over the world via our social media. And posting a picture of a home-grown pork roast, with a name attached to it, can result in a large conversation with multiple points of view.
I think what some of the militant no-meat people were trying to say that anything you name is necessarily your pet, or 'friend', and thereby, if you name something that you eat, you are only one shifty step from eating your grandmother, or your children.
I don't actually think that's correct. I do worry for our species a bit however, with comments like that one. I worry that our collective dis-connectedness from the cycles of life and death and nourishment in many forms might be nearing completion…
I wrote about the pig processing process at Milkwood Farm last Christmas in Learning to be ethical omnivores, and I cannot deny it's an emotional process. As it should be.
Fortunately for me, Paulette from Provenance Growers wrote a kick-ass blogpost about this very subject this week, so rather than feeling the need to re-explain I can just point you at what she said about the processing of her family's pigs into food. Pigs with names, mind.
Paulette, like me, also managed not to eat her children as a result. She did however make a good point:
"So many people tell you not to name an animal you are planning to eat. I would argue otherwise. It is this distance that allows us to perpetrate cruelty in the name of economics."
Actually Paulette made a range of good points and you should just go read her article here...
This week I'm in Sydney, awash in the instant delights of the city, the primary highlights for me being reliable internet, and espresso. God. It's so NOT SLOW here. I forgot.
I checked out Three Blue Ducks (finally) after years of meaning to. Wow. And their little garden out the back is gorgeous, with chooks and a veggie plot and even a beehive in the back.
The bees were busy foraging, and bringing in pollen so they've clearly not gone broodless like ours have over winter (pollen is collected primarily as food for baby bees, so if you can see pollen entering the hive, the queen is laying and the colony is rearing brood).
It feels a bit like a different country down here… warm days, buzzing bees, veggies bouncing out of the ground… and everywhere I look, braces and beards are in.
I also found the new Milkwood Farm chef for the season. Her name is Danni. She's awesome. We can't wait to welcome her to Milkwood, and you'll hear heaps more about her in the coming months.
Lastly this week, and partly thanks to city-strength internet, we've managed to get things to the point where we're ready to announce that the one and only Sandor Ellix Katz will be joining us (and hopefully you as well) in Australia in February 2014. Read all about it.
In the meantime, I'm making the most of my first solo city break since crash-landing into motherhood over 4 years ago. So naturally,  I'm off to try the delights of Young Henry's Enmore brewery. I'm expecting more beards and braces. And cider. What could possibly go wrong.
>> More off-farm adventures…