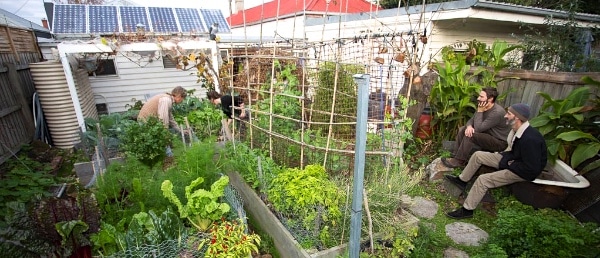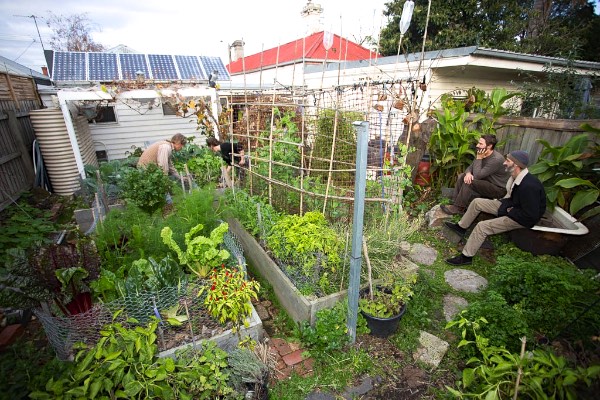 Retrofitting the suburbs – imagine an ordinary Australian suburban street full of houses, whose front and backyards are dripping with food, catching and storing all the water they need, and generating some of their own power.
Imagine using your immediately available space to provide for your family's needs, in a way that creates community, more family time, happier humans, and far less impact on the planet, and its atmosphere.
All the while placing you in a far better position to adapt to future changes of all kinds, from crazy weather to economic slowdown, than in an ordinary suburban street.
Would you want to create that kind of street? We would. We know plenty of other ordinary Australians that would, too.
David Holmgren's forthcoming book Retrosuburbia, seeks to help folks do just that, by providing a strategic guide for retrofitting Australian homes and communities for more resilient and livable futures.
Starting with the attitudes needed to cultivate change. David explains:
"Behaviour change is the 'low-hanging fruit' by which we could adapt to, and even thrive in, energy-descent futures. Behaviour can be shifted more rapidly than remodelling the house or growing a garden.
And so "RetroSuburbia focuses on residential landscapes, backyards and behaviours in suburbia, where most Australians live or were raised. It shows how ordinary Australians can downshift and retrofit their houses, gardens and lifestyles to be more sustainable and resilient; to survive and thrive."
Of course, this is not a new idea. Holmgren, and many other Australians, have been designing, creating and encouraging this sort of suburban behaviour as a way forward for decades.
There's inspiring examples like the verge gardens of Wilga Avenue in Dulwich Hill, Sydney, or Urban Food Street in Buderim, QLD, where a small street of residents have decided to pool resources, and otherwise unused space, to create great outcomes for their local community, pollinators, food supply and water quality, to name just a few of the benefits.
As David outlines in his Aussie Street Presentation, there's many ways to go about this retrofitting for resilience, and they don't all involve gardens.
Some other components of possible solutions involve sharing spaces, skills or resources, catching + storing energy, and chosing different everyday behaviors which lead to lessened impact and greater resilience.
And you can get started right now. Yes, even if you're renting.
6 Ways to start retrofitting your suburbia:
Commit to reducing household waste, or even better, go Zero Waste for a period of time (maybe start with 7 days) to get a better understanding of how much waste you produce – it will motivate you to find alternatives where you can, and start lobbying for change where you can't. It's enlightening stuff.
Get or make a worm farm to turn your organic waste into nutrient dense plant food. A well run wormfarm (or two) can take up to 80% of organic household waste. No garden? Find someone who does, and start gifting the goodness, which will inevitably lead to conversations, acquaintances, and further goodness.
Get growing. Almost all Australian households could be growing a fair amount, if not most of, their own food. It's not just a gardening thing. Its a future resilience and community glue and happier life and reduced impact and a bunch of other aspects thing. Whether it's on your windowsill or on your rental lawn or sharing backyards with others, you can grow some of your own food. And you should.
Assess your home from an energy efficiency point of view. Where are the air leaks that let the cold wind in? What can you do about it? Where is it hottest in Summer? How can you turn that problem into a solution? Where can you fit a rain barrel to collect and store some water? How can you add thermal mass in winter to the sunny side of the house to make things just that bit warmer? Assess the sun on your site.
Join, or start, a community garden. Especially if you feel you have no room to grow. Friends and support means quicker uptake of good things in your area. Also free seeds, locally-adapted plant cuttings, community composting and a host of other small but significant firestarters.
Get inspired by community resources that you can either access or replicate. Initiatives like crop and swaps, community tool libraries, community solar initiatives, community level verge gardening, community initiated food box co-ops… the list is long.
Different things work for different communities, but you know your community, so you're best placed to come up with strategies for engagement.
Retrosuburbia goes deep and wide on household-scale strategies and solutions, well beyond what's mentioned above. Under the radar co-housing, renovations, and resource sharing, to name a few…
"RetroSuburbia explains and illustrates patterns, designs and behavioural strategies applied by those already on the downshifting path to a resilient future, using permaculture ethics and principles – it captures the ambiguity of a radical transformation for the future, and easy re-creation of the best from the past."
But we all do need to start somewhere, and you can, starting this week. A resilient and very livable future is possible in the Australian suburbs, and it's creation is in your hands. Starting now.
Retrosuburbia  – the downshifters guide to a resilient future is published by Melliodora Publishing and available from the Permaculture Principles store.
If you're geographically closer to the US than Australia, you can purchase Retrosuburbia from PermaculturePrinciples US site.
And check out Our Street – Retrosuburbia for Kids available right here in the Milkwood Store
Thanks to PIP magazine for the extracts above (you're subscribed, right?).
Further Reading and resources:
What are you doing to create a suburban life that's abundant and resilient? We'd love to hear…
Lead pic by Oliver Holmgren, other pics from retrosuburbia.com + Milkwood.