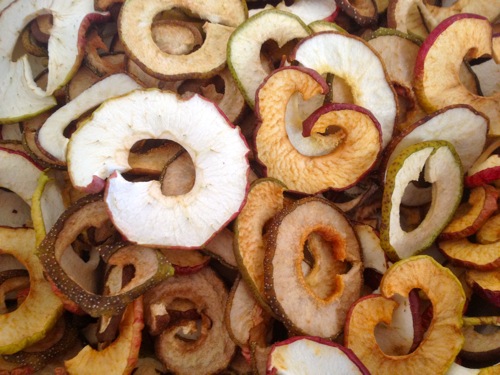 Drying fruit is one of my favorite things. I love the versatility of dried apples and pears – so simple and yummy to munch on their own, yet so much fun to use in all sorts of ways in recipes year round.
And this year we seem to have access to an unlimited supply of apples, pears and nashis, so we're going for it! My aim to to really and truly dry enough fruit to last us through till next year. Here's the method we've settled on…
Despite a long-time love affair with solar fruit drying plans, we have decided to back up all future experimentation in that realm with a kick-ass electric dryer. Please don't fall about in horror at this. It's a matter of expediency, and getting enough food preserved to actually see us through.
I've done a fair bit of solar fruit drying, and it's great. But to do serious quantities (especially in a wet summer like this one, when the drying engine (ie the Sun) turns off most days) is a matter of skill that I do not yet posses.
The answer? A really good electric dryer (preferably run on a solar system), that can plow through serious quantities of fruit, leaving us with supplies till next season.
The other advantage of a good, fast electric dryer is that you dont need to add anything to the fruit, because it dries before it gets a chance to oxidise and go dark brown.
In the past I've used various drying methods that took several days to dry apples, which meant that I had to add lemon juice + honey to prevent them going too brown (not that there's anything wrong with brown apples, really).
But using our newfangled electric dryer, I can dry a large amount of apples in 8 hours. Snap. It takes me about 15 minutes to cut the apples and load the dryer, which I do after dinner, then we put them on overnight, and in the morning they're all done. Whoohoo!
At the moment we're drying apples, pears and nashis. All of which taste awesome.
Drying production notes:
The apple slinky machine is a rocking little device that is readily available in Australia. It cores and slices, or cores, slices and skins in one fell swoop. You can do apples, pears, nashis, potatoes, and probably a bunch of other things I haven't thought of. You can also get them in most kitchen stores.
The dryer we decided on is an Excalibur. Don't think it's much known in Australia yet, but many overseas homesteader groups wax lyrical about them, and I have to say we're very, very happy with it so far.
I grew up with the Vacola dryers, but this one is faster, holds much more, and the heat comes from the back, not the base like in the Vacola model, so you're not constantly swapping trays for even heat distribution. The excalibur is also super easy to clean.
We got the semi-commercial model, but they make smaller ones also.
Excalibur's main website is here.
(Just a note on the products above: we didn't receive a kickback  for these purchases in any way, we just like em, and wanted to share what we've learned.)
Related posts: