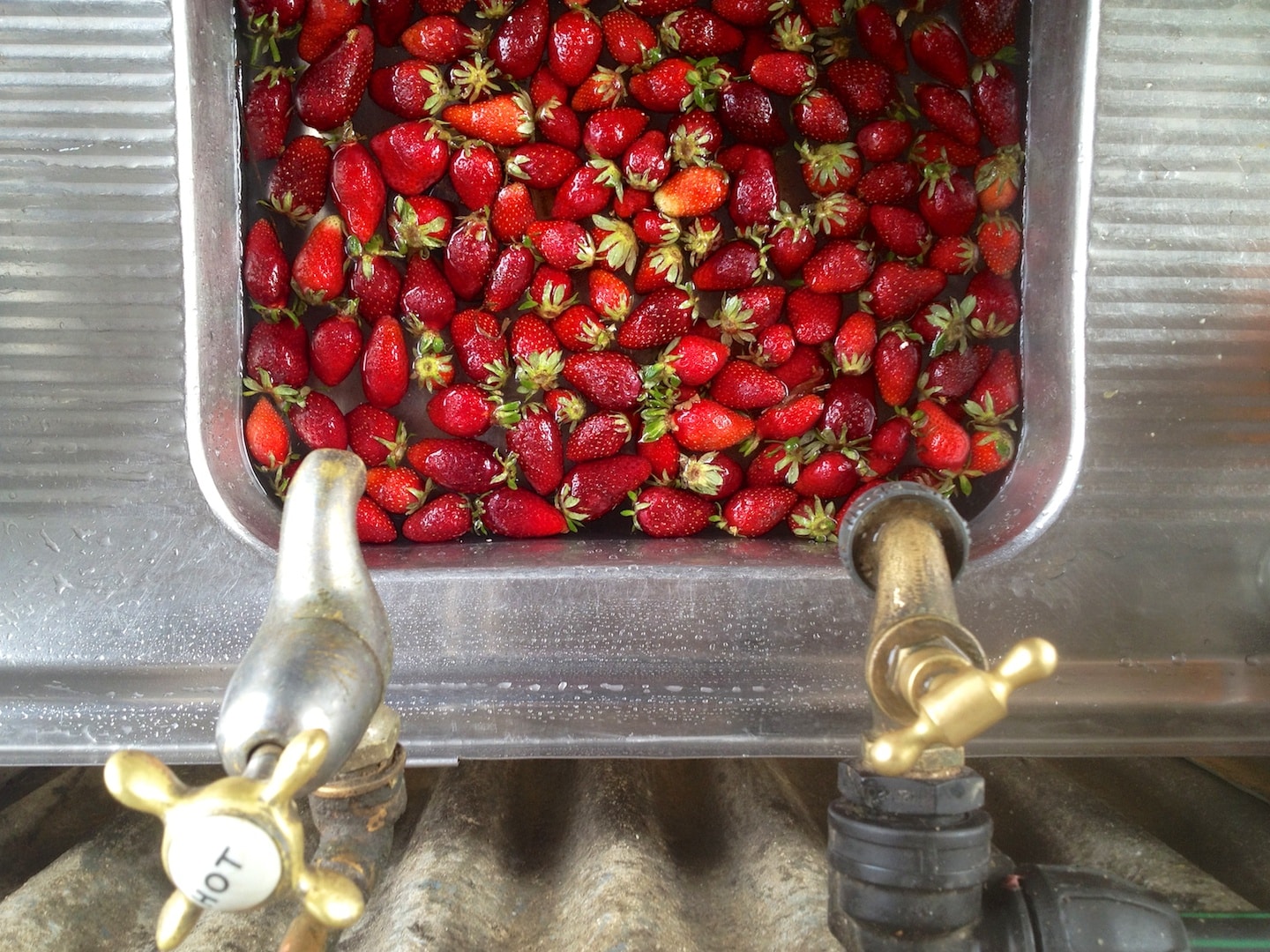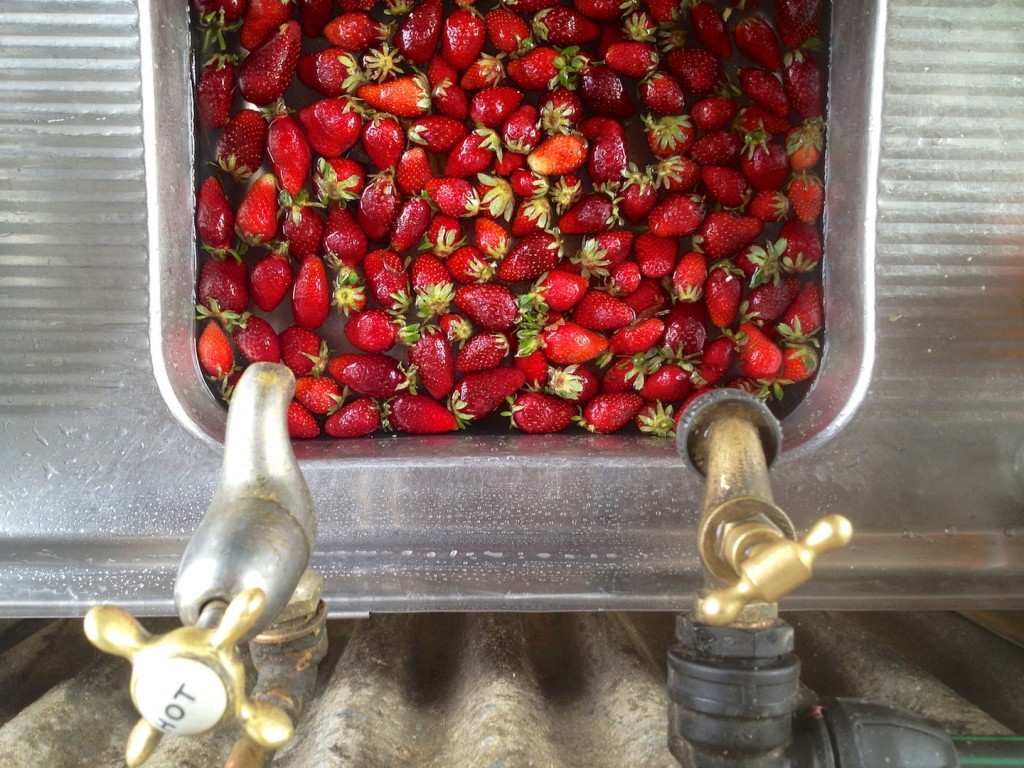 It was too good to be true – a large supply of organic strawberries, and all for me. To turn into the sweetest of christmas gifts – after all, what says 'thank you for everything' better than a jar of exquisite, edible rubies?
Nothing, that's what! However manifesting those jars of jewels proved trickier than I thought it would be…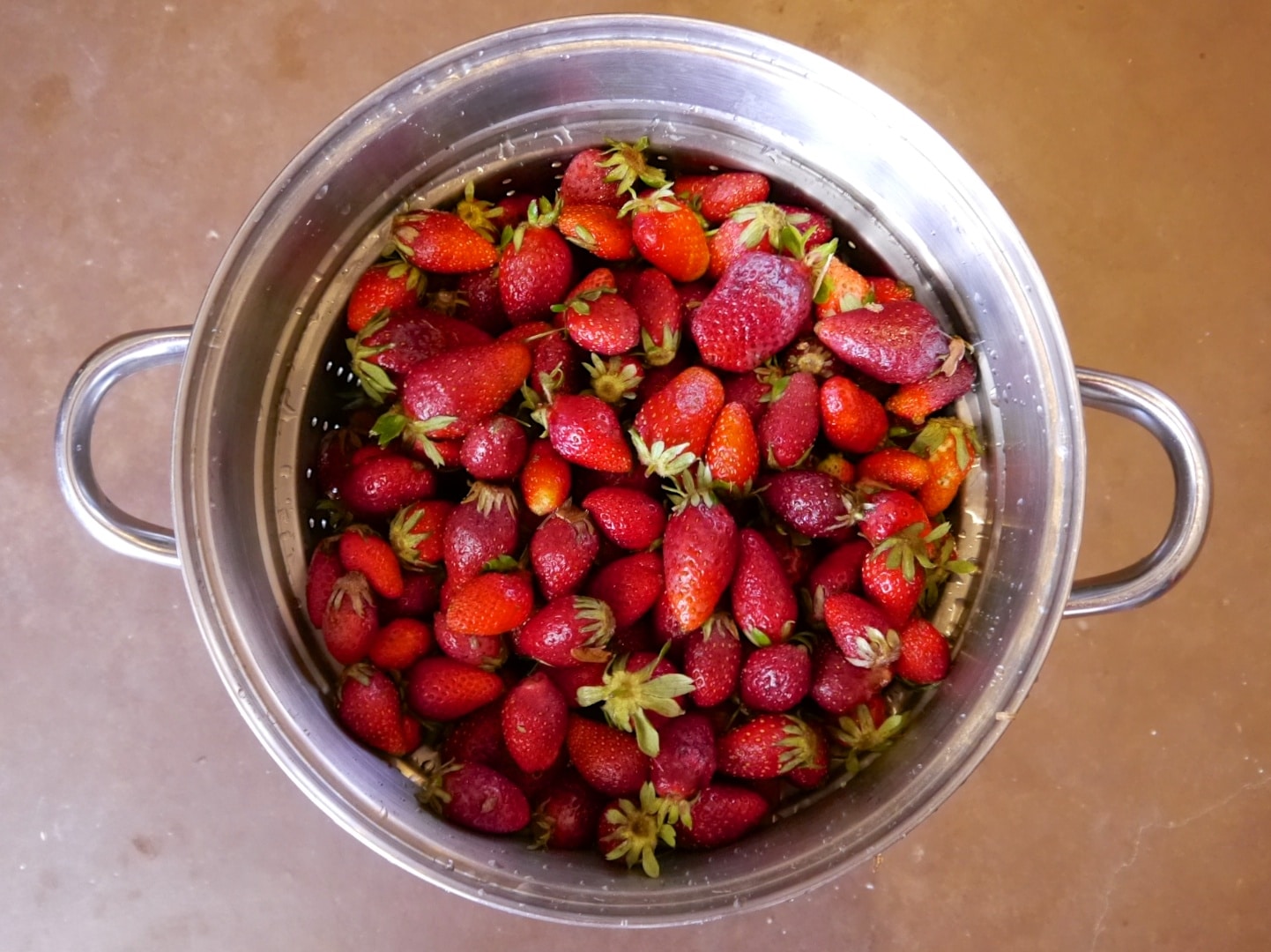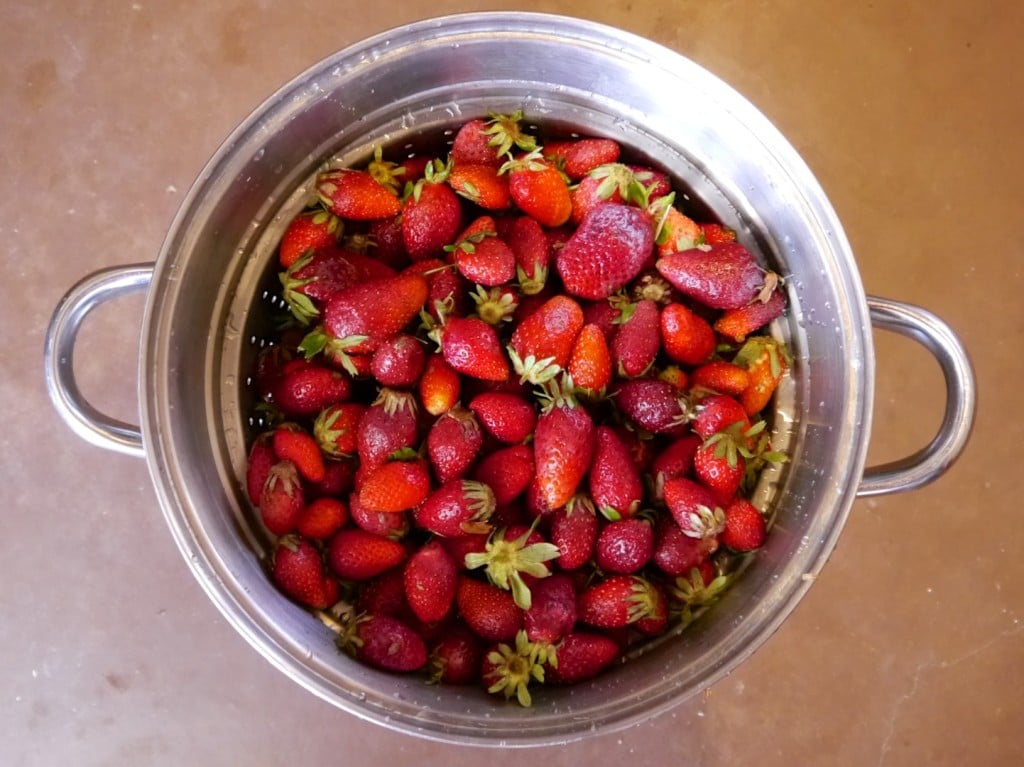 Things started off so well. I had sourced a large quantity of amazing organic strawberries from Common2us on the fringe of Sydney. And they were the sweetest things I had ever tasted.
My plan was simple: to jar them up in a light syrup and present them proudly to loved ones and comrades in 6 weeks time.
I could feel my inner authentic homesteader points rising by the second. I might be hellishly busy, but I could still make time to make things. Beautiful, edible things.
Because we live a slow, authentic life, you see… whenever I want to (I told myself), I can take time to make a suite of beautiful, successful homemade preserves, no problem.
Heck, I don't even need a recipe, or to check somehow that this will work. I live this. I am this.
Cross all that with a new camera to document the process, and I was prettymuch beside myself with how excellently this project was going to turn out.
It started out well. If you like spending 3 hours washing and cutting the tops off bucketloads of strawberries, that is.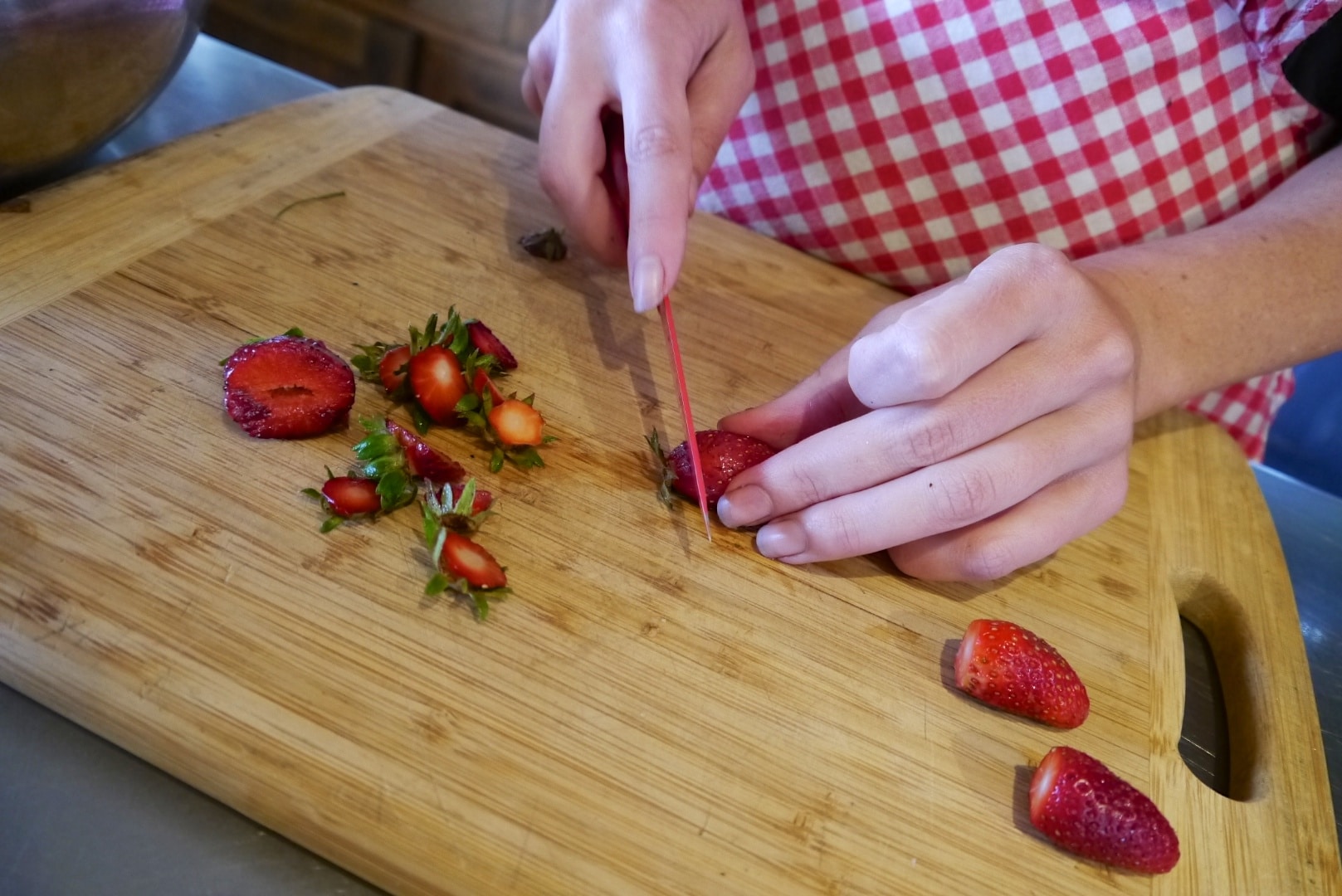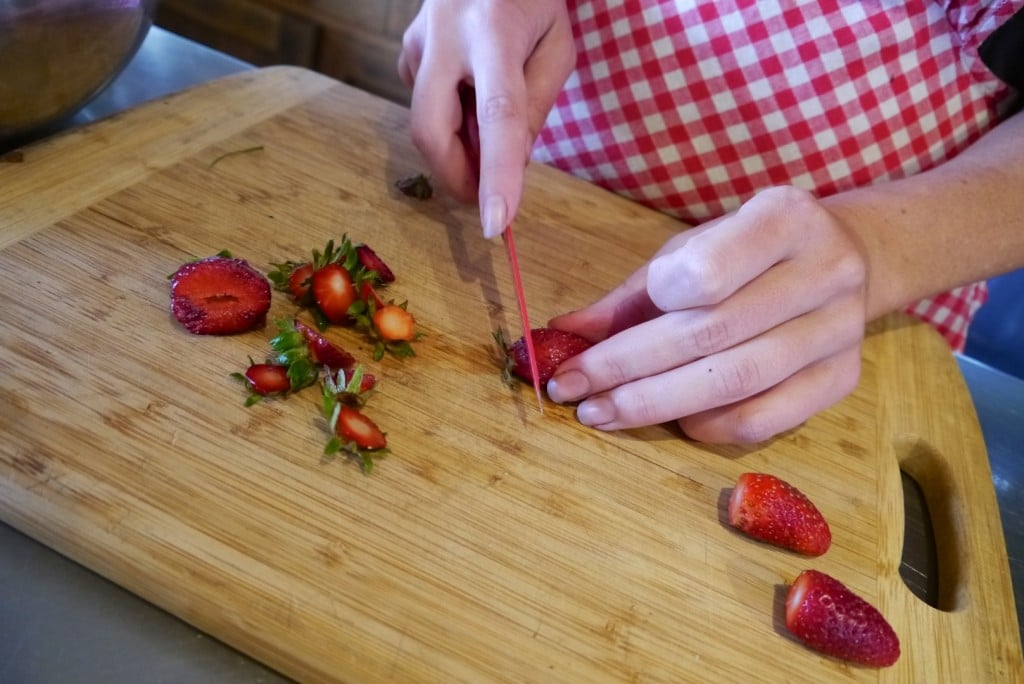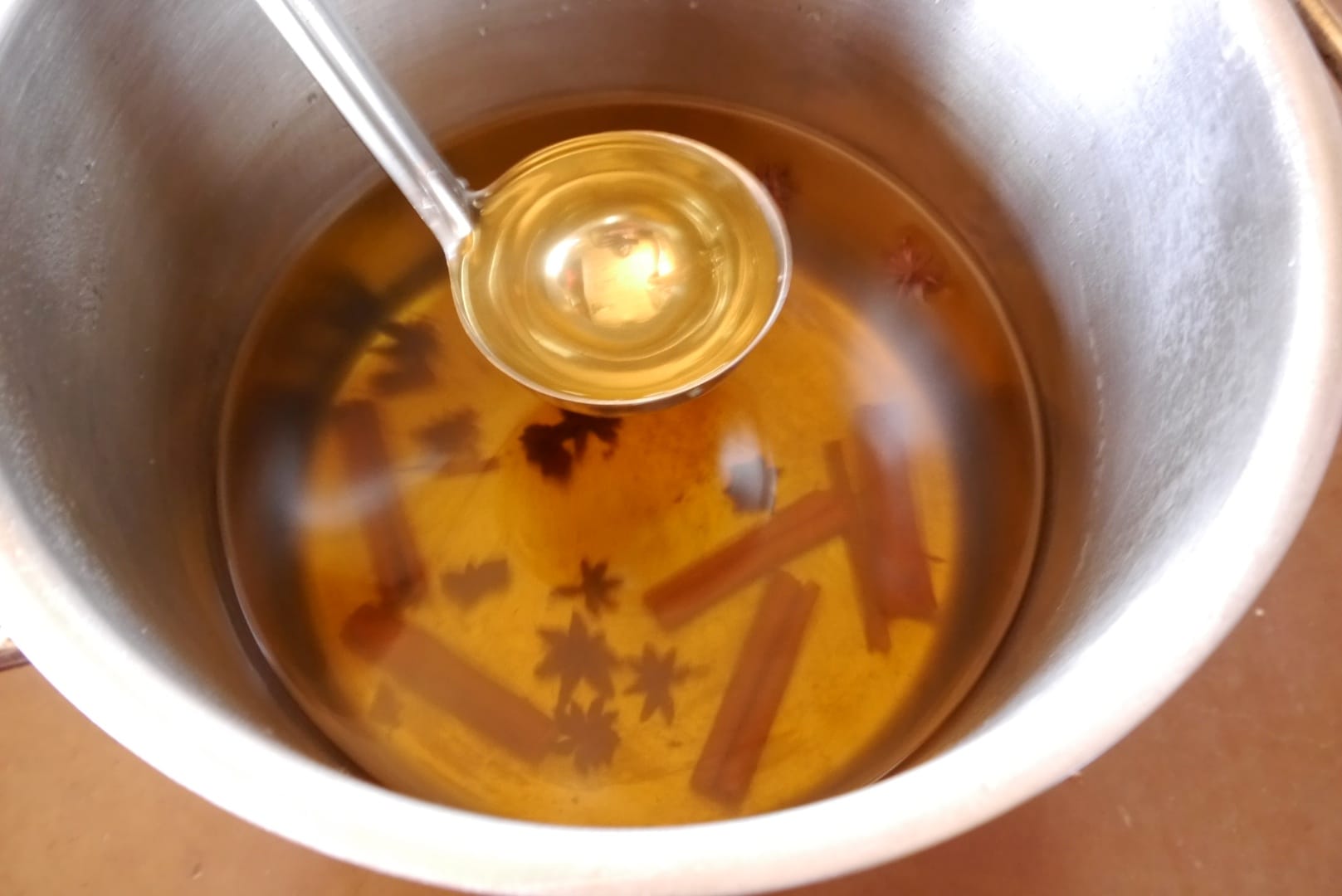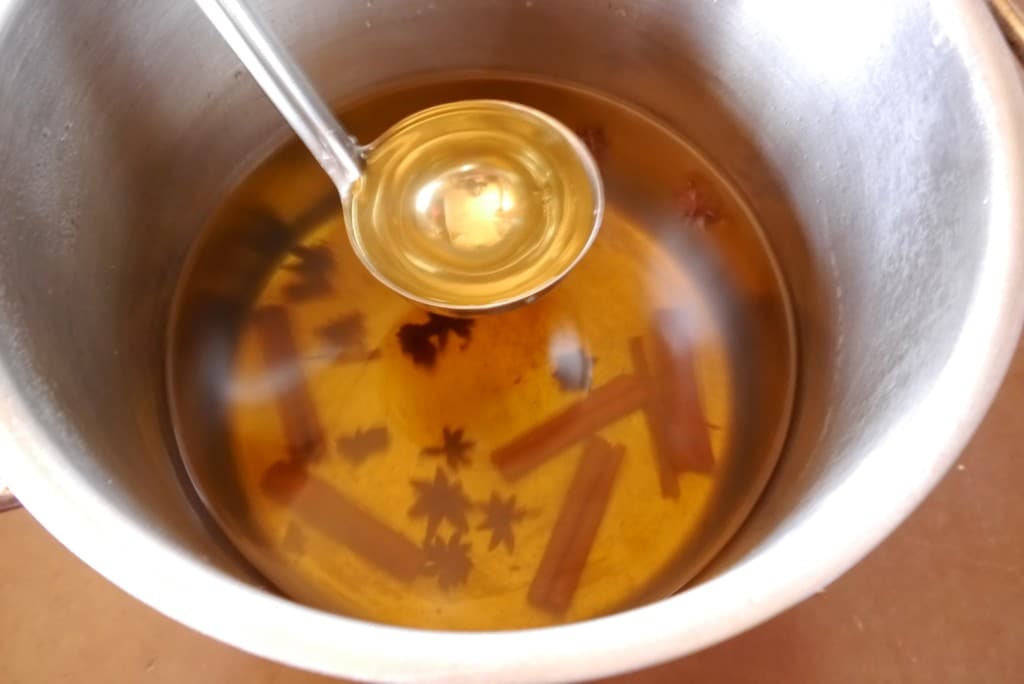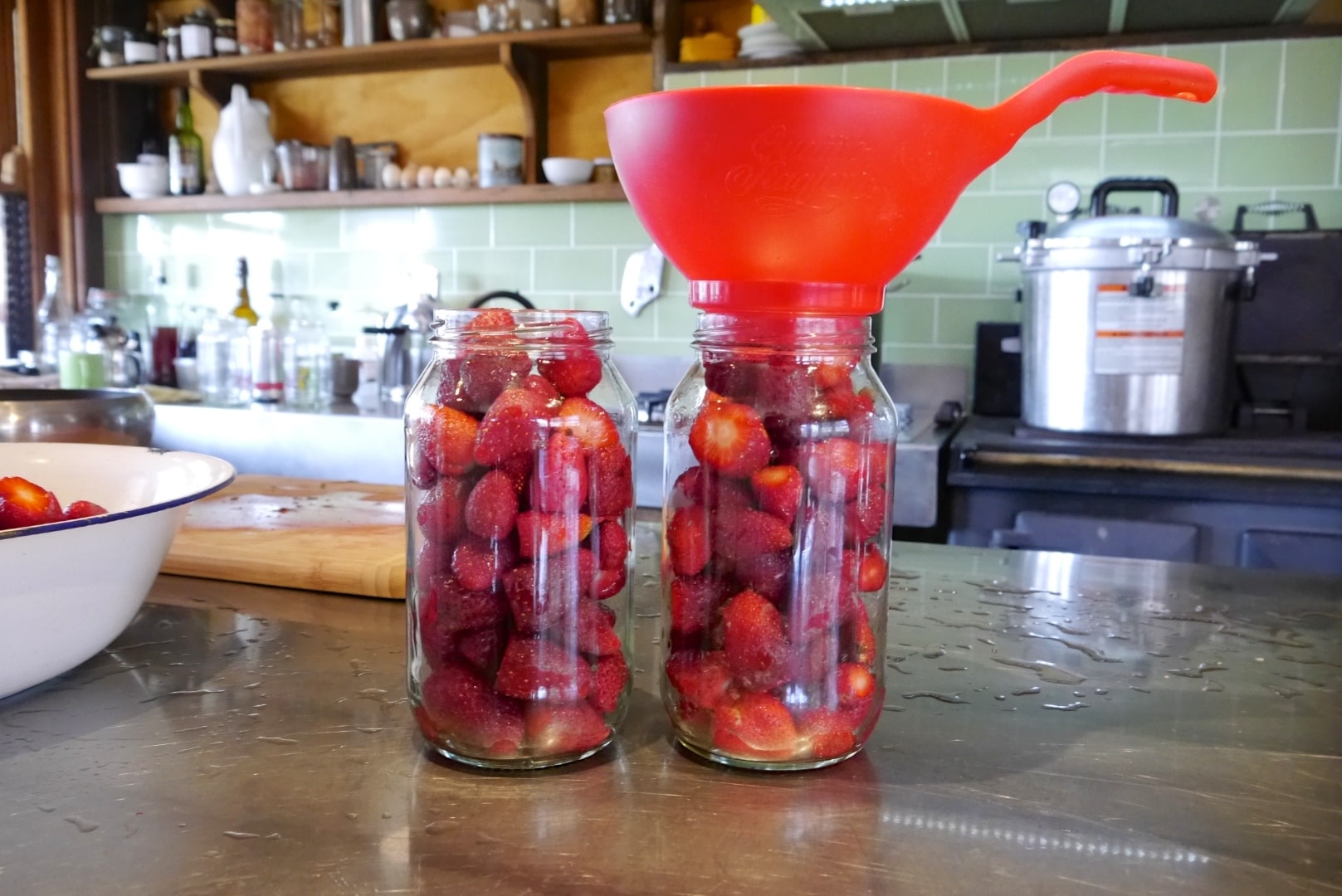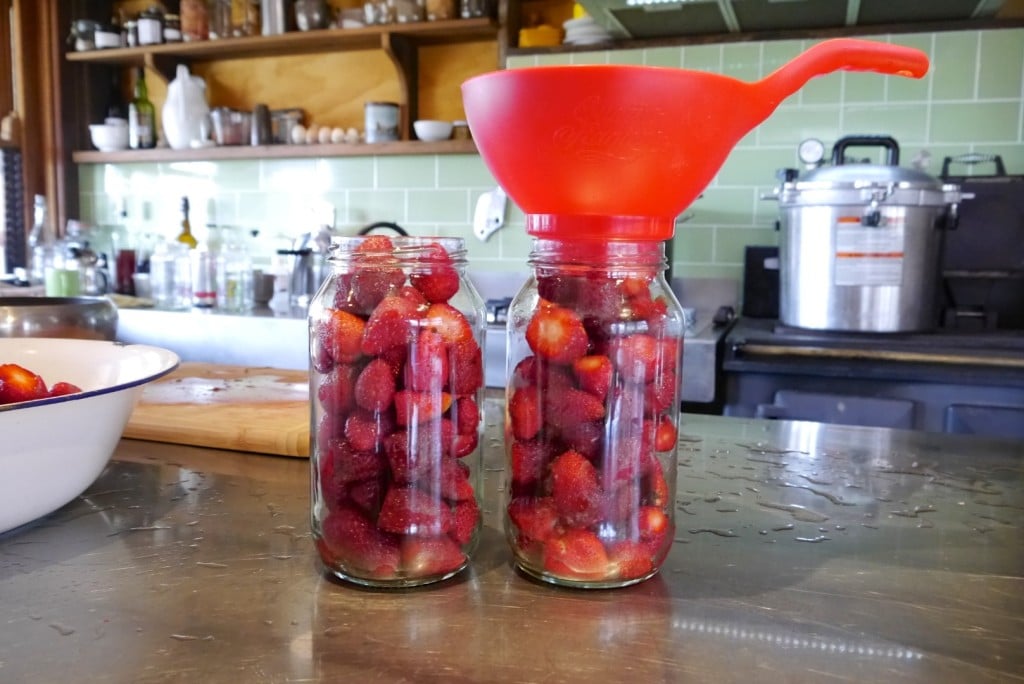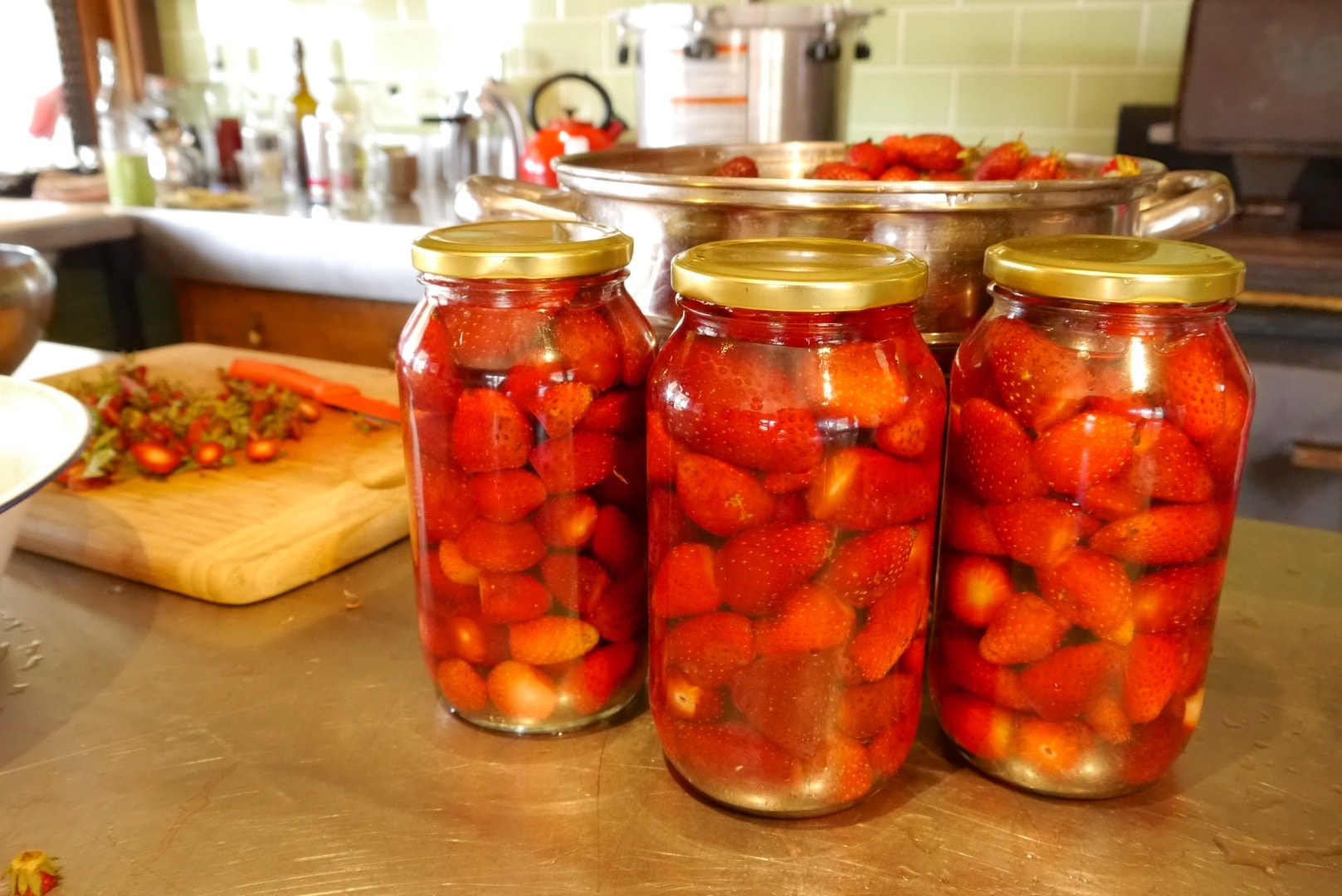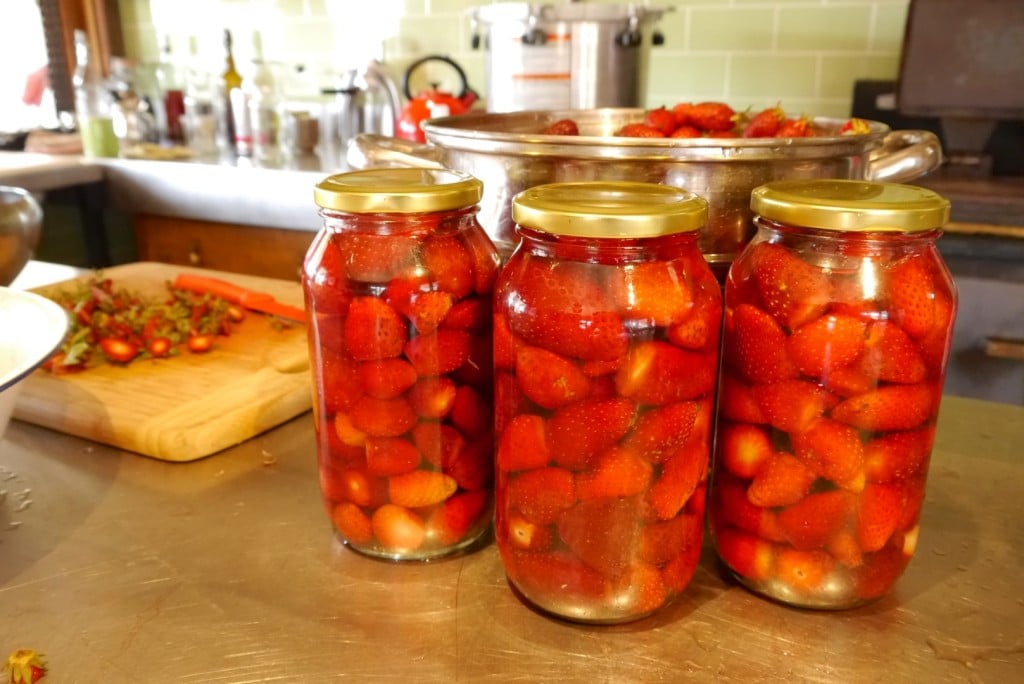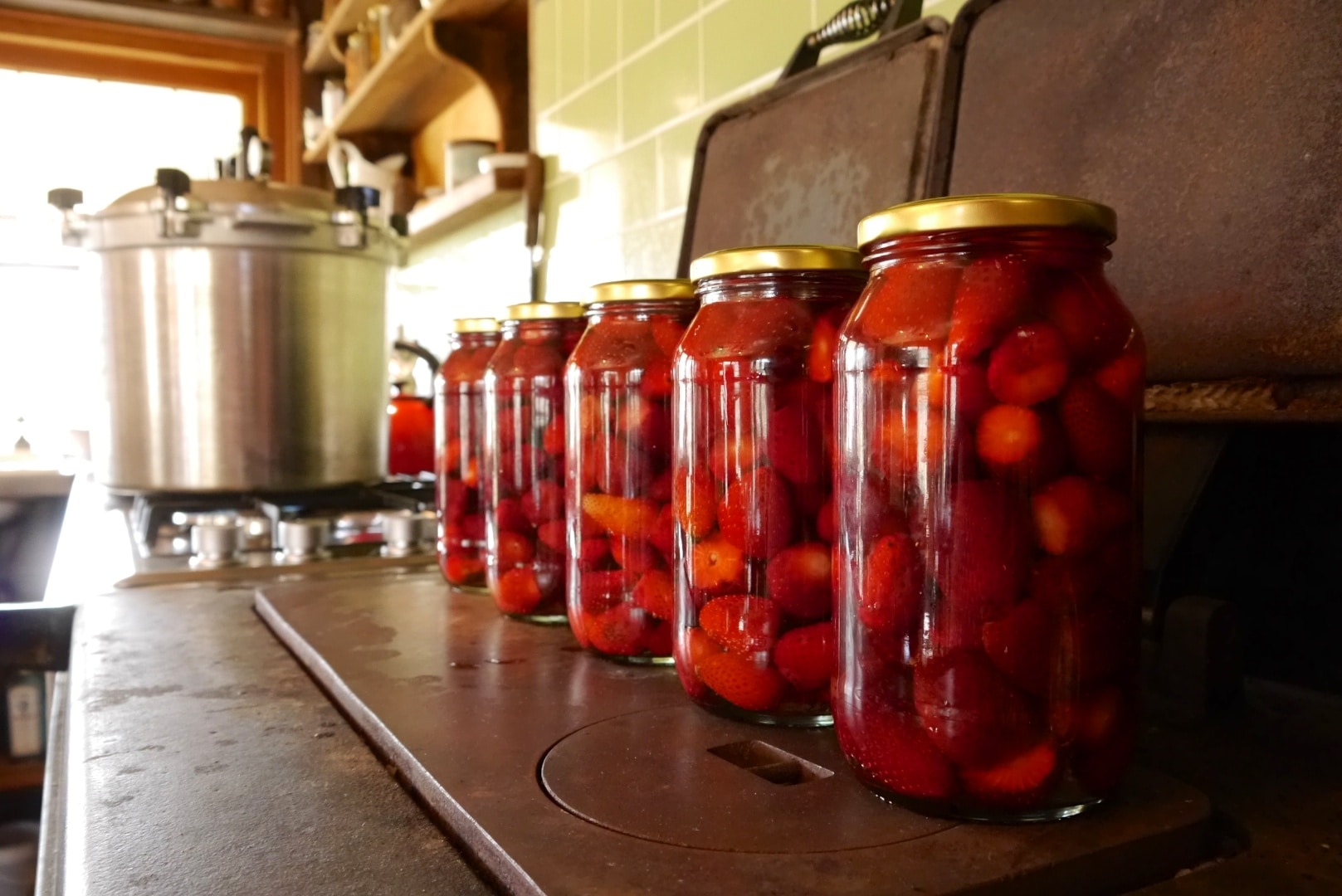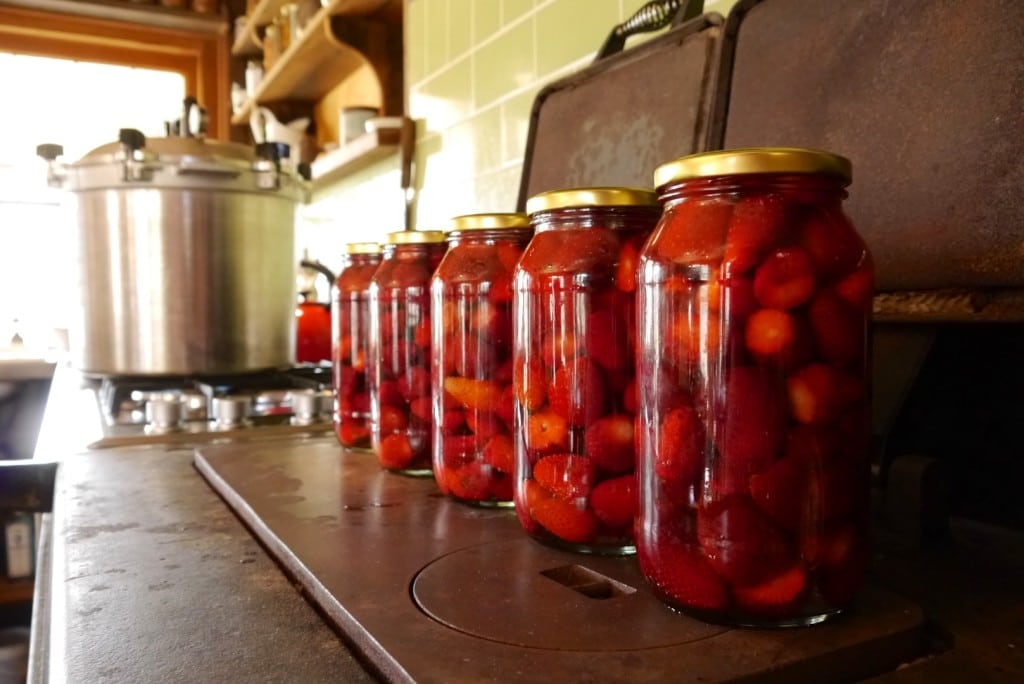 I then jarred up my beauties and added a light syrup of 10 parts water to one part sugar, which had been simmered with star anise, cinnamon, and a splash of rosewater.
They looked incredible. I was mega-stoked (that's a technical term). One more step, and I would be done.
Into the pressure canner (which you can read more about here) they went, and after 15 minutes at 10 psi, there was nothing to do but wait till i could open the unit after it had cooled down, and pat myself on the back.
And then I took them out. Hmm. Not the "jar o' jewels" I was expecting, really.
More like a half-jar of squishy, pale things in blood. Sure, they might taste great, but I was hoping for a major Aesthetic Hero Moment here…
In retrospect, it all makes perfect sense – fruits like ripe strawberries are structurally more delicate than say peach or pear, which I had preserved this same way quite successfully.
At this point I may have had something in my eye for five minutes or so. Bummer. But there was the second batch to do as well. Abort the mission now?
What should I do with them all to do justice to my unique load of amazing organic strawberry goodness?
The answer was, as usual, make jam.
Except with all this light syrup around, my liquid to fruit ratio was waaay too high to reduce the mix to jam in under 48 hours of solid simmering.
I opted to decant some of the liquid and boil that down separately with the juice and rind of a lemon, for strawberry cordial.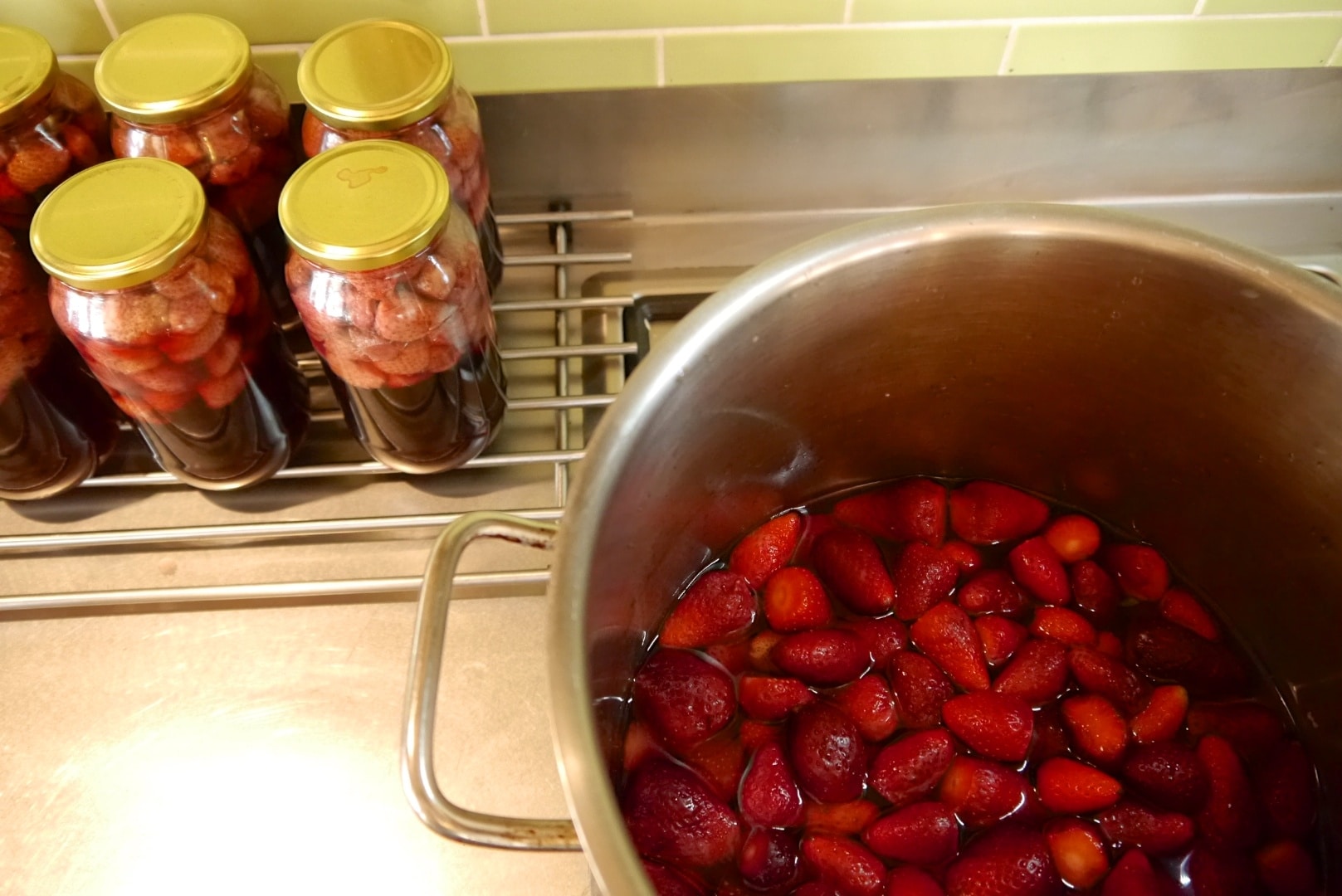 In the end, it was the usual story as per my jam experiments. I added all the sugar available in the house (as usual, probably not enough), and lemon juice and rind in lieu of pectin .
At 9.30pm the pot was still simmering, smelled and tasted great, but was not behaving in any way that could be called 'setting', which is the point at which you can call your concoction 'jam'.
And, as usual in this situation, at 10pm, I jarred the mix in the pot up into clean hot jars, screwed the lids on tight, and went to bed.
The results, I should say, taste incredible, and behave mostly like jam. The syrup and rosewater lent a truly rockin flavor to both the cordial and the, er… preserved jammish strawberries.
I suppose we'll just have to eat them all ourselves, at home. Oh well.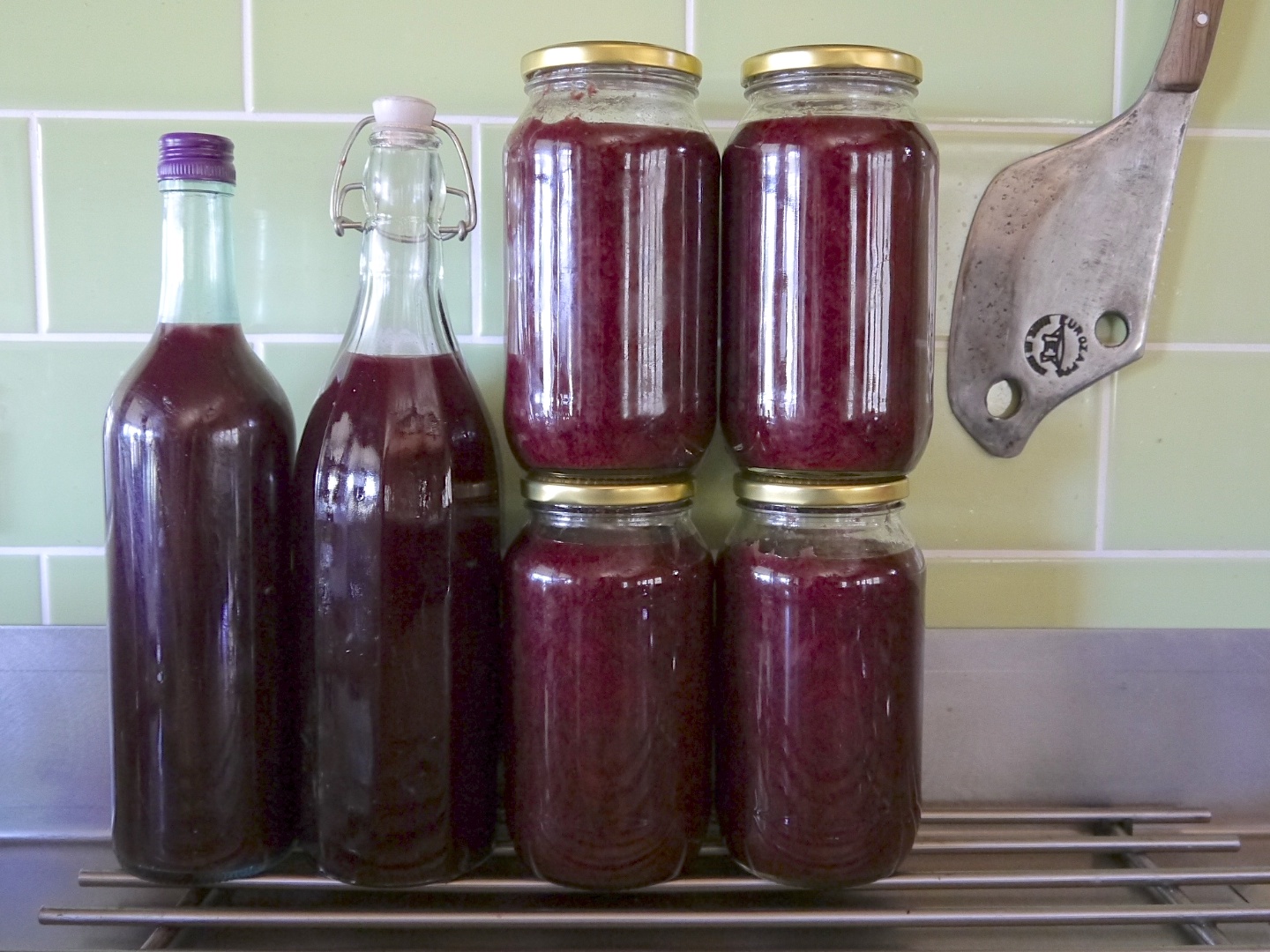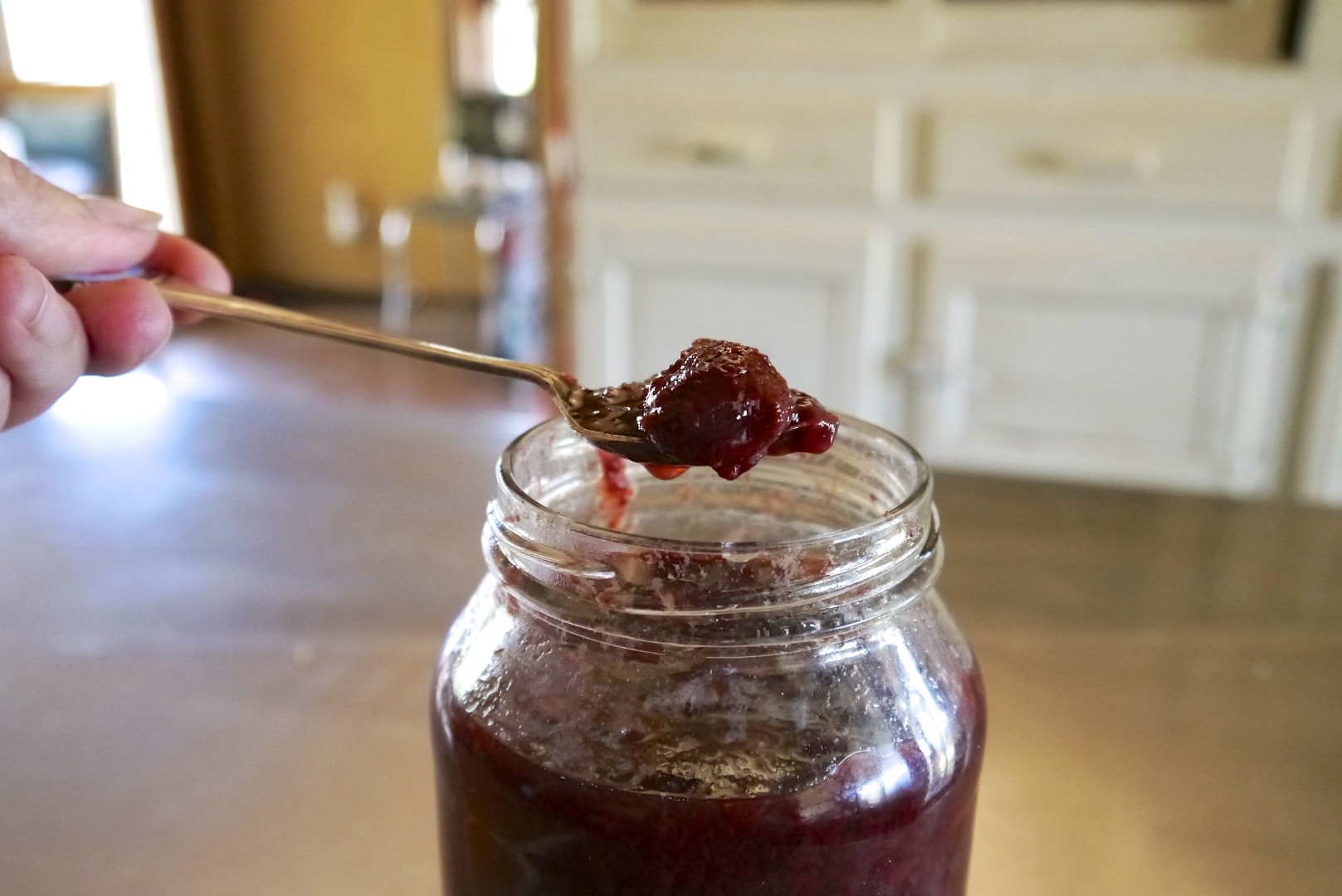 Ok now we get to the SUCCESSFUL part of the 24 hour strawberry experiment. Hooray.
I love dried fruit. So much.
This could be due to my deprived, healthy childhood (hi mum!) where lollies were off limits except for birthdays, and so dried fruit took the shining place at the core of my sweet tooth.
Clearly, life should contain more dried strawberries, if at all possible.
This was something that I have previously suspected, and can now confirm to be absolutely true.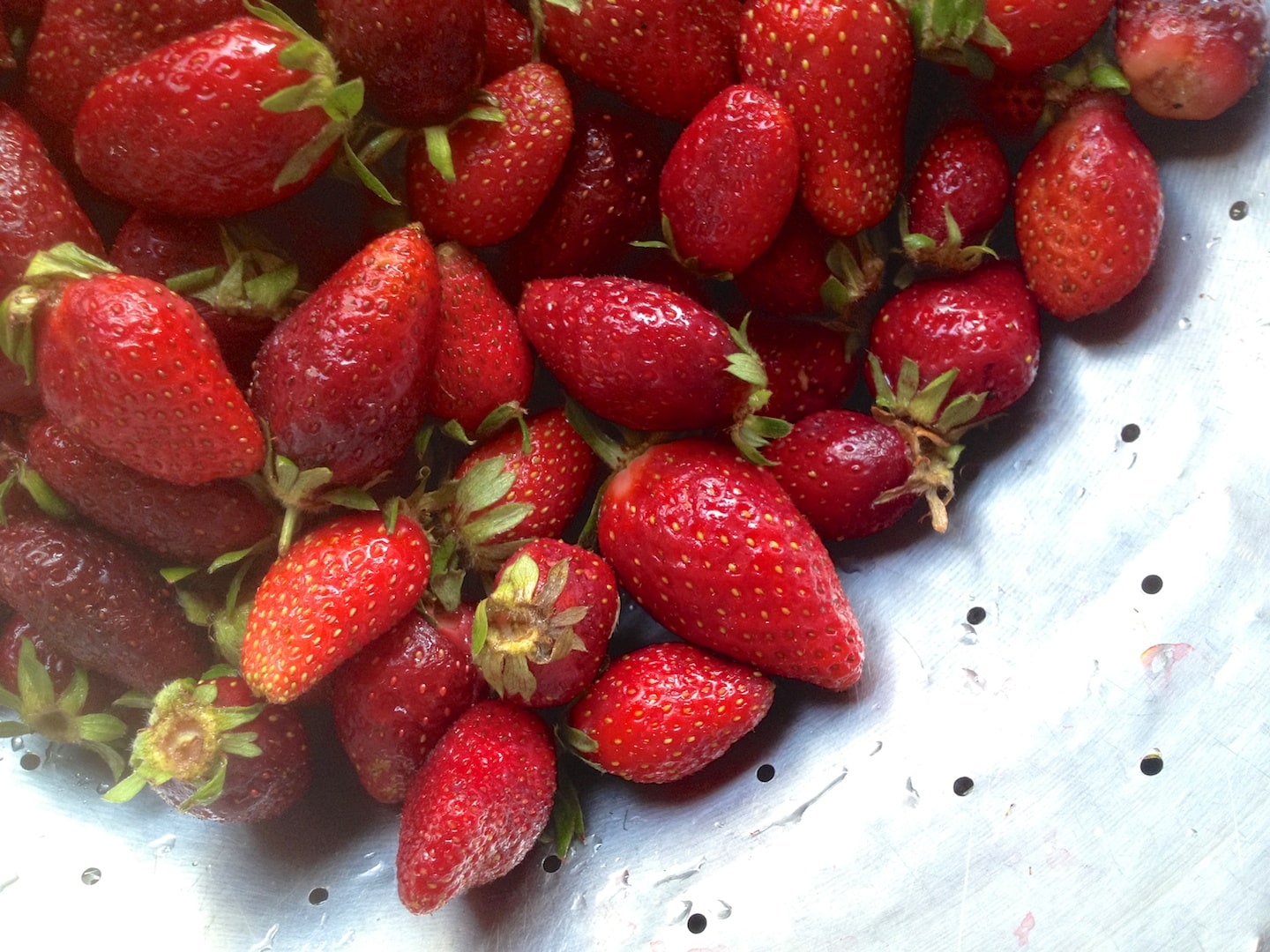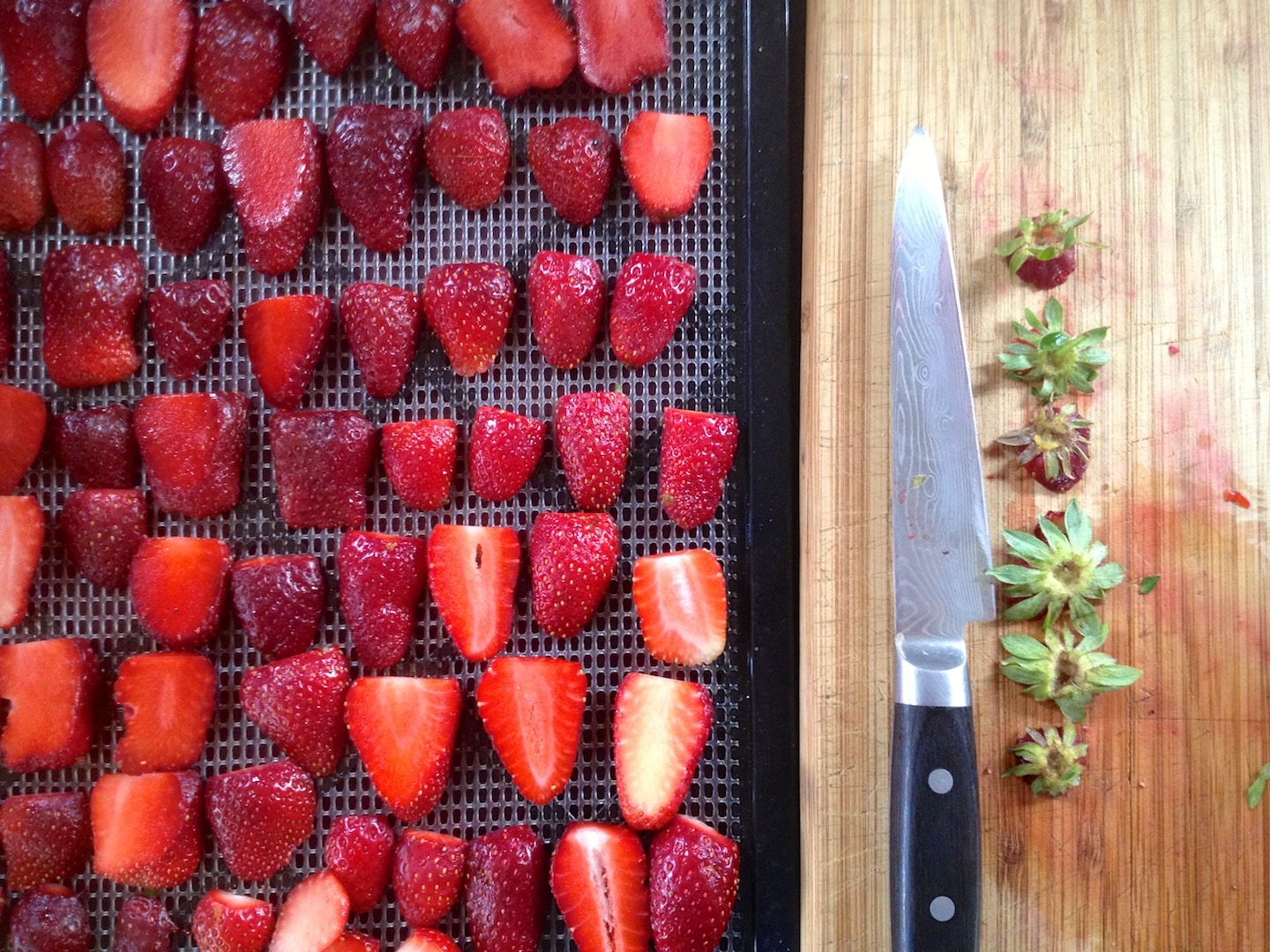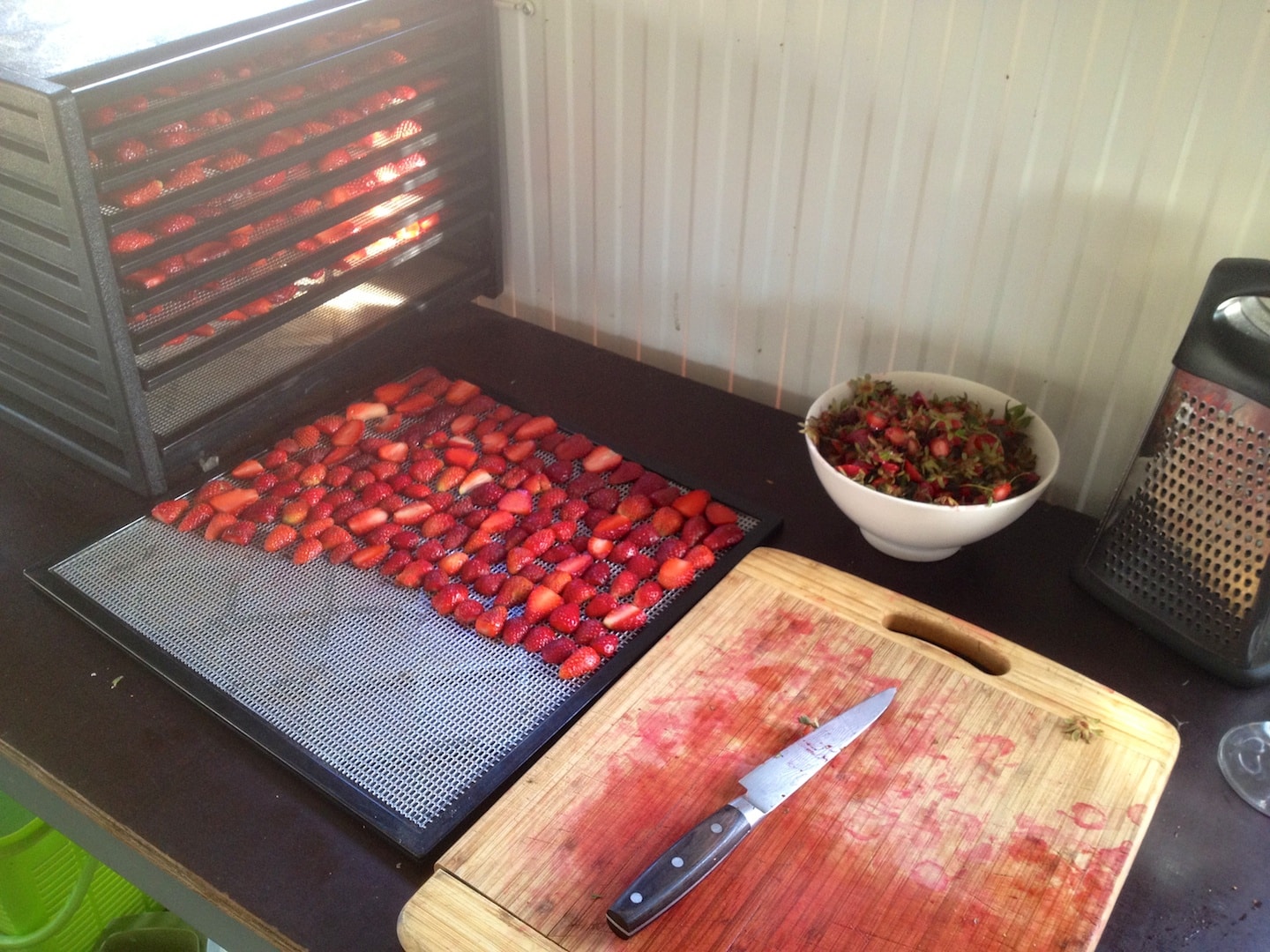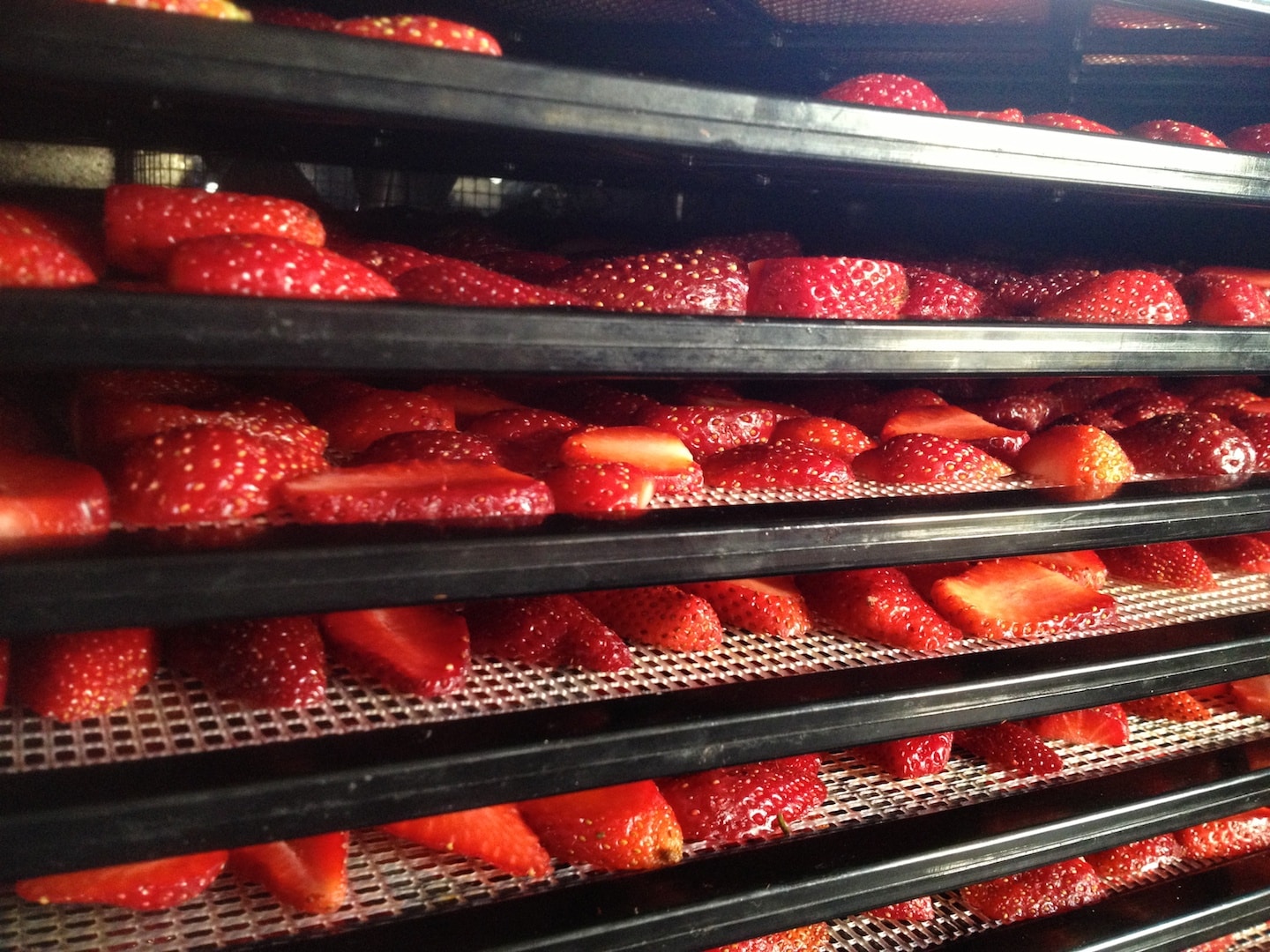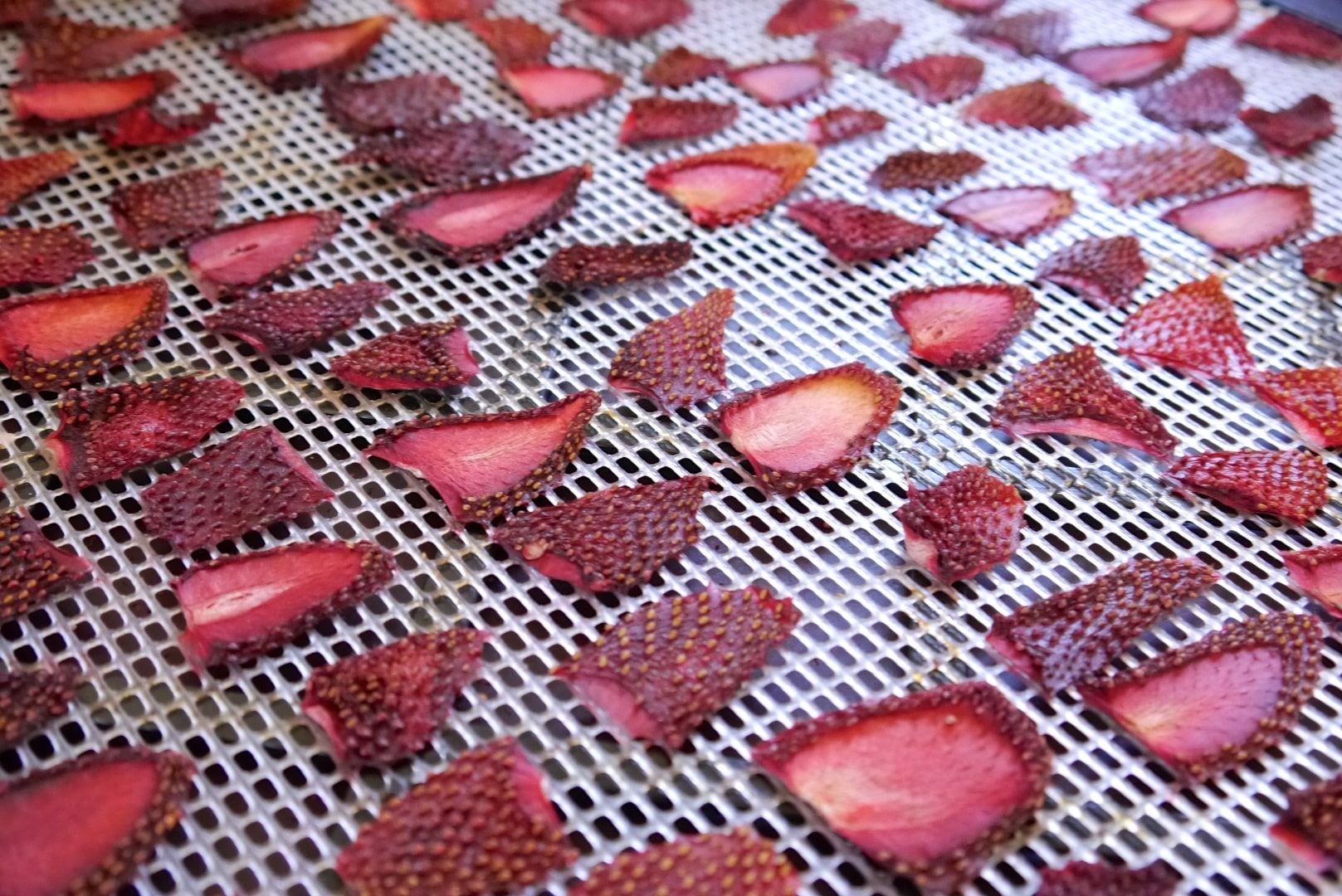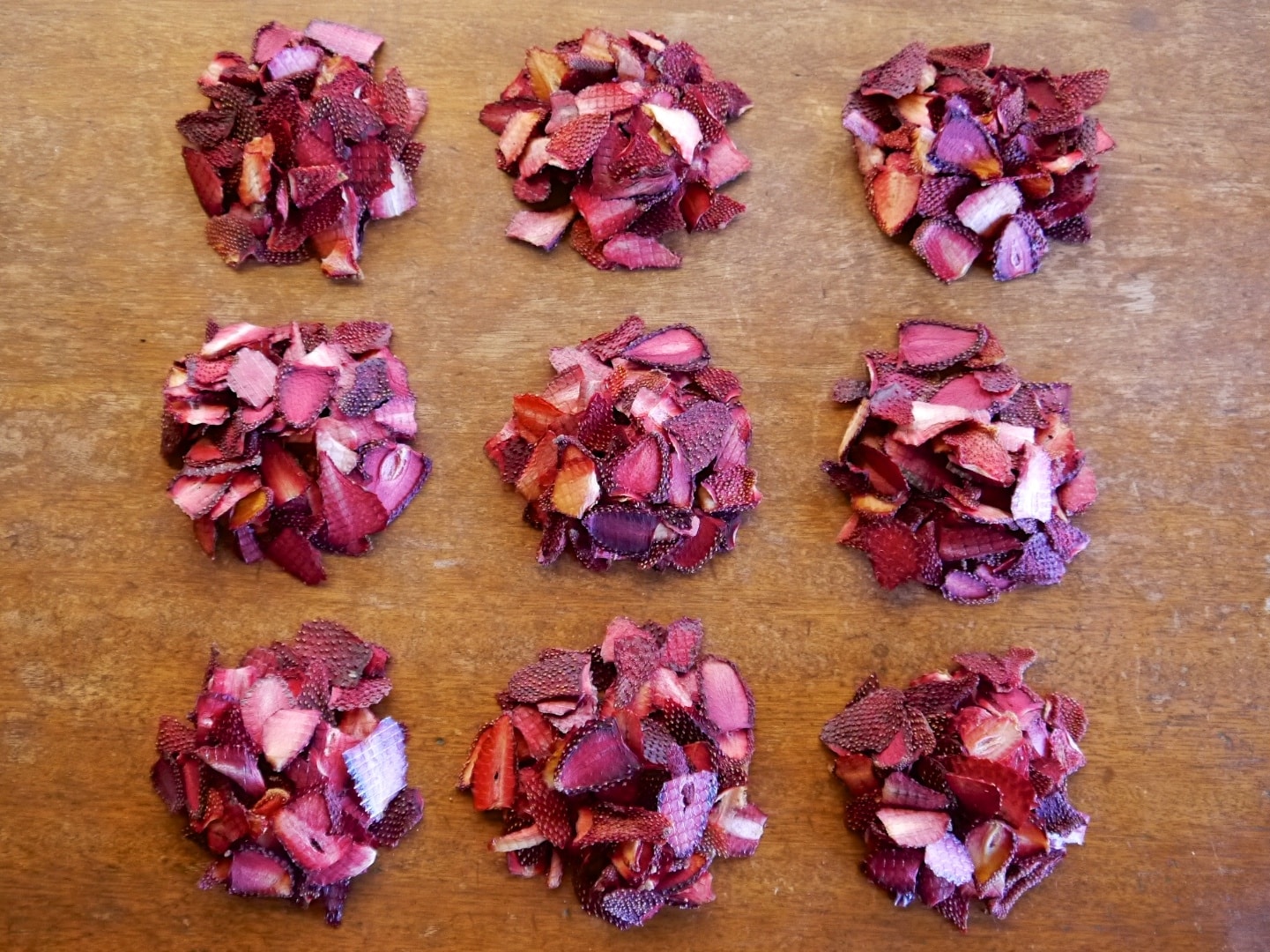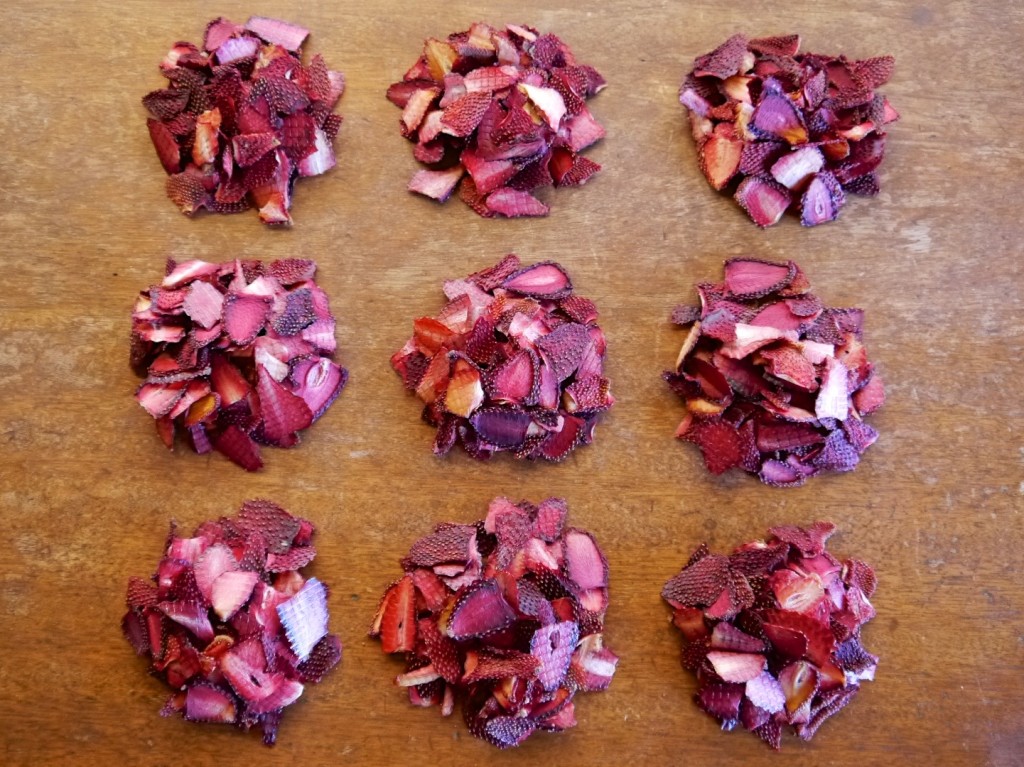 Our trusty Excalibur dehydrator once again did a brilliant job, just like it did on the last two years of peaches and apples. 10 hours later, a large amount of strawberries were crispy dried leaves of lurve…
If i can keep this stash hidden from my family for long enough, these might make it to Christmas.
Then I can use them for the "gosh you're awesome" presents for those loved ones and comrades I mentioned earlier.
But they're so delicious. Maybe a card would say it just as well?
Any preserving disaster-meet-success or otherwise recipes you'd like to share?